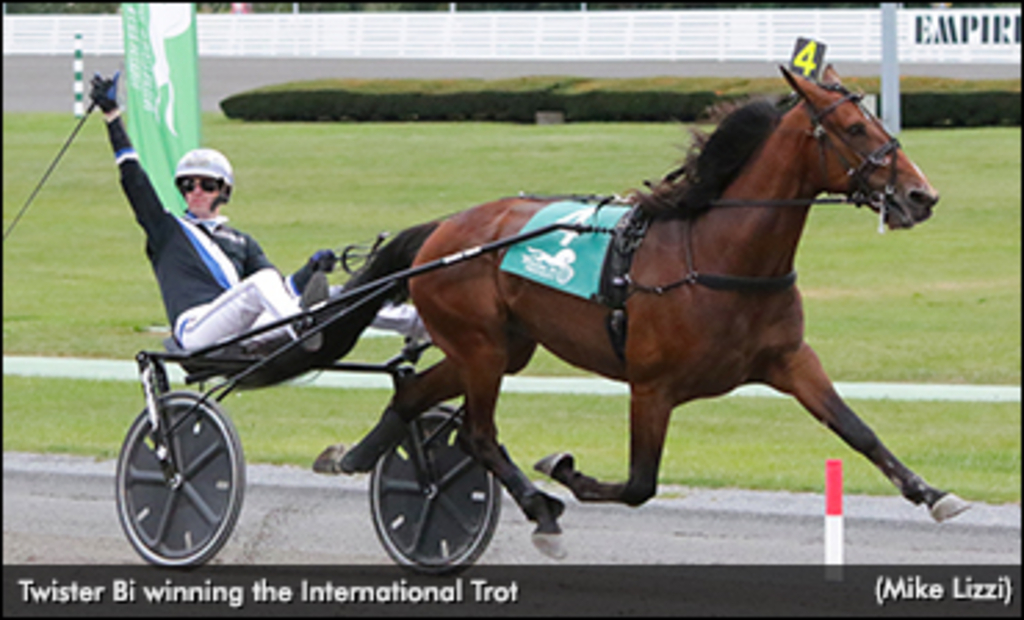 Published:
October 14, 2017 03:18 pm EDT
Italian-representative and 2-5 favourite Twister Bi rushed to control with one lap remaining and sprinted clear of his competition to win the $1-million International Trot by open lengths, trotting a world-record of 2:22.1 for a mile-and-a-quarter on Saturday, October 14 at Yonkers Raceway.
Parked at the quarter in :28.2, Twister Bi applied first-over pressure to race-leader and defending champion Resolve through a :57.4 half before powering by to take the lead passing the stands for the second time. Trotting three-quarters in 1:26.1, Twister Bi held a large lead as fellow Italian-representative Oasis Bi circled by Resolve faltering at the rail, tracked by Marion Marauder in third.
Twister Bi trotted the mile in 1:53.2 and advanced around the final turn and through the stretch under minimal urging from driver Christoffer Eriksson, while Marion Marauder trotted by Oasis Bi to take second, with Oasis Bi holding third.
Winning his 21st race in 50 starts, Twister Bi, a five-year-old son of Varenne, lowered the previous world-record mark of 2:23.4 set by Resolve in the 2016 renewal of the International Trot. Earning $1,208,328, Twister Bi is conditioned by Jerry Riordan for owner Pasquale Ciccarelli, and paid $2.90 to win.
"You get stressed about a lot of things in a big race like [this], but, more than anything, I just wanted everybody over here to see how good a horse this is," Jerry Riordan said. "He's just a whole other breed of cat. The nicest thing was when everybody showed up to race - I saw people I didn't know so well coming up to me and saying 'Good luck.', and so I want to say hello for this guy and that guy; today I felt like I was home."
"He was feeling really good before the race," Christoffer Eriksson said. "I only wanted to take it easy behind the gate and around the first turn. He was feeling really strong with 900 [metres] left.
"He has a really good technique in the turns, so on a [half-mile] track, he has really good speed into the turns."
Shooting off cover, All Bets Off edged to the front in the final strides to take the inaugural Dan Rooney Invitational.
The six-year-old son of Bettors Delight got away fifth, sitting off a :26.4 quarter set by Bit Of A Legend N as he cleared command from 2-1 favourite Sintra moving into the far turn. Somewhere In L A, positioned third, angled first over approaching the half, providing cover to Keystone Velocity and All Bets Off pacing to a :55.2 half-mile.
Narrowly in control, Somewhere In L A led Bit Of A Legend N through a 1:23.1 third-quarter, holding off Keystone Velocity as he tipped three wide, with All Bets Off on his back, moving around the final turn. Keystone Velocity gained control into the stretch, remaining in front until the final yards as All Bets Off outsprinted him to a 1:51.4 clocking. Missile J and Mach It So closed to finish third and fourth, respectively.
Owned by Burke Racing Stable, Weaver Bruscemi, Frank Baldachino, and the Panhellenic Stable, All Bets Off, returning $8.00 to win, won for the fifth time in 22 starts this season and the 27th time in 99 starts, amassing $2,834,832 in earnings. Matt Kakaley was in the bike for trainer Ron Burke.
"He has been racing really good; I can't say enough good things about this horse," Kakaley said. "[The trip] couldn't have worked out any better - I never had to move him off a helmet until the top of the stretch, and if I can sit and follow for that long, nine times out of ten he's going to get there for me. [Ron Burke]'s had him ready for me the last few months - he's been really sharp."
Trainer Ron Burke also won the Harry Harvey Invitational Trot, with Crazy Wow winning the mile-and-one-quarter event in 2:25 going wire to wire.
Yannick Gingras launched to the front with Crazy Wow, leading Lookslikeachipndale at the quarter in :28 and remained unchallenged through splits of :58.3 and 1:28 before quickening the tempo, going a mile in 1:55.4.
Lookslikeachipndale was the closest contender into the stretch, edging out of the pocket and failing to overtake the temposetter at the line. Dia Monde, off a first over trip, held third from Cash Me Out, trotting off cover to take fourth.
A five-year-old son of Crazed, Crazy Wow, owned by Our Horse Cents Stables, Stable 45, Jerry and Theresa Silva Stables, and Deo Volente Farms, won his 19th race in 56 starts, surpassing $2-million in career earnings. Trained by Ron Burke, he paid $5.00 to win.
Alongside the International Trot, Yonkers Raceway hosted eight $250,000 finals of the New York Sires Stakes.
From post position three, odds-on Barn Bella sat the pocket to second-choice Celebrity Ruth through intervals of :29.1, :58.4 and 1:27.2. Barn Bella eased from the pocket, blowing by to beat Celebrity Ruth by two-and-a-half lengths in 1:56.2 in the Three-Year-Old Filly Trot. Maewegonow, Chapter Too and Scarey Karie earned the minors.
Barn Bella, a daughter of Conway Hall co-owned by trainer Steve Pratt along with Nancy Pratt and Purple Haze Stables, has now won 12 of her 16 seasonal starts, winning her 18th in 24 overall, earning $688,725. Driven by Jeff Gregory, she paid $3.70.
"She was super sharp today," Gregory said. "Much better than she was in her few starts."
Funknwaffles quarter-moved to the lead, then won in hand in the Three-Year-Old Colt and Gelding Pace. From post four, he took over from Serious Major just after a :27.4 opening subsection.
Going splits of :56.4 and 1:24.4, he finished clear of Chip Walther rallying for second by a length-and-a-quarter in 1:53.3. American Wiggle was first-up and finished third, with Serious Major and What's Going On coming away with the remainder.
Funknwaffles, an American Ideal gelding owned by Crawford Farms Racing and trained by John Butenschoen, is five for 15 this season, and 13 for 24 in his career, earning $811,226. Driven by Corey Callahan, he paid $2.20.
"He's been knocking heads with better horse than these and since he was 1-9 in here, he had his way," Callahan said.
From post two, favourite Obvious Blue Chip retook command from Clear Idea (Mark MacDonald), then held her at bay through fractions of :27.3, :57, and 1:24.3 before crossing the line in 1:53.2 to win the Three-Year-Old Filly Pace. The margin was a length-and-a-half, with frosh champ Tequila Monday closing for third. Angel's Promise and Ann Hill picked off the remainder.
Obvious Blue Chip, a Roll with Joe miss trained by Mark Steacy for co-owners NLG Racing Stable and Stephen Klunowski, is now six for 16 this season. Driven by Scott Zeron, she paid $4.60.
"I drove her as if she was the best, and she was," Zeron said. "Now it's on the Breeders Crown."
Ake Svanstedt trained half the field in the Two-Year-Old Filly Trot, including 1-4 choice Plunge Blue Chip. Badly gapping her cover, she plummeted to seventh, as her uncoupled stablemates, Lucky Ava and pace-setting Fury Road finished one-two. Fury Road launched herself from an eight-hole, going splits of :28.1, :58.1, and 1:27.3, opening two-and-three-quarter lengths in the lane.
Third-over from post five, Lucky Ava stormed home, winning by a half-length in a life-best 1:58.2. Lucky Rainbow rallied inside for third at 79-1, with 55-1 Natalie Hanover and Lima Novelty rounding out the payees. Second-choice Supergirl Riley broke before the start.
Fourth-choice Lucky Ava, a daughter of Lucky Chucky co-owned by Svanstedt, Little E LLC and Van Camp Trotting, has won five of her nine first-season tries. Driven by Yannick Gingras, she returned $45.00.
Undefeated Hitman Hill set the pace in the Two-Year-Old Colt Pace, with the 2-5 choice leading to the lane off fractions of :27.1, 57., and 1:25.1.
Jersey Jim, from post four and buried fourth at the cones at the half, rallied off cover and roared home to win. He defeated Paprike Blue Chip by a length in 1:54.3. Topville Olympian, done no favors when the favorite quit, did get third, with Casual Cool and My Delight earning the minor cheques. Hitman Hill faded to six among the seven.
Fifth-choice Jersey Jim, an Artiscape gelding co-owned by Robert & Gail Sanders and trained by Perry Simser, is four for nine this season. Piloted by Jim Devaux, he paid $26.80.
Division points-leader Hurrikane Shorty misbehaved early in the Two-Year-Old Filly Pace, while 3-5 choice Azreal As It Gets set up shop on the lead, going splits of :28.1, 58.2, and 1:27.
She could not, however, stall another move, this time from Alexis Faith. The latter, leaving into fourth from post seven, engaged with the favourite into the final turn before overtaking her in the stretch. The margin was a length-and-a-quarter in 1:55.2, with Let's Fall in Love third. Betterthangraduate and Line Dancer settled for the small change.
Third choice Alexis Faith, an American Ideal miss co-owned by West Wins Stable, Jim Fielding, J. Robert Darrow & Kevin McKinlay and trained by Casie Coleman, is now six for nine in her first season. Driven by Jim Morrill Jr., she paid $10.20.
Odds-on Six Pack (Svanstedt, $3.90) went the distance, going clockings of :28.2, :58.4, and 1:29, disposing of pocket-sitting Clive Bigsby by a length-and-a-half in the Two-Year-Old Colt and Gelding Trot, winning in 1:58. The Veteran was third, with Tito and a recovering Purpose Blue Chip coming away with the remainder.
Six Pack, a Muscle Mass colt co-owned by his trainer, Little E LLC, Stall Kalmar and Lars Berg, is four for eight this season after a third consecutive victory.
Yonkers Trot-winner Top Flight Angel was a judges' scratch in the Three-Year-Old Colt and Gelding Trot, which featured a trio of breakers, including 1-2 fave Guardian Angel AS.
That left Eye Ofa Tiger As (Tim Tetrick, $13.40), from post five, alone. Leading through splits of :28.4, :58.3, 1:27.1, Eye Ofa Tiger As opened four lengths around the final turn before winning by seven lengths in a lifetime-best 1:55.2.
Icanflylikeanangel and Lord Cromwell minded their manners to chase home the winner, with Guardian Angel AS and Swell Chap grabbing the lessers.
Third-choice Eye Ofa Tiger As, a Chapter Seven gelding trained by Anette Lorentzon for co-owners ACL Stuteri AB and Kjell Johansson, has hit the board in 13 seasonal starts, winning six. Driven by Tim Tetrick, he paid $13.40.
Total handle for the 11-race card (including the French-hub win/show wagers for four exported races) was $1,102,532, the Raceway's first seven-figure number of the season.
(With files from Yonkers Raceway)