Published:
October 13, 2018 03:30 pm EDT

Making his North American homecoming after a three-year campaign overseas, Cruzado Dela Noche, representing Sweden, rode cover second over and nailed late-leader Lionel at the wire to pull a 30-1 upset in the $1,000,000 International Trot at Yonkers Raceway on Saturday, Oct. 13.
Race-favourite and Elitlopp-winner Ringostarr Treb broke stride to the inside of Pastore Bob, also off stride, rounding the first turn. Arazi Boko cleared the front from post eight while Ariana G floated first over to the :28.2 opening quarter and Marion Marauder attempted to flush her cover from third. Around the clubhouse turn and into the backstretch, Marion Marauder brushed to the top after Ariana G cleared, giving her the pocket.
Lionel, from fifth, marched first over heading to a :57.1 half with Cruzado Dela Noche in tow. Marion Marauder endured pressure from Lionel past three-quarters in 1:27 and had the first-over challenger head him heading to the mile marker. Driver Brian Sears kicked three wide with Cruzado Dela Noche by the mile in 1:55.3 while Marion Marauder briefly fended off Lionel before giving way into the stretch. Lionel trotted away from competition nearing the wire but Cruzado Dela Noche continued to close ground to the center of the track and swept to a neck victory at the finish.
"The horse raced super," Sears said after the race. "I was just hoping for a covered trip. When I started I just didn't want to be three deep into the first turn - and to get down in the two-wide path, I was really happy with that and knew I would be able to get some cover. I got pulled into right where I needed to be. He got the trip that he needed and you have to have some luck to win these types of races. That's what happened."
Up And Quick weaved through rivals to finish third with Ariana G taking fourth.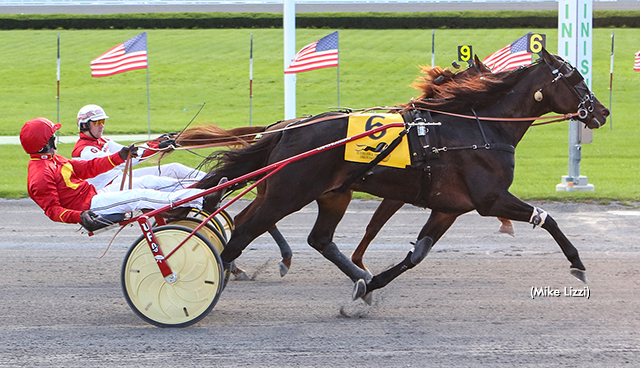 Owned by Courant Inc., Cruzado Dela Noche won his second race from seven starts this season and his 15th from 56 overall, earning over $1.2 million. Marcus Melander trains the six-year-old Muscle Massive stallion and paid $62.50 to win.
"We had two qualifiers at Pocono and we weren't really sure if he was 100 percent in form for this race," Melander said after the race. "Even if he was good in those two qualifiers, he didn't have a real race in three, almost four months. He's used to the mile and a quarter in Sweden, so distance was never my concern. But he showed us he was in the right shape today."
Luc Blais trainee Warrawee Roo tipped wide onto cover early and powered wide late to take the $250,000 Harry Harvey Invitational Trot in 2:25.2 going a mile and a quarter.
Top Flight Angel protected position towards the inside heading for the far turn while In Secret left from the center and Gruden widest of all into third. Gruden cleared control past the :28.1 opening quarter leaving In Secret in the pocket and Top Flight Angel third. Warrawee Roo, trotting sixth, caught cover from Yes Mickey pulling first over after Guardian Angel As broke stride heading around the second turn backstretch.
Warrawee Roo tracked Yes Mickey's cover as Gruden trotted a :57 half and to three-quarters in 1:27. Driver Daniel Dube edged Warrawee Roo three wide to the mile mark, timed in 1:56, as Yes Mickey stalled in between horses and Gruden clung to command.
Having a seam open to his outside with Homicide Hunter gapping cover, Top Flight Angel angled off the pylons and onto Warrawee Roo's back rounding the final turn. Warrawee Roo slid by Gruden turning into the stretch and trotted clear while under pursuit from Top Flight Angel and maintaining a length advantage heading to the line. Gruden finished lengths behind in third while holding off Nf Happenstance in fourth.
"He's strong, especially at a mile and a quarter - that's even better for him because he doesn't know where to end," Dube said after the race. "He doesn't have a lot of gate speed, so when I saw [Guardian Angel As] made a break I slid out right away and picked up the cover. It turned out really good; a good trip second over. On the backside I had a ton of horse and he won easy. He keeps coming all the time and right now he's at the top of his shape; Luc [Blais]'s got him really good right now."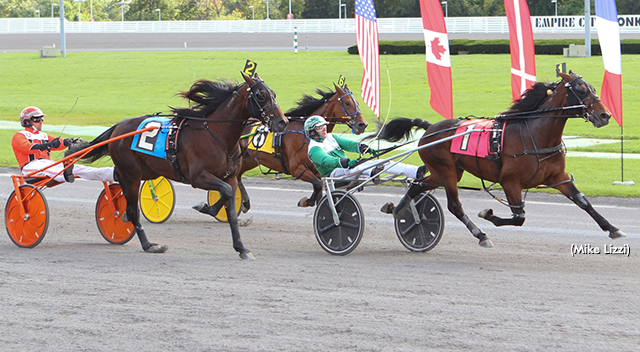 A five-year-old stallion by Majestic Son, Warrawee Roo won his fourth race from 18 starts this season and his 10th from 47 overall, earning $628,402 for owner Determination Inc. He paid $10.60 to win.
Mcwicked brushed to the top approaching three-quarters and strolled to an open-length 1:50.4 victory to take the $250,000 Dan Rooney Invitational Pace.
Mach It So sent for the lead moving into the first turn while Nuclear Dragon took the pocket and Mcwicked sat third. Nuclear Dragon angled off the rail entering the backstretch and circled to control before a :27 opening quarter. Bit Of A Legend N, from fifth, edged first over heading to the half mile and flushed Mcwicked heading to the :55.3 station.
Nuclear Dragon chased in second as Mcwicked rushed to the lead heading to a 1:22.4 third-quarter. Bit Of A Legend N gave pursuit wide in third turning into the stretch and took the second spot as Nuclear Dragon faltered to the inside. Evenin Of Pleasure closed to finish third while Mach It So held fourth.
"I can't say enough nice things about [Mcwicked]," driver Brian Sears said after the race. "I was okay getting away in the three hole and I figured I'd come first up. I thought he was the best and could get it done that way and it worked out. He's showed up every week and always put out a really great effort an it was nice to get it done today."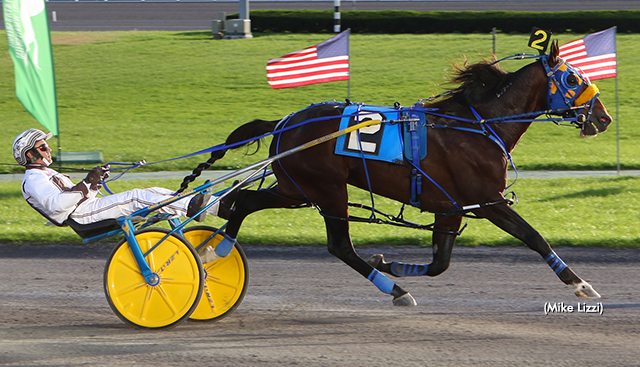 Winning his ninth race from 16 starts this season and his 31st from 90 overall, Mcwicked, a seven-year-old stallion by McArdle, has amassed over $3.5 million for owner S S G Stables. Casie Coleman conditions the $2.90 winner.