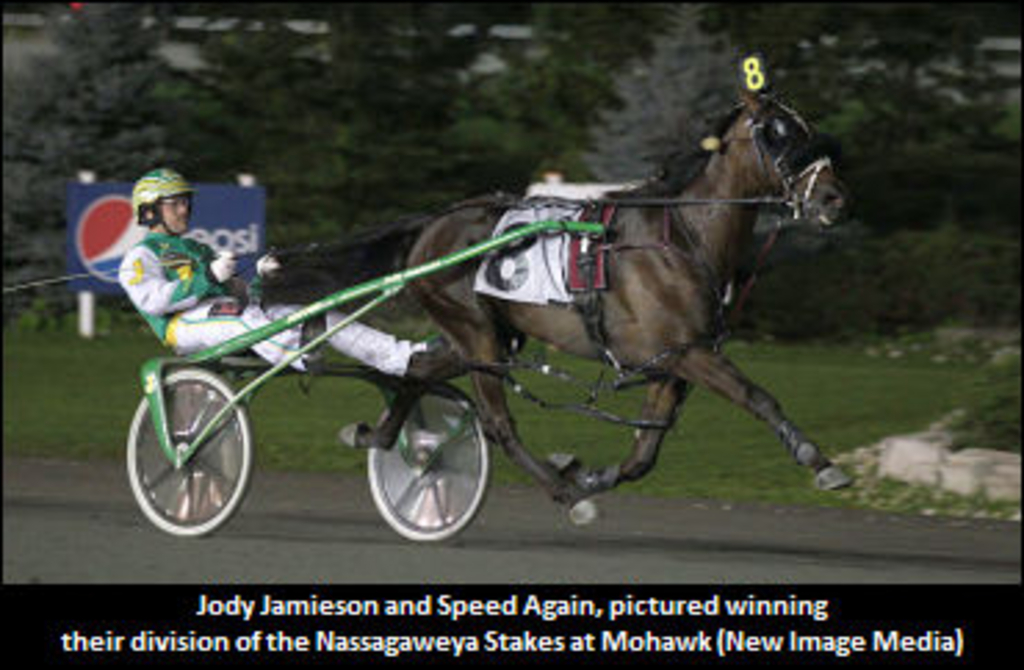 Published:
October 13, 2011 12:12 pm EDT
Although Mohawk Racetrack was rated 'good' and assessed a two-second variant during the Thursday morning qualifying session, one of the top two year olds on the continent, the Jeff Gillis-trained Speed Again, was doing his part to try to heat the course up
.
In rein to Jody Jamieson, the Dragon Again gelding took to the course for the first of nine qualifying dashes. When the starting gate pulled away, Jamieson had the freshman out and pacing from Post 6 and on top by two lengths by the time the duo clicked off the opening quarter in a tepid 29 seconds.
The juvenile extended his lead to four lengths at the half (:57.2) as he made his way down the backside in :28.2. Speed Again continued to toy with his rivals along the final turn. He paced his third quarter in :28.4 and spun off the three quarters clock in 1:26.1.
Jamieson asked the Champlain and Nassagaweya Stakes divisional winner at the head of the lane and the career winner of $306,449 responded. Coming home with a :27.4 final quarter, Speed Again, who has a speed badge of 1:50.3 taken over the Campbellville oval, went on to record a nine and a half-length margin of victory in 1:54.
Speed Again, an $82,000 yearling buy, has finished on the board in all of his eight starts thus far. He currently sports a resume of five wins, a pair of second-place finishes and a third-place effort. His biggest payday thus far came September 3 at Mohawk, where he banked $120,000 for his solid third-place finish in the $1 million Metro Pace.
Looking to record a clean line after having broken stride during the Kentucky Filly Futurity, Lady Rainbow went postward for Race 6. With driver Scott Zeron in the racebike, the $733,146 earning Muscles Yankee filly ended up breaking stride again, this time on the final turn. The dash was won by Classic Alana (1:57.3), who was driven by Jody Jamieson for trainer Erv Miller.
Another notable took to the track during the session, as four-year-old stallion World Of Rocknroll, by Rocknroll Hanover and out of Worldly Beauty, recorded his first charted mile since last November. The bay covered 51 mares this past breeding season in Indiana. With Mark Gingrich steering for trainer Jeff Gillis, World Of Rocknroll sat third throughout the mile and finished third. He was individually timed in 1:55.4 and came home with a :27.2 final quarter. The dash was won by the Jeff Gillis-trained and Jody Jamieson-driven Smashbox (1:55.1).
To view the complete harness racing results from the Thursday qualifying session at Mohawk, click the following link: Thursday - Mohawk Racetrack (Qualifying).