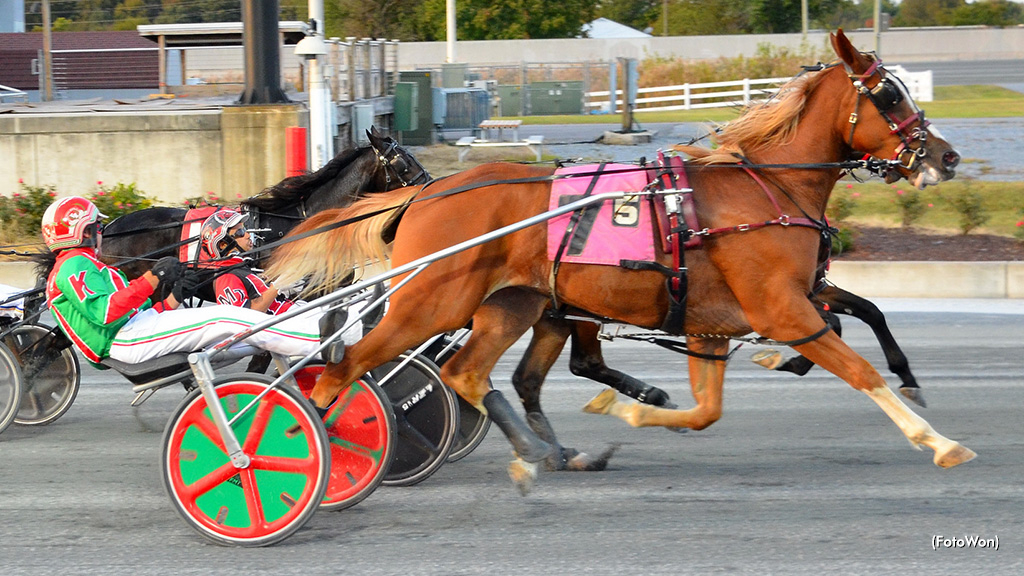 Published:
October 12, 2022 09:03 pm EDT
Robert Allison Jr.'s Perfect Twenty and Jeff Clark's She Is Strong each won their respective $100,000 Delaware Standardbred Breeders Fund (DSBF) final event Wednesday (Oct. 12) at Harrington Raceway for trotting freshmen.
In the colt and gelding event, Yankee Royalty gelding Perfect Twenty (pictured above) gobbled significant ground despite a sizable early deficit first over and pressed leader Kodack Black, who broke just before the wire and gave the win to Perfect Twenty in 1:58.2, a track record for two-year-old trotting geldings. Kodack Black was disqualified to second and Hespookshescores was third. Trained by Cliff Green, Perfect Twenty earned his third straight win. Victor Kirby drove the $3.60 winner.
In the filly trot final, She Is Strong was a wire-to-wire winner in 2:00 over Miss Daburg and Gold Rate. The Anders Bluestone filly swept her two elimination races and continued her dominance in the final for trainer-driver Art Stafford Jr. She paid $2.20 to win.
In the overnight feature, Ginger Tree Skyr was a 1:55 winner in the $50,000 Allen J. Cook Jr. Memorial Trot over Hatikvah and Quiksilvr Bluechip. The six-year-old Explosive Matter gelding notched his sixth win of the season for trainer and co-owner Nick Callahan. Yorwollahan Racing Team and Greg Godbout also own Ginger Tree Skyr, who surpassed $110,000 in seasonal earnings. Corey Callahan steered the $7.20 winner.
In the $20,000 DSBF consolation, Linda Mac Donald's Bluemoonrising ($8, Ross Wolfenden) was a 2:03.1 winner over Dawnthedestroyer and Count Quikula. The Anders Bluestone filly notched her first win for trainer Joe Mac Donald. Ross Wolfenden drove the $8 winner.
Live racing will continue on a Monday through Wednesday schedule until Oct. 19.
(Harrington Raceway)