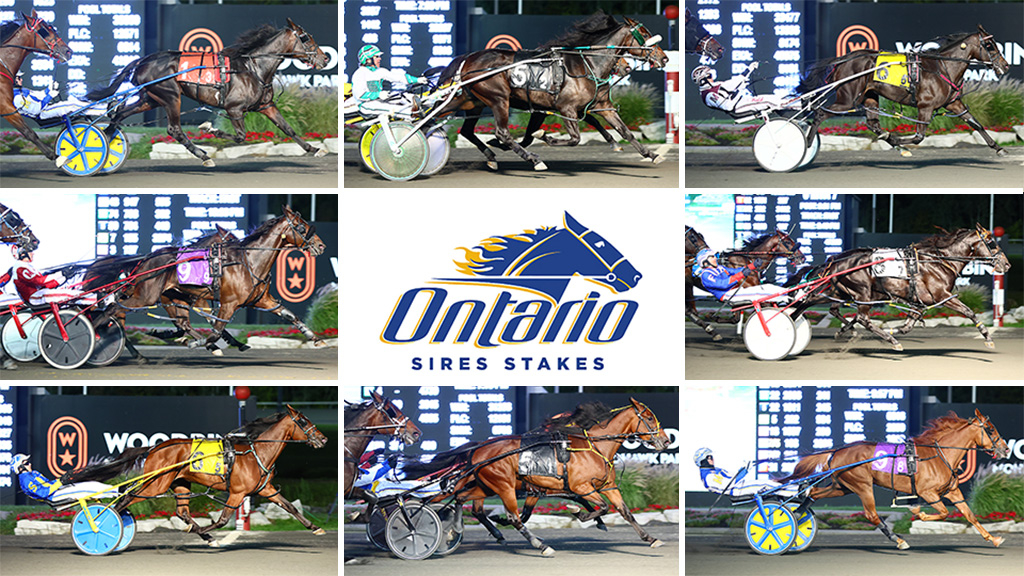 Published:
October 2, 2022 12:30 am EDT
The 2022 Ontario Sires Stakes (OSS) Grassroots Finals at Woodbine Mohawk Park on Saturday (Oct. 1) opened the Ontario Sires Stakes Championship season with some delivering on their dominance and others surprising for the cash.
Recaps for each Grassroots final follow:
A Grassroots 'Dreamer' Comes True
Nothingbutadreamer made a return to the winner's circle, fending off a determined foe to take top prize in the $60,000 Ontario Sires Stakes Grassroots Final for two-year-old trotting colts and geldings.
The bay son of Muscle Mass-Myimpossibledream came into his latest engagement having gone winless in his past four starts.
On this evening, the colt, trained by Harry Poulton for The Stable.ca's Nothingbutadreamer group, was picture perfect.
All Star Yankee crossed over from post nine to make the front into the first turn and led by a length after an opening panel carved out in :27.3, as Rough Tuff Tested followed in second with Nothingbutadreamer in third.
There was plenty of action in the backstretch as Rough Tuff Tested, with Doug McNair driving, wrestled the lead away from All Star Yankee, only to have Nothingbutadreamer quickly overtake him for top spot then hold a 1-1/2-length advantage through a half in :56.4.
What was shaping to be a two-horse race quickly became a reality after three-quarters in 1:26.1, as Nothingbutadreamer, to the inside, and Rough Tuff Tested slugged it out down the lane, before the former took control in progress to a one-length score in a time of 1:55.2.
A game Rough Tuff Tested was well ahead of Take On Me for the runner-up spot. Busting With Pride was fourth.
"He was trotting good tonight. Doug's [horse] sounded really live on my back, and when he was shouting in the turn, I was worried," said winning driver James MacDonald, whose brother Anthony heads the fractional ownership group TheStable.ca. "But 'Dreamer' gives you everything he's got, and he wants to win. That's a big component of being a good horse and he's turned into a really nice horse."
After a fifth to start his career on June 20 at Woodbine Mohawk Park, Nothingbutadreamer broke stride in his next dash.
The third time, however, was the charm as the bay colt, bred by Shmuel Farhi, recorded his first victory, an authoritative 4-3/4-length win in 1:58.2 Grassroots leg at the Milton oval on July 19.
With the win tonight, Nothingbutadreamer has fashioned a 4-1-1 mark from 10 starts, accompanied by over $80,000 in purse earnings.
"It's great to see a big crowd in the winner's circle for 'Dreamer' there, and that's hats off to my brother Anthony and TheStable for the crowd they bring every night," said MacDonald.
Nothingbutadreamer paid $8 to win.
No Angel Like Me Breaks Her Maiden in Style For Father-Daughter Team
No Angel Like Me saved her best for last, getting up in the final strides to take the $60,000 Ontario Sires Stakes Grassroots Final for two-year-old trotting fillies. 
After hitting the podium in her first four starts, including a pair of seconds, No Angel Like Me — trained by Kelly Duval Lacaille and driven by her father Sylvain Lacaille — struck Grassroots gold courtesy of a gritty score.  
It was 4-5 choice Lucy Who, in rein to Trevor Henry, who got away quickest of all off the gate, as the bay filly on a four-race win streak took command into the first turn with No Angel Like Me settling into second spot and Enola tucking in third. 
Ahead by two lengths at the quarter in :28.4, Lucy Who and Henry then slowed the pace down, cutting a half in 1:00.1, as No Angel Like Me continued to track the pacesetter, with Enola maintaining her third-place position and Sweet Carrie T inheriting fourth spot after Angelic KT broke stride. 
Still in control after three-quarters in 1:30, Lucy Who looked to trot away from her rivals down the lane, but a persistent No Angel Like Me kept grinding away to the outside of her rival. 
With the finish line drawing closer, Lacaille urged his brown filly for her best and she responded, eking a head win in a career-best 1:58.2. Enola took third and 103-1 St Lads Tricky was elevated from fifth to fourth, after Cunning Connie was placed last after an extended break. 
"Winning is so exciting, it's a dream come true," said Duval Lacaille. "Working hard for so many years, and trying to get somewhere, for me it's everything winning that race. She raced awesome. She always showed that she can do her job easily and she just made it today. I am not surprised she ended up as a winner tonight. To do it with my dad is super awesome. It's the most beautiful feeling because it's family, and nothing is better than family."  
A daughter of Archangel-BistroBistro Taj, bred and owned by Candice Morel, No Angel Like Me arrived at the final off a third-place finish, albeit only a head back of the winner, in her Grassroots elim on Sept. 22.
She launched her career with a third-place effort in a Grassroots leg at Dresden on Aug. 1, followed by a second at Kawartha Downs, also in Grassroots action, 12 days later.   
On Saturday night under the lights on the big stage, she notched her milestone tally in style.  
"The horse has always been great," beamed Duval Lacaille. "She has been good since day one, and she will still be good. She made her job like she did since the first day."  
No Angel Like Me paid $13.70 for the win. 
Stormont Mabel And Resolute Bay Win Sophomore Trotting Grassroots Championships
The winners of the $60,000 Ontario Sires Stakes Grassroots Championships for sophomore trotting fillies and colts took totally different routes to the winner's circle. One had a textbook pocket trip while the other was parked just about every step of the mile. 
Stormont Mabel was victorious in the filly's test, a nine-horse affair in Race 1 with the scratch of Ladyflix.  
Rose Run Xcentric, with Trevor Henry at the lines, grabbed the early lead and led the field by the opening quarter in :27. She remained in control past the :56.1 half with the rest of the fillies in single file behind her. That formation didn't last. 
Saint Antoine, a 36-1 shot with Scott Young in the bike, popped out from third and was closing in on the leader at the 1:25.1 third panel. Saint Antoine took the lead in mid-stretch but was caught in the final steps by Stormont Mabel, who reached the wire by a neck in a lifetime mark of 1:53.3 after Louis-Philippe Roy engineered the perfect pocket trip for the Garry Werner trainee. 
"That's a good record for her, so we are very happy with how she performed tonight," said Werner. "It worked out well, she got a perfect trip, and Louis had a phenomenal drive. He just sat in the two hole with her and never really had to do a whole lot of the hard work until halfway down the lane." 
The top three finishers were all sired by the late Kadabra: Saint Antoine was second and Hershey Seelster grabbed the show spot. The favourite Hang On Baby and Muscle Up The Gold took the last two cheques. 
This was the first start for Stormont Mabel with Merner listed as trainer. Desiree Jones was the filly's trainer of record for all of her prior starts and Merner was quick to credit Jones and explain the conditioner change. 
"I was very happy with how she raced, but to be honest with you I can't really take any credit for that mare," said Merner. "Desiree Jones trained her down at two and three and brought this filly along. Desiree went to Lexington early last week to focus on yearlings, so she asked me if I'd take her and train her for the week, and that's pretty much all I can take credit for. All I did was get her to the track." 
A homebred for Stormont Meadows of Long Sault, Ont., Stormont Mabel improved her 2022 record to 3-4-3 in 16 tries for $77,000 in earnings. Tonight's effort shaved a full three seconds off her previous best time. Mabel finished ninth in the Grassroots point standings and paid $18.70 to win. 
"We are just happy with the way everything went, and the connections seemed like they were pretty happy, so it's been a successful night," concluded Merner. 
Eric Baker's Stormont Meadows' raised colts and fillies have raced in the OSS for many years. They also had another starter in this contest, Mabel's former stablemate Stormont Molly, who was the leading point earner in this Grassroots division, but she wound up eighth in the final. 
Roy drove Stormont Mabel earlier this summer, including in her only other OSS victory this year, at Mohawk in early June. He was impressed by how she'd improved since the last time he sat behind her. 
"I think the connections did a pretty good job getting her ready for tonight. Sometimes she would need a little more down the stretch and she wasn't giving you what she gave me today. I just told Gary, she just found another gear in the stretch that she didn't used to have. I was impressed and happy with her," he praised. 
As for the trip, he noted: "When I got her on Young's helmet, she just found another gear and from there, I was confident that she was going to go by. That's a big mile, the track crew have been doing a good job, the track is very nice tonight." 
Stormont Mabel is the second foal of Tamasin Hall, who earned just over $100,000 in her career. Her first foal, AP Hall Of Trix, a winner of $150,000+ to date in his career, also raced today, finishing fourth at Pocono. Her immediate family includes many top OSS trotters including Hall of Famer Bridger, along with Mombasa, and Brisco Herbert. 
The colts' contest, Race 8, saw favourite Warrawee Xalt make a break in the first turn to take himself out of contention while Resolute Bay, with James MacDonald at the controls, overcame just seeing the rail for a couple of seconds in the race to win impressively. 
As the wings folded, many of the sophomores were vying for the lead and Sylvain Filion had Renegade Gypsy in that position at the first quarter in :26.4. Radio Lab and Ed Hensley took over the front well before the :55.4 half but Renegade Gypsy retook before the 1:25.4 three-quarters.  
Down the stretch, Resolute Bay had the most trot and won going away in 1:54.1 despite the trip. Archery Seelster, Renegade Gypsy, Kipper Whipr Snipr and Ima Standup Guy were next across. 
"It's hard to jostle for position, especially from the outside," said MacDonald. "He got out of there good but everybody was leaving and there was nothing to be had. I was three-wide past the quarter, I got in for a step but I had to go again. I said, 'Well, maybe he'll get some money but there's no way he can win off this trip.' He came off the turn and just blew by. He's really racing so good right now hopefully he stays with this form." 
It was the fifth straight win for the striking chestnut gelding owned by The Stable Resolute Bay and trained by Harry Poulton. A son of Resolve, Resolute Bay upped his lifetime bankroll over $110,000 with tonight's victory. 
"Early in the year, he showed flashes of quick speed but not the durability," said MacDonald. "The last two weeks, it's been scary big miles and still going forward at the wire, I couldn't believe the mile he went tonight." 
MacDonald's brother Anthony and his wife Amy operate TheStable.ca which is enjoying a great year.  
"It's a really good barn and good group of owners, fortunately for me that means a lot of nice horses to drive. Anthony and Amy have done a terrific job," said MacDonald. "Everyone who works for The Stable works hard and puts the hours in and the results are showing on the track," 
It was MacDonald's second Grassroots Final win of the night for the barn having won earlier on the card with Nothingbutadreamer also trained by Poulton. 
Grandeur Seelster Fires Early And Often In Grassroots Championship Win
Woodbine Mohawk Park announcer Ken Middleton called Grandeur Seelster's opening panel a "first quarter smokeshow" in the $60,000 Ontario Sires Stakes Grassroots Final for two-year-old pacing fillies. In the winners' circle afterward, driver Austin Sorrie agreed the pace was a little hot in the early going.
"I thought I was going to be in trouble at the quarter pole," said Sorrie.
But it was no trouble for fast-leaving Grandeur Seelster, who set a brisk pace in a :25.4 opening panel with 61-1 Bettors Punch and Jonathan Drury pressing from the outside early then settling in the pocket on the first turn. The fillies raced single-file to the :54.3 half, with the 4-5 favourite confidently maintaining her short lead for Sorrie.
Cheese So Pretty and James MacDonald tipped from third to move first over on the final turn, with Twin Delight and Bob McClure following her cover second over from fourth.
Grandeur Seelster kept two lengths ahead of their best efforts, reaching three-quarters in 1:23.1 under minimal urging from Sorrie, who glanced back several times during the stretch drive. He had put the whip away entirely as the gate-to-wire leader stopped the clock in 1:51.1, a lifetime best.
In the battle for place, three-wide Twin Delight pulled ahead of ground-saving closer Shake It Twice and Doug McNair and Bettors Punch, who held on for fourth.
"She was good last week, so I just hoped she was good this week," said Sorrie after the win. "Starting out, she was real green, so it helped a lot driving her all summer. When she got real good, you knew when she was good."
Grandeur Seelster was the only OSS Grassroots Semi-finals Winner to repeat in the Oct. 1 finals.
"If she's as good as she was there, next year, she'll be a good Gold filly," said Sorrie.
Grandeur Seelster paid $3.60 to win in her fourth seasonal victory from eight starts.
Owned by Gestion Mastel Inc., Courtney Gallant, and trainer Marcel Barrieau, the daughter of All Bets Off–Glamour Seelster was bred by Seelster Farms of Lucan, Ont.
Caretaker Cindy Rapson looks after the former $37,000 yearling, purchased at the 2021 London Select Sale.
Thong Control Upsets In Grassroots Championship For Freshman Pacers
The $60,000 Ontario Sires Stakes Grassroots Championship for two-year-old male pacers saw 1-5 favourite Reign Supreme make front before the first turn, but 36-1 longshot Thong Control and Sylvain Filion stole the crown in deep stretch.
In a little early drama that foreshadowed a stunning stretch drive, James MacDonald lost Hes A Sweetheart to a break soon after the start. Reign Supreme with Louis-Philippe Roy driving cleared Watch My Chips and Doug McNair on the first turn, and The Golden Jet and Jody Jamieson followed from third to the :26 first quarter.
Roy's popular pacesetter led to the :55.2 half, shadowed by Watch My Chips and The Golden Jet, but there was plenty of action underway in the backfield. Longshot Twin B Risenshine and Travis Henry sat fourth; Ahi Sunshine and Bob McClure ventured first-over from fifth, with Chris Christoforou following with Watchmaker on cover second over.
Although Reign Supreme had opened by three lengths going into the turn for home, he found himself matching strides with challenger Ahi Sunshine by three-quarters, which they reached together in 1:23.4. Watchmaker looked ready to overtake both as the finish loomed, yet it was another closer who was gaining late ground, winding up from far back in eighth: Thong Control.
The Golden Jet surged between Reign Supreme and Ahi Sunshine strides from the wire, but Thong Control flew home out wide to win by a half length in 1:51.4. Ahi Sunshine finished third, just ahead of Watchmaker.
Filion described how his colt stepped up after finishing fifth in his Sept. 22 OSS Grassroots Semi-Final at Woodbine Mohawk Park.
"Last time out, I had him revved up too much and I think I shut his air off," said Filion. "So tonight, with the outside post, I kept him quiet and I was just hoping for good fractions, and you know what? Mother luck was with us tonight and he closed hard."  
Although overlooked at the betting windows, Filion said he felt Thong Control just needed a reasonable trip to succeed in the Oct. 1 final.
"He raced good all year, maybe last week he was a bit deceiving, but he bounced back pretty good," said Filion. "When I was on [driver Scott Young's] back and he wanted to run over, I felt I had a good shot there. When I moved him, he went hard and he raced real good."
Thong Control (Control The Moment–Thong Song) returned $75.90 to win.
He is owned by Steve Garceau and Roland Trudel, Becancour, Que., and trainer Jean Tourigny, Guelph, Ont., who recently went over the $10-million mark in career earnings.
The 1:51.4 win is a new mark for the former $15,000 Harrisburg yearling, who is the ninth foal of dam Thong Song. Bred by Douglas Millard, Woodstock, Ont., the black colt is looked after by caretaker Kenny Ellis.
Lifetime Marks Established In Both Sophomore Pacing Grassroots Championships
The pair of $60,000 Ontario Sires Stakes Grassroots Championships for pacing three-year-olds were thrilling affairs, with Chucky Hanover and Fade Out emerging victorious in matching times of 1:50.3, a lifetime mark for both.
Chucky Hanover won the boys finale in the ninth race of the evening, and his victory didn't come easy.
Paul MacDonell trains and drives the Hes Watching gelding, and leaving from post nine found himself in a three-way battle for the early lead with Kobra Kai and Stop The Shootin.
"We took a long park to get to the front," said MacDonell. "Once he got to front, he was fairly brave with the horse beside him and I let him do his own thing from there and he was good."
After sitting an outside second through a :26.3 first panel, Chucky Hanover led the field through a :55.3 half. He held a two-length advantage as they spun for home and he powered down the stretch fending off a hard-charging and 74-1 Coligny Hanover, who came up the inside under urging from Sylvian Filion for second, and odds-on favourite Dreamfair Arnie B, who was in traffic throughout before flying home three-wide for third.
"We were able to get a little bit of a breather, :55-and-change half," said MacDonell. "You know, he's always pacing strong to the wire which helps. When he got halfway down the lane, I knew he'd be pretty tough to get by."
Chucky Hanover has made $141,682 in his sophomore campaign for owners GLB Stable of Lakeview, N.S. He paid $16.70 for the win.
The female Grassroots Championship went in Race 6 and Fade Out was sent the 3-2 favourite leaving from post six. Doug McNair was behind the Sportswriter filly trained by his dad Gregg.
After sitting back from a :25.4 opening quarter set by Scott Young and Quebecoise and Austin Sorrie and Girl Scout Cookie, McNair sent his charge past both as the field entered the backstretch and made the lead.
"Austin and Scottie went out of there and took a shot," said McNair "I figured one of them or two of them would be waiting on me, and they were, and it kind of worked out."
Fade Out led field through second and third panels in :54.2 and 1:22.2, and McNair's filly was game in the lane as she held off a stretch drive from Semi-Final winner Raptors Won.
"You can't drive her like that every week," said McNair. "She'd get tired on you sometimes, but it worked out tonight."
McNair and his dad have teamed up for plenty of OSS wins this season and will be looking to repeat their success in two weeks at the Oct. 15 Super Finals back at Woodbine Mohawk Park.
"It's always fun to win this race, or any race, but working for my dad it's even more special," said McNair. He's a lot less hard on me the next day."
Fade Out is owned by Gregg McNair (Guelph, Ont.), Dean Lockhart (Collingwood, Ont.) and McKinlay & Fielding (Toronto, Ont.). She has made $101,711 this year.
***
A replay of COSA TV's livestream for the OSS Grassroots finals is available below:
To view Saturday's harness racing results, click the following link: Saturday Results - Woodbine Mohawk Park.
(with files from Ontario Sires Stakes)