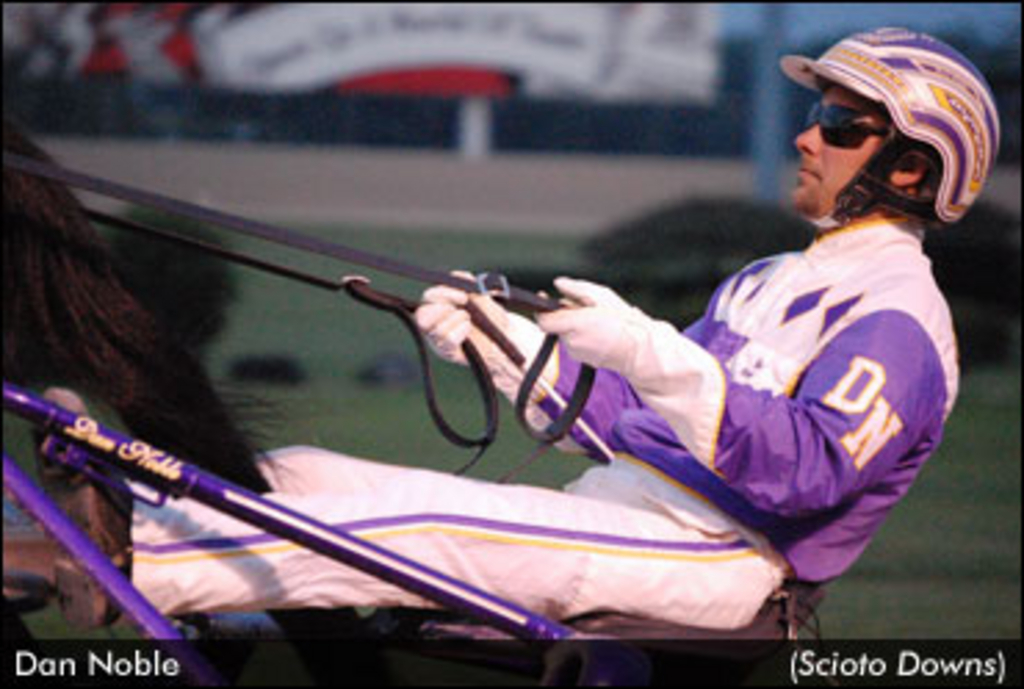 Published:
January 7, 2012 11:03 pm EST
Dan Noble, who won more races than any other harness driver in North America in 2011, has been voted the "Winner's Circle Award" winner for his accomplishments in the sulky last season
. Noble drove the winners of 773 races to take the title over George Brennan and Tim Tetrick.
Mike Woebkenberg, a starter at Ohio tracks and county fairs, will receive the "Rambling Willie Award" for his contributions to harness racing in the Buckeye State over the past 20 years. The veteran horseman is a tireless promoter of the sport and always willing to give fans a ride in his starting gate.
The awards were made by members of the Ohio chapter of the U.S. Harness Writers Association.
Dan Noble is a son of Ohio Hall of Famer Sam "Chip" Noble and the younger Noble has won many admirers and races with his aggressive driving style. He is the first choice of many trainers and owners in races at Ohio tracks. Last year Noble drove in 2,792 races and his 773-484-349 slate gave him an enviable Universal Driver Rating of .415. He's already announced that he plans to defend his driving title vigorously in 2012.
Woebkenberg is a native of Middletown and attended Ohio State University, then followed his father John into harness racing. Woebkenberg was a trainer and driver for many years before he was licensed as a starter. He puts thousands of miles on his starting gate each year crossing the Buckeye State to work at fairs and mutuel raceways. He also operates Superior Sulky Co. from Farmersville, Ohio.
Mark Winters Jr. won the Peter Haughton Award for an outstanding young driver. The 20-year-old Sabina resident scored 27 wins in 2011 behind such talented horses as Lima Thunder, Junior Jesse, and Four Card Monte.
Grand Circuit trainer-driver Lou Huber Jr., a native of Cincinnati and a regular at the Ohio fairs and raceways, was elected to the list of Ohio immortals. He developed and campaigned such top stars as Sampson Direct, Claire Sampson, Uncle Sam, Peter Lobell, Mix Hanover, Canny Imp, and many others. He died in 1977.
The 1967 Little Brown Jug winner Best Of All, owned by Samuel Huttenbauer of Cincinnati and trained and driven by Jim Hackett, a native of London, was also honoured by the writers. He was the champion two-year-old of his season and named Pacer of the Year in 1968 before retiring to a stud career at Hanover Shoe Farms.
In a new policy, Ohio harness writers voted to automatically honour horses enshrined in the national Harness Racing Museum Hall of Fame. Those horses with significant Ohio connections are now included as standardbred honourees in Ohio. They are Adios Butler, Arnie Almahurst, Belle Mahone, Countess Vivian, Cresceus, Demon Hanover, Eternal Camnation, Iosolas Worthy, Little Brown Jug, Meadow Skipper, Merrie Annabelle, and Speedy Crown.
The name of the newest member of the Ohio Harness Racing Hall of Fame will be released soon.