Published:
January 6, 2020 01:14 pm EST
Entering the penultimate night of racing at Yonkers Raceway in the 2019 season, Jason Bartlett led George Brennan in the driver standings 423 to 420. The December 16 program saw the drivers combine for six wins on the 11-race program, and at the end of the night Jason Bartlett extended his margin to four, leading with 427 victories.
However, Bartlett would be absent from the closing-night program (Tuesday, December 17), as he departed on a family vacation. Bartlett had never anticipated that the driving title would be decided on the final night of the 2,657-race season. To that point, the two drivers had never spoken about the dash title. However, as Bartlett left the driver's room, the pair acknowledged their rivalry for the first time.
"OK, I got you by four. Win four tomorrow and we'll just end in a tie," Bartlett told Brennan.
"OK. Done," Brennan responded.
The tongue-in-cheek exchange proved prophetic, as the closing-night program unfolded. Brennan won four of the first 10 races and tied the standings at 427 apiece. After each victory, the Yonkers TV department displayed the standings on the track's simulcast feed, and track announcer John Hernan narrated the update for the viewers.
"Yonkers had it on TV the last few nights. They were keeping count for us," Brennan said. "It was very exciting. I've been leading driver before, but this was the most exciting driving race I've been involved in. It was a lot of fun."
Brennan drove Lord Of Misrule from Post 3 in Race 11, the final heat of the season. Leading trainer Scott Di Domenico sent out the eight-year-old gelding who chased only his second seasonal win in his 31st start of the year.
"Bruce Saunders said to me, 'do you like your chances in the last race?'" Brennan recalled. "I said, 'well, he's 1-for-30 for the year. That says it all right there."
Lord Of Misrule raced along in third throughout, but lost ground in the stretch and finished fourth, seven lengths behind a 1:53.4 score by Knocking Around.
"[Lord Of Misrule] ended up getting a perfect trip, he sat third, I never had to pull him, but they went a really good mile in 1:53.4 and 1:53.4 kind of stretches him out in the summer anymore," Brennan said of the $545,485 earner. "It was going to have to work out, it was going to have to line up perfectly for him. And it actually did and I didn't have enough horsepower."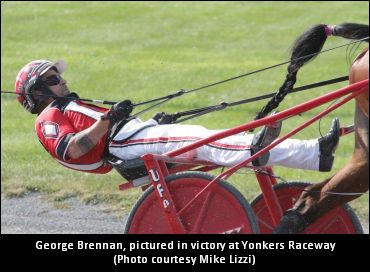 With the final race complete, Brennan had four on the card as promised and shared the driving title with Jason Bartlett.
"I just went about my business and that's how it ended," Brennan said. "It's a lot of work, a lot of dedication, good clients. It means a lot."
Bartlett enjoyed a lead from January through June as he focused solely on racing at the Hilltop. However, as the New York Sire Stakes season ramped up through the late spring and summer, Bartlett's time was divided while Brennan stayed put at Yonkers. Bartlett and Brennan flip-flopped on the lead in July, but by September Brennan seized command with a double-digit advantage.
The race narrowed again in late fall, as Brennan's margin shrunk to eight wins by November 1. By December, the drivers were in a tug of war. Brennan was sure his scheduled vacation in December would crush his chances.
"He was creeping back up there pretty quickly," Brennan said. "But then, I honestly didn't think it was going to be close when I was taking four days off in December. I thought he would have a comfortable lead after that. I got lucky, got some good mounts, good post positions, and things worked out."
Brennan's approach to the contest, much like his opponent's, was to block out the race as much as possible.
"You can't really think about it. You just have to go about your business and try to stay safe and win races," Brennan said. "There was something going on with the driving title, but in a sense, it's secondary because you still have to get the job done, you still have to get the most amount of money for your owners and trainers you're driving for. That's the No. 1 priority there."
Considering memorable horses or victories on the season, Brennan zeroed in on DWs NY Yank. The 11-year-old Dilbert Hanover gelding has earned 58 wins and $1.5 million from 200 starts. His most recent score came with Brennan in the second race on closing night, a $17,000 overnight in which DWs NY Yank aired by two easy lengths. It was the pair's 82nd start and 25th win together.
"Some horses I really enjoy driving. Some of those old horses for Burke, like DWs NY Yank, he's one of my favourites. I enjoy driving those older horses like that," Brennan said. "I've been driving him now since he was four years old. He tries hard. He's definitely not what he was anymore, but he's just a lot of fun to drive. He's tailor-made for a half-mile track."
Although the spotlight was on the drivers for the final few weeks of the racing season, Brennan pointed out that the drivers only comprise a small piece of the puzzle and expressed gratitude for the other hardworking individuals who hand over the lines for two minutes each week.
"I just want to thank all the trainers and owners and caretakers that look after and train the horses, because I can't do it without them. A big thank you to them," Brennan said.
To read Jason Bartlett's account of the driver's race, click here.
Yonkers Raceway will open its 2020 live racing season on Monday, January 6. Yonkers Raceway features live harness racing Monday, Tuesday, Thursday, Friday, and Saturday nights. First post time is at 7:05 p.m.
(SOA of NY)