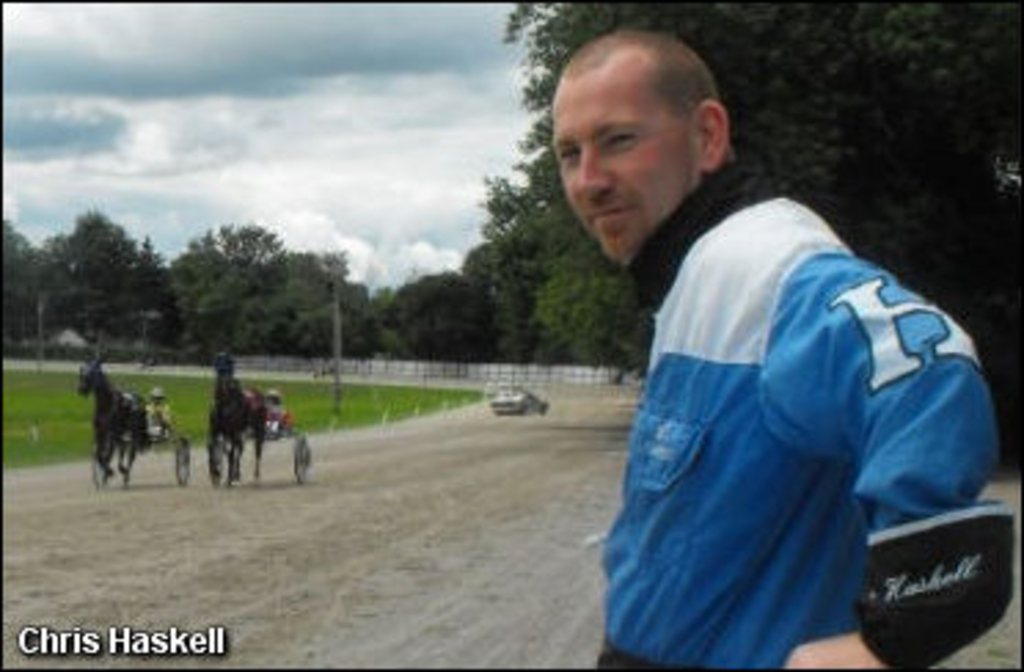 Published:
January 6, 2010 11:27 am EST
Unlike many trainers who have enjoyed success with his stable, Chris Haskell has no plans to expand from
his current number of eight horses.
In an interview with Western Fair's Pete Kyte prior to the races on Tuesday afternoon, Haskell noted that he intends to remain with the small, manageable number. "It's by design, we do everything ourselves and we like to keep it small and that number is going to stay at eight," he explained.
"Just recently in the last few months I've had a lot of people contact me to take some horses, but it's just not for us. I don't have the manpower and I don't want to have the manpower," said the Windsor-based conditioner.
When asked if there has been one horse in his stable that has stood out in recent years, Haskell said, "definitely, without a doubt it would be Prince Val. We gave $6,000 for him and he took off right from day one. He's made, I believe, $210,000 since we purchased him and it got the ball rolling for us to purchase more horses and that's how it all snowballed."
Claimed at Windsor Raceway in January of 2007, Prince Val has been model of consistency for the Haskell barn. The now nine-year-old Camluck gelding made 12 trips to the winner's circle from 28 outings last season for $71,000 in earnings. Lifetime his bankroll sits at $282,903.
Another horse that has done well since moving into the Haskell stable has been Red Neck Style, a six-year-old trotter Haskell claimed in late October of last year at Windsor.
"He's a big gorgeous horse and he's got a beautiful gait to him. I figured if he didn't do in the condition races we could go back to the claimers but he's just took off. I think he might be the best horse I've ever had. He's a powerhouse and he's done everything on his own."
Red Neck Style made his first appearance at Western Fair on Tuesday and made a break after leading for the first part of the mile. That ended a five-race winning streak for the horse that had been driven for most of his starts by Haskell's regular pilot, Brad Forward, who has been out of the sulky since late December nursing a sore arm.
"I talked to him last Saturday, he's doing quite well," Haskell reported. "He tore some muscles in his forearm and bicep and has a lot of inflammation in his arm but the doctors are positive. It will likely be another 10 days to two weeks before he's back."
Haskell, who began his training career in 2001, enjoyed a career best season in 2009 with 92 wins from 179 starters for an amazing UTR of .626. His horses earned just over $400,000 last year. If he continues at his current pace, those numbers could very well improve in 2010.
(Western Fair Raceway)