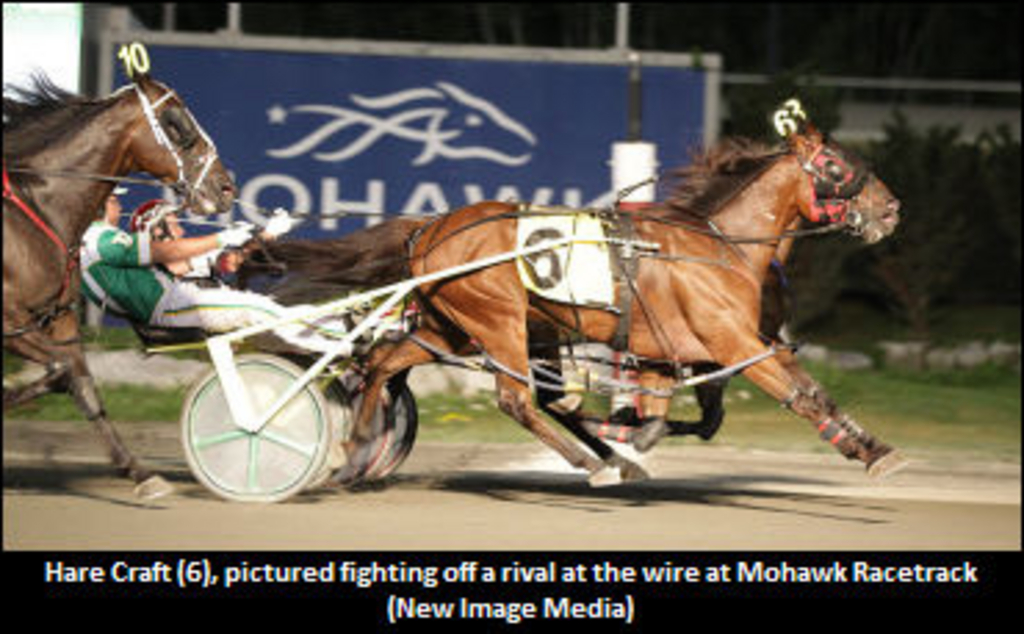 Published:
January 5, 2012 10:40 am EST
Ryan Maxwell will be busy this Saturday night at Woodbine Racetrack, as he will be sending out a pair of entries in the opening leg of the Willowdale Pacing Series
.
Maxwell, who currently trains 21 horses at Mohawk Racetrack, will send Hare Craft and Reckless Ric postward in their respective $30,000 divisions (Race 2 and 9).
Hare Craft, last season's top three-year-old pacing colt in Ohio Sires Stakes competition, has banked $213,642 in his career. He is owned by Steve Heimbecker of Waterloo, Ont. and driver Aaron Byron of Cambridge, Ont.
The bay Yankee Cruiser gelding was purchased for $135,000 in the summer of
2011. He has assembled an impressive resume since his purchase, having notched six
wins, three seconds and two third-place finishes from 15 starts.
Fresh off a pair of qualifying efforts, Maxwell has admitted to the Woodbine Entertainment Group media office that the Willowdale Pacing Series was a last-minute addition to Hare Craft's schedule.
"He came back in after [having been given] three weeks off," said Maxwell, 26. "We were actually going to give him three months off, but the owner (Steve Heimbecker) [saw] two [stakes] races and decided we should put him in it. We'll see how he does in the Willowdale and if everything goes well, we will go to the Aquarius at the Meadowlands."
Hare Craft holds a mark of 1:49.3 which was taken this past summer at Mohawk. He will start from Post 6 in Race 9 on Saturday.
Reckless Ric is the newest edition to Maxwell's stable. The son of Quick Pulse Mindale was sent to him from previous trainer Tyler Raymer. Reckless Ric is owned by Jerry and Theresa Silva of Long Beach, New York, Bramdeo Singh of Yonkers, New York and John Polvinale of Plains, Pennsylvania. He will begin from Post 2 in Race 2.
"He's a big, rugged freak to look at," Maxwell said. "He's just beautiful to sit behind and he's a really good horse."
The $40,000 second leg, for four-year-old pacers in 2012, is scheduled
for Saturday, January 14 with the $100,000 final slated for Saturday,
January 21.
To view the harness racing entries for Saturday at Woodbine, click the following link: Saturday Entries - Woodbine Racetrack.
(With files from WEG)