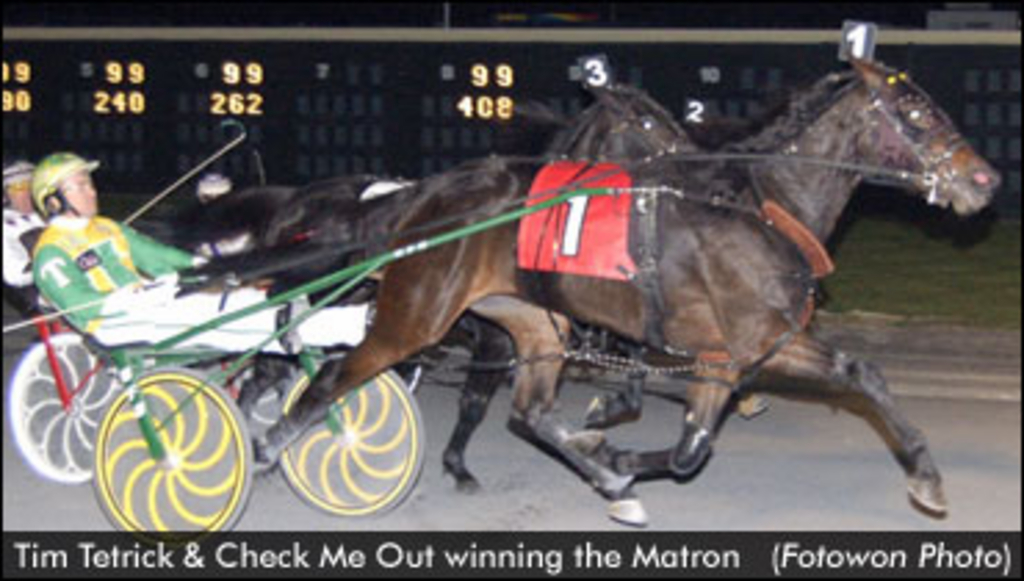 Published:
January 4, 2012 07:17 pm EST
Tim Tetrick won North American harness racing's money title for the fifth consecutive year in 2011, the sport's longest streak since John Campbell reeled off five straight
from 1986 to 1990. Billy Haughton holds the record with eight consecutive titles from 1952 to 1959.
The 30-year-old Tetrick earned $15.85 million (U.S.) in purses last season and finished third in wins among all drivers in North America, visiting the winner's circle 746 times. Tetrick has finished no worse than fifth in victories over the past five years and led in wins, with a record 1,189, in 2007.
"It's very nice," Tetrick said. "I want to thank all my owners and trainers for giving me the opportunity. It's a lot of work, but I enjoy it. That's why we do this, to make money and have fun. It's been good."
Tetrick was the leading driver at Harrah's Chester, not far from his home in southern New Jersey, and was second to Brian Sears at the Meadowlands. Tetrick's 3,362 starts were the most among harness racing's wins and purse leaders, but were much fewer than his career high of 4,728 in 2007.
"It's more concentrated," Tetrick said about his schedule. "I'm getting more days off. There are a lot of racing opportunities and I hate to give them up when I have them. I'm not travelling all over the country, except with the stakes horses. The numbers are staying the same, but it seems a lot easier.
"I'm just pacing myself. I race a lot at Chester, which is close to the house, and that helps a lot. I couldn't do it without the help of my family; they make it a lot easier for me. So far it's worked out good for me."
Tetrick last season was the regular driver of top two-year-old filly trotter Check Me Out and also scored major stakes victories with two-year-old filly pacer American Jewel, two-year-old colt trotter Possess The Will, three-year-old filly trotter Jezzy, and two-year-old colt pacer Heston Blue Chip.
His most memorable moment came in the Matron Stakes for two-year-old filly trotters, when Check Me Out went off stride early and spotted the field up to two dozen lengths before rallying for the victory.
"She was a lot of fun to drive," Tetrick said. "She went some great miles. Probably her best race was when she made the break and still came back to win at Dover. It was hard on my heart; it was awful nerve-wracking. But that was pretty amazing."
Tetrick is gearing up for the start of racing Friday night at the new Meadowlands. The track underwent renovations since the end of last season, with the turns being banked in the hopes of creating more competitive races.
"I think it's really going to help," Tetrick said. "In my opinion, the last few years it's been such a front-end racetrack. I know the breeding has changed and all that, but now you'll have the opportunity, in your mind as a driver, to think you can still win from second or third over.
"I think it will be more strategic. You won't have to be so forwardly placed all the time; you can let the other guys make mistakes and you can still catch them late. It just makes it easier for the horses on the outside to maintain their position in the final turn without losing ground, or without exerting themselves to keep up. I think it will help seven or eight of the horses be competitive instead of just three or four. That makes racing a lot better for the fans, it makes racing a lot better for the owners.
"I'm very excited about it. I wish [new track owner] Jeff Gural and all the crew that put all the work into it have a great year and I'm just glad to be part of it."
Tetrick hopes to be part of another memorable season, too.
"I don't shy away from hard work and at the end of the year I want to be the best," he said. "I was brought up to work hard and I get to do a job that I love to do. I get to race harness horses and compete on a high level with a lot of good drivers and trainers. I really enjoy getting to do that."
---
This story courtesy of Harness Racing Communications, a division of the U.S. Trotting Association. For more information, visit www.ustrotting.com.