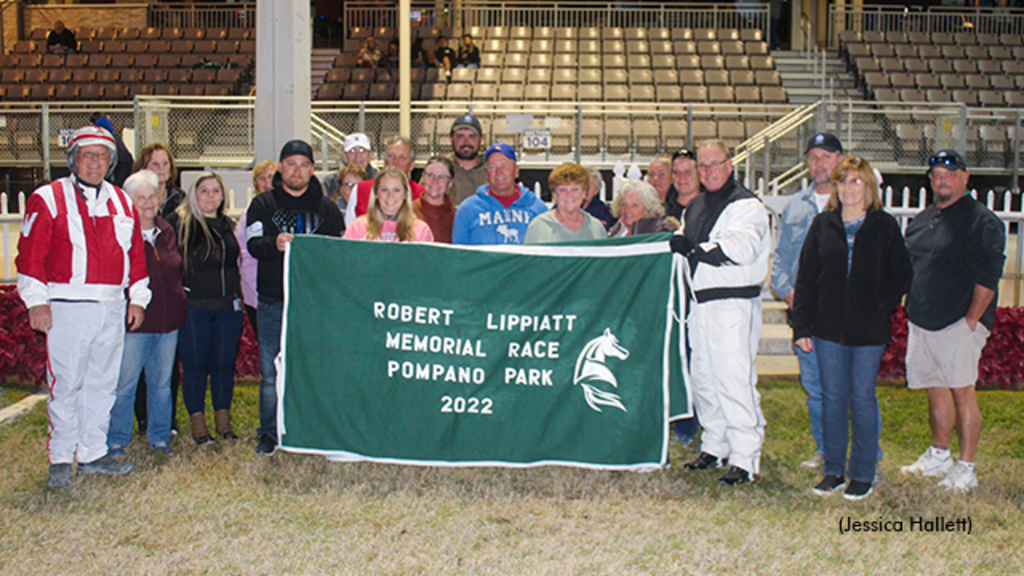 Published:
January 31, 2022 01:04 pm EST
Maxdaddy Blue Chip, by far the oldest equine competitor in Pompano Park's $14,200 Open Handicap Pace at age 10, driven by Rick Plano, the oldest driver in the race at 70, teamed up to score a courageous win on Sunday night (Jan. 30), conquering chilly weather conditions and five worthy foes in 1:51.4.
The gelded son of Sportswriter earned his first win of the year after continually knocking at the door in his previous 2022 starts as he scored by a neck over the late-surging Seeing Eye Single (David Miller), with the pacesetting My House (Andy Shetler) third, just a half-length away. Actor Hanover finished fourth in the million-dollar field while Real Peace was a fast-closing fifth in picking up the nickel in the sextet.
Trained by Rick Plano for owner/wife Maryann Plano, Maxdaddy Blue Chip again showed his versatility by zooming off the wings into an early lead taking the field to the opener in :27 before yielding to My House under the line the first time as the latter cut subsequent panels of :55 and 1:23.1.
Turning for home, Maxdaddy Blue Chip left the coziness of the pocket and began his assault on the leader, taking charge at mid-stretch and then holding off the surging assault of Seeing Eye Single to hold on by a neck.
In reflecting on the win, Plano said, "You know, sometimes you have to make split second decisions on the racetrack and this was one of those times. When we left, I saw that Kevin's (Wallis) horse (Actor Hanover) wasn't that anxious to leave out of there hard, so I decided to see if I could and get a close up spot. The old-timer felt very strong and we had no trouble making the top before the yield. We had a very good journey after that and we just had to be a little patient around the final turn to find a seam. We we got it, 'Max' was ready to pounce and we were lucky to find our way first to the wire as David's (MIller) horse was really motoring...but a little late."
The win was number 43 in Maxdaddy Blue Chip's career, sending his lifetime earnings to $452,739. In an evenly-matched field where no horse was in double-digits on the toteboard, Maxdaddy Blue Chip paid $10.20 as third choice.
The $12,000 Open II Pace, honouring the memory of longtime horseman Robert Lippiatt, went to Rebellious, driven by Wally Hennessey, earning his 56th lifetime win, in 1:52.3.
The eight-year-old altered son of Mach Three held on for dear life late, surviving a :27.3 onslaught by Jet Rock (Bob McClure) to score by a neck. Agedchedar Hanover (John MacDonald) was a fast-closing third while Statement Made A and Ourrhythmnblues N were next in the sharp sextet.
Rebellious, away with alacrity, took charge off the wings before yielding -- briefly -- through an opening panel of a hot :26.3. A second move put Rebellious on top through fractions of :56.1 and 1:24.1 while putting some daylight between he and the rest of the field. That lead looked insurmountable at over three lengths at mid-stretch but began to melt late as Jet Rock was surging. But the wire arrived just in time as Rebellious got his first win of the year.
Rebellious vaulted his earnings to $445,517 while returning $6 to win as second choice in the wagering.
Robert Lippiatt, by the way, was remembered in winner's circle ceremonies after the race as a well respected horseman and track man for over 50 years, many of them at Pompano Park.
The $11,000 Open III Pace went, in an upset, to Mc Mach, handled by Rick Plano, in 1:52.1.
The eight-year-old gelded son of Mach Three, off at 11-1 despite a 9-2 morning line, had an easy time in scoring a 2-1/4 length win over the favoured JMs Delight (Hennessey), with Dealt A Winner (MIller) third. Warawee Veloce and Drunkonaplane were next in the field of six.
Owned by Maryann Plano along with Jan and Mindy Findling Repko, Mc Mach earned his second win of the year and 27th lifetime in sending his earnings to $272,975. Mc Mach paid $24.40 to win.
Yet another $11,000 Open III Pace went to Lets Roll, driven by David Miller, in 1:52.1.
The seven-year-old son of Roll With Joe got picture perfect handling from Hall of Fame driver Miller by taking charge early through an opening quarter of :27.2 before yielding to the favoured Surfer Beach (Braxten Boyd) -- the latter zipping through subsequent panels of :55.3 and 1:24. Turning for home, Lets Roll easily went by the leader and, just as easily, held off Windemere Ryan (Tyler Jones) to score  by 2-3/4 lengths. Maximus Red A (Ricky Macomber Jr.) was third while Surfer Beach finished fourth over Mac Anover in the field of six.
Trained by Jake Huff for wife Rosie, son Ryan and the Beauty Bridle Racing Stable, Lets Roll won for the second time this semester, 20th time overall and paid $8 as the second choice in the betting. He's banked $212,335 lifetime.
Racing continues on Monday night with a competitive 12-race program highlighted by a $15,000 guaranteed Pick-4 pool bolstered by an industry low 12 per cent takeout and a Super Hi-5 finale with a jackpot carryover of $72,673. Post time is 7:20 p.m.
(With files from Pompano Park)