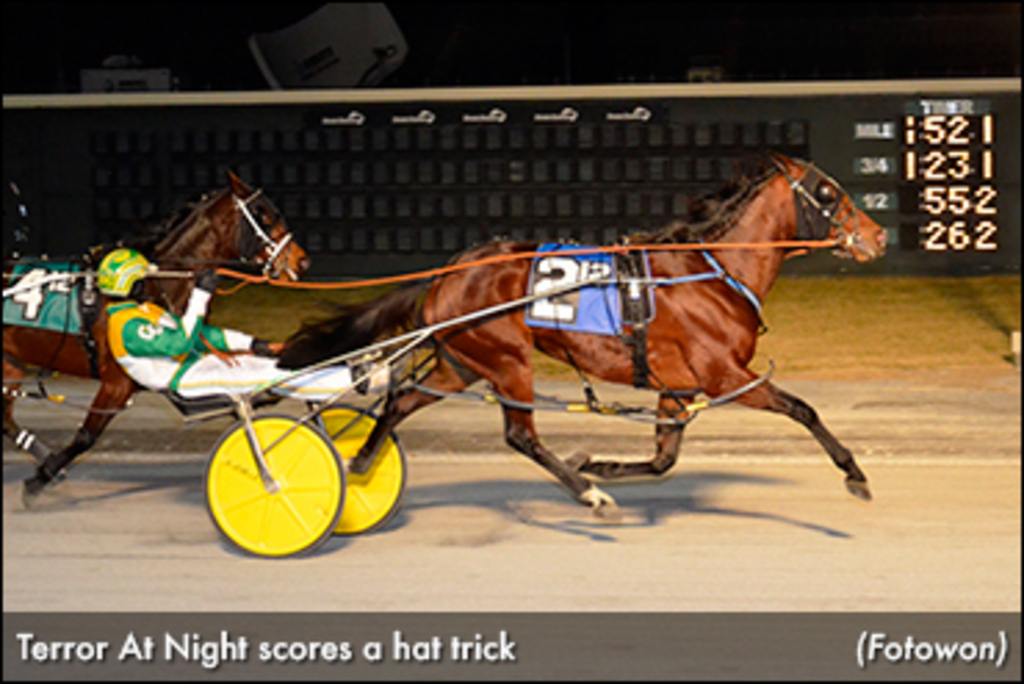 Published:
January 31, 2018 09:47 pm EST
Terror At Night stepped up to her third consecutive victory in the $25,000 Mares Open Handicap in 1:52.1 on Wednesday (Jan. 31) at Dover Downs.
The four-year-old daughter of Western Terror-Enhance The Night, owned by Ed Maas III, Arlene Paisley, and Nanticoke Racing, remained unbeaten in January with Corey Callahan driving. The Les Givens-trained Terror At Night earned her 18th career win, enhancing her bankroll to $266,501. Sweet Bobbie (Mike Cole) finished second with Newborn Sassy (Tim Tetrick) the show horse.
Scandalicious (Jonathan Roberts) led the eight-horse field past the quarter in :26.2 before yielding to Sweet Bobbie, who led through the middle portions when Terror At Night went into action on the final turn.
In the $17,000 mares sub-feature, Shartin N made her second start in the States another winning one, but the Tintin In Amrica-Bagdarin five-year-old had her moments during a 1:52 mile. Tim Tetrick steadied the New Zealand female twice during the race when Shartin N made short breaks. Roselily (Ross Wolfenden) cut out the fractions and led until approaching the finish line, when Shartin N closed with a rush to get up for the triumph for trainer Jim King, Jr. and owners Rich Poillucci and JoAnn Looney-King. Cocktail Time (Tony Morgan) was third.
Owner-trainer-driver Vince Copeland put a new 1:53 race record on Goin Again, a Dragon Again-Aint Goin Back five-year-old in a $15,000 mares event. The victory ended two lengthy win streaks. Stormtracker (Tetrick) finished second after three straight wins, and Pass Line Bluechip (Allan Davis) was third, ending her winning streak at four.
Barbaras Shadow came from off the pace to win a $13,000 mares pace in 1:53.2 for owner-trainer Vic Kirby and partners Leigh Raymer and Brian Hoffecker. Use Your Noodle (Montrell Teague) was a game second in front of Skateboard Chic (Russell Foster). The win was the second this year for the Shadow Play-Bababababarbarapan five-year-old.
Tim Tetrick drove three winners, while Vic Kirby and Corey Callahan had doubles.
Cajon Lightning, Sweet Rock, Missile J Square Off Thursday
A strong sextet of hard-hitting pacers tangle in this week's $27,500 Preferred-Open Handicap on another solid 13-race card at Dover Downs on Thursday (Feb. 1).
Janet Hudson and JoAnn Looney-King's Little Ben has done nothing but win since mid-December, rolling off four consecutive victories for trainer Jim King, Jr. This week Corey Callahan will drive Little Ben. Cajon Lightning, already a five-time local feature race winner for trainer Eric Ell and owners Ken Wood, Bill Dittmar, Steve Iaquinta, and Minisink Farms, will be driven by Russell Foster this time. Sweet Rock (Vic Kirby) has been at the top of his game all season long for conditioner Wayne Givens and owners Reggie Hazzard, G.O. Calloway, and Legacy Racing.
Rounding out the field will be Hypothetical (Tony Morgan), Missile J (Tim Tetrick), and Moonliteonthebeach (Ross Wolfenden).
First post is 4:30 p.m. Eastern.
(Dover Downs)