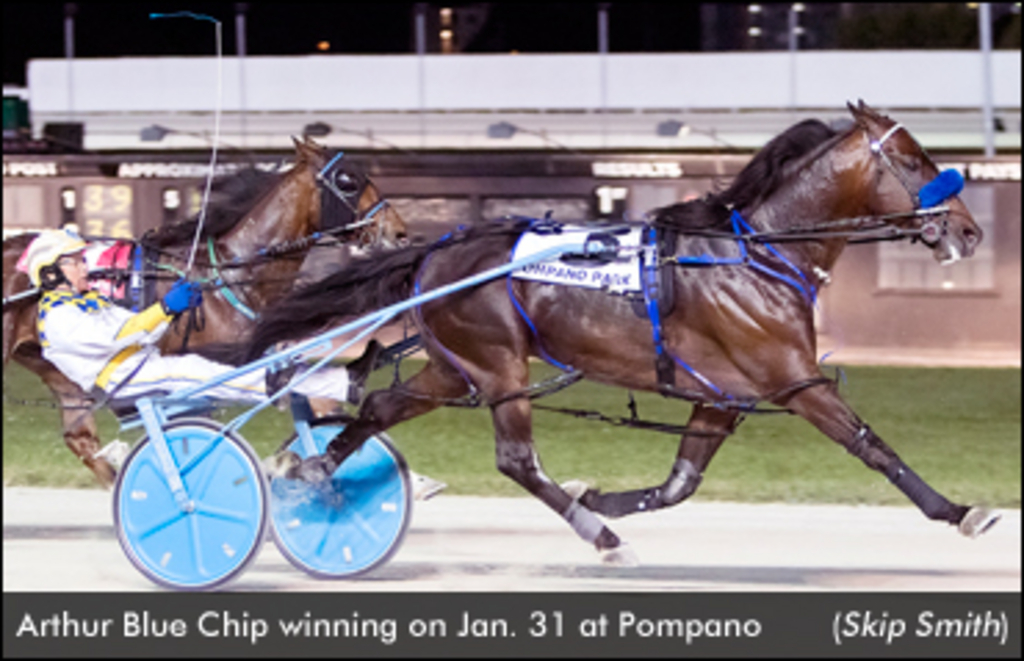 Published:
January 31, 2016 11:25 pm EST
Arthur Blue Chip, driven by Wally Hennessey, led every step of his mile, wiring together halves of :55.3 and :54.3, to win the enriched $15,000 Open Handicap Pace at Pompano Park on Sunday night (Jan. 31) in 1:50.1.
Four Socks, handled by John Cummings Jr., finished second, one length away, while Johnny Grippa, with Dave Ingraham in the bike, finished third. Rock On Moe was fourth while Brees Creek was fifth in the field of seven.
In a confident move, Hennessey sent Arthur Blue Chip winging out of the gate, putting Johnny Grippa in the garden spot with Four Socks, longest shot in the field at nearly 40-1, third. After an opening quarter in :27.1, Arthur Blue Chip strolled over to the half in :55.3 with a :27.2 third panel thwarting any developing threats. In the lane, Johnny Grippa angled out and Arthur Blue Chip drifted out a tad allowing Four Socks clear sailing along the pylons into second, but the outcome was never in doubt.
In a post-race interview, Hennessey related, "Doc Moore [trainer and co-owner Dr. Ian Moore] has him razor sharp -- I mean razor sharp. Out in :27.1 and home in :27.1, why I hardly even spoke to him during the mile.
"And this group was no pushover, either, with a few of 'em owning sub-1:50 marks.
"I wanted to put my horse on the front end because I know how much Dave [Ingraham]'s horse likes the front end and didn't want to give him a chance to get away with soft fractions, especially having confidence that my horse could go a good mile tonight."
Dr. Ian Moore shares ownership in Arthur Blue Chip with R G McGroup and Serge Savard, with their five-year-old son of Shadow Play equalling his lifetime-best mile with the win -- his second of the year in four starts and 12th lifetime in only 29 starts. The victory pushed Arthur Blue Chip's lifetime bounty to $526,509.
As the 1-5 toteboard favourite, Arthur Blue Chip paid $2.40 to his multitude of backers.
Bandolito lit up the teletimer in the $11,000 Open 3 Pace with a near wire-to-wire win for George Napolitano Jr. in 1:49.4, this after scorching panels of :26, :53.1 and 1:20.3 along the way.
Next Thing Smoken closed fast to finished second for Rick Plano while Maddysonofagun finished third with John MacDonald in the bike. Danishdujour finished fourth while Southern Winds picked up the minor award in the octet.
Bandolito, a six-year-old son of Ponder owned and trained by Jenny Bier, won for the 25th time during his splendid career to send his lifetime bounty to $434,535 to go along with a splendid mark of 1:48.
As the overwhelming 1-5 toteboard favourite, Bandolito paid a $2.60 dividend to his many investors.
After the race, the soft spoken Napolitano simply said, "He was on his game tonight!"
The $12,000 Open 2 Pace went to Northern Companion, with Dave Ingraham in the bike, in 1:51.4
Trained by Howard Klohr for owner Dorothy Zarza, Northern Companion was dead last in his octet around the final turn, but swept up widest of all on the strength to a :27.3 final panel to nail the win in the final stride -- the official margin being a head.
Whogoesfirst, driven by Wally Hennessey, finished second in the photo while Martial Bliss finished third for Aaron Byron, three-parts of a length away. Teranadawn finished fourth while pacesetting Danger Hi Joltage finished fifth.
In this action-packed mile, there were several lead changes with Whogoesfirst away quickest of all and taking the field through an opening panel of :26.3 before yielding to Danger Hi Joltage, escorting the field halfway through in :56.1. On the backside, Heart Felt rushed up from fifth to stick his nose in front past the third station in 1:23.1 with Danger Hi Joltage fighting to reclaim the top spot turning for home before Whogoesfirst rallied to stick his head in front in deep stretch, only to be nailed by Northern Companion on the wire.
For Northern Companion, an eight-year-old altered son of Cambest, the victory was his 46th lifetime win -- 38 of those at Pompano Park -- with his career earnings edging closer to $300,000 -- $297,282 to be exact.
Off at 10-1, Northern Companion paid $23 -- only the fourth time he's been double-digit odds in winning.
In the popular $6,500 "Over The Hill Gang" Series, featuring nine-year-olds and up, a field of seven with combined earnings of well over $2 million and 236 lifetime wins went postward and it was the 11-year-old Zorgwijk Impact, driven by George Napolitano Jr. for owner/trainer Jack Sheehan, home first in a lifetime-equalling-best effort of 1:54.2.
Leading at every pole through panels of :28.2, :58 and 1:26.1, Zorgwijk Impact, a son of Armbro Ricochet, strolled home lengthening his margin to seven and a half lengths at the wire over On The Tab (Wally Hennessey) with Ill Tell You What third. Go Jesse Go was fourth over Mad Cow Lisa, picking up the final award in thee septet.
Zorgwijk Impact now has 43 lifetime wins in his career stretching 272 starts, good for earnings of $356,955.
As the 4-5 favourite on the toteboard, Zorgwijk Impact paid $3.80 to win.
Other notable performances on the Sunday program in South Florida were carded by Grande Seelster in the $10,000 pace for $20,000 claimers, Officernagentleman in the $8,800 pace for $15,000 claimers, King Royalty in a conditioned event and Thebestofjoel, also in a conditioned event.
Grande Seelster ($17.60) brushed up on the backside from fourth to score a photo finish victory over Fall Toy and Buddha Blue Chip in 1:51.1 for Kevin Wallis. Owned by Enos Van Stanhope III along with trainer Tony Dinges, Grande Seelster won for the 26th time career-wise to send his bounty to $240,397.
Officernagentleman ($4.80) won his fourth straight, this time for Joe Pavia Jr., who was in the sulky for trainer Paul Holzman and the J L Benson Stables. The time of 1:50.3 was a new lifetime mark. Fritzie Pic Up Man was next in the mile followed by Hopiesdragininthedo. Officernagentleman pushed his career bounty to $296,330 with the win -- his 29th career-wise.
King Royalty ($10.80) lowered his mark to 1:51 by getting picture perfect handling from trainer Matt Romano in pinning a photo finish defeat on Real Catch with Aloneinspades next. Owned by C & F Associates, King Royalty now has a career bankroll of $158,075.
Finally, Thebestofjoel ($2.60), handled by George Napolitano Jr., enjoyed his class drop this night and scored a gate-to-wire win 1:51.1 off of hot panels of :26.3, :54.3 and 1:22.4. Trained by Tim Maier for owner Denise Maier, Thebestofjoel now has $375,178 in lifetime earnings to go along with his 32 career wins.
(With files from Pompano Park)