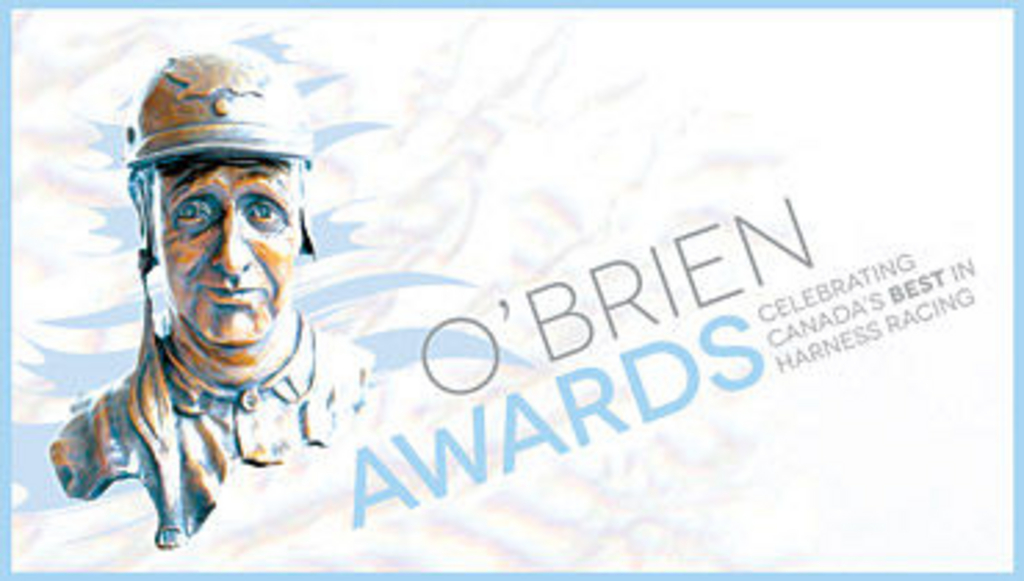 Published:
January 30, 2013 01:42 pm EST
Standardbred Canada has released the breakdown of the voting for the 2012 O'Brien Awards. The ceremony took place Saturday, January 26 at the Delta Meadowvale in Mississauga, Ont.
The voter's mandate is to vote for the horse or person in each division they felt made the greatest contribution to Canadian harness racing over the past season. It's important to keep in mind that when all is said and done, it is still a subjective process, as each voter makes his or her selections based on their individual opinion.
Who votes for the O'Brien Awards? Members of the media across Canada who cover harness racing on a regular basis have the opportunity to vote, including writers for the various trade publications, web sites, as well as those in print, radio and television. All Canadian race secretaries and track publicists also participate in the voting.
In the event of a tie in the horse categories, SC has an internal committee that reviews the horse's past performances (stakes events take priority) and earnings in Canada to determine who has the better record. This is only done in the case of a tie for second place so that there are never more than two nominees in the horse categories. If the tie is between horses for the most number of votes, (ie. the winner) then both (or all) candidates will be declared winners in the category.
Here are the results of the O'Brien Awards voting for the 2012 Awards.
Pacers
Two-Year-Old Filly Pacer
I Luv The Nitelife – 30
Somwherovrarainbow – 14
Love Canal – 4
L Dees Lioness – 2
Its No Secret – 1
Kims Royal Day – 1
(No Vote – 1)
Two-Year-Old Colt Pacer
Captaintreacherous – 48
Mach Pride – 2
Odds On Equuleus – 1
Premium Attaction – 1
Rockin Amadeus – 1
Three-Year-Old Filly Pacer
American Jewel – 41
Malabrigo – 7
Mach A Wish – 4
Big McDeal – 1
Three-Year-Old Colt Pacer
Michaels Power – 40
Thinking Out Loud – 11
A Rocknroll Dance – 1
Sweet Lou – 1
Older Pacing Mare
Anndrovette – 29
Rebeka Bayama – 12
Put On A Show - 7
Camille - 4
Drop The Ball – 1
Older Pacing Horse
Betterthancheddar – 28
Foiled Again – 23
Bettor Sweet – 2
Trotters
Two-Year-Old Filly Trotter
Bee A Magician – 39
To Dream On – 13
(No Vote – 1)
Two-Year-Old Colt Trotter
Wheeling N Dealin – 51
Murmur Hanover – 1
(No Vote – 1)
Three-Year-Old Filly Trotter
Check Me Out – 31
Maven – 9
Miss Paris – 7
Sugar Wheeler – 4
Smarty Pants – 2
Three-Year-Old Colt Trotter
Intimidate – 28
Market Share – 15
Prestidigitator – 5
Knows Nothing – 4
(No Vote – 1)
Older Trotting Mare
Frenchfrysnvinegar – 51
Pembroke Heatwave – 1
(No Vote – 1)
Older Trotting Horse
Mister Herbie – 50
Daylon Magician – 1
Windsong Geant – 1
(No Vote – 1)
People Awards
O'Brien Award of Horsemanship
Marc Campbell – 30
Kelly Hoerdt – 12
Darren Crowe – 6
(No Vote – 5)
Armstrong Breeder of the Year
Al McIntosh / Robert McIntosh – 34
Warrawee Farm – 13
Meridian Farms – 5
(No Vote – 1)
Driver of the Year
Sylvain Filion – 27
Scott Zeron – 14
Trevor Henry – 5
Jody Jamieson – 3
Anthony MacDonald – 1
Billy Davis Jr. – 1
Tim Tetrick – 1
Jim Marino – 1
Trainer of the Year
Casie Coleman – 18
Jeff Gillis – 9
Richard Moreau – 9
Tony O'Sullivan – 4
Dustin Jones – 3
Bob McIntosh – 3
Rene Allard – 3
Linda Toscano – 2
Jamie Copley – 1
Jimmy Takter – 1
Horse of the Year
Michaels Power – 23
Wheeling N Dealin – 13
Foiled Again – 3
Market Share – 3
Betterthancheddar – 2
American Jewel – 2
Intimidate – 2
Malabrigo – 1
Mister Herbie – 1
Captaintreacherous – 1
Thinking Out Loud – 1
Bee A Magician – 1