Published:
January 3, 2022 03:43 pm EST
Gulf Shores started his freshman year rolling off six straight wins including the $300,000 Ohio Sires Stakes finals on his way to winning the Ohio Triple Crown and being named the Ohio Two-Year-Old Pacing Colt of the Year.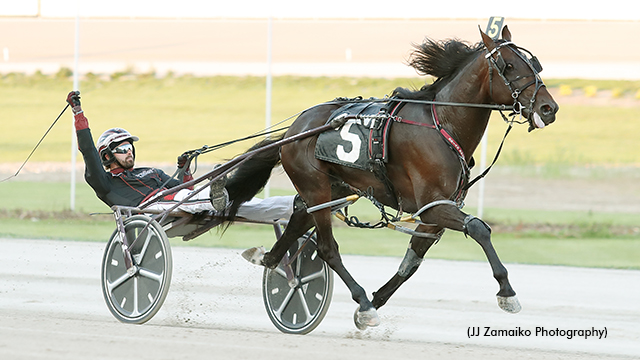 Trainer Brian Brown said Gulf Shores is talented, but also has a desire to win.
"He was willing to do whatever you wanted to do. You could leave or you could race him from behind," said Brown, noting Gulf Shores was not perfect every start as he battled stomach ulcers and a little bit of soreness. "When it was time to go behind the starting gate, you would not know anything was wrong with the horse."
Gulf Shores, the son of Downbytheseaside out of Western Drag, finished the campaign winning six of 10 starts and finishing second in three others. His other wins included the Ohio State Fair Stakes and the Ohio Breeders Championship, which along with the Ohio Sire Stakes comprise the Ohio Triple Crown.
Owned by Country Club Acres Inc., Crossover Racing and Wingfield Brothers LLC, Gulf Shores earned $493,967 in 2021.
Gulf Shores will be honoured at the Ohio Harness Horsemen's Association Annual Awards Banquet on January 15, 2022, at the Hilton Columbus-Polaris in Columbus, Ohio. Tickets to the banquet are $30 each and can be purchased by calling the OHHA office at 614-221-3650. Reservation forms are also available on the OHHA website at ohha.com.
The 2021 Ohio Horse of the Year will be announced at the annual awards banquet.
(With files from Ohio Harness Horsemen's Association)