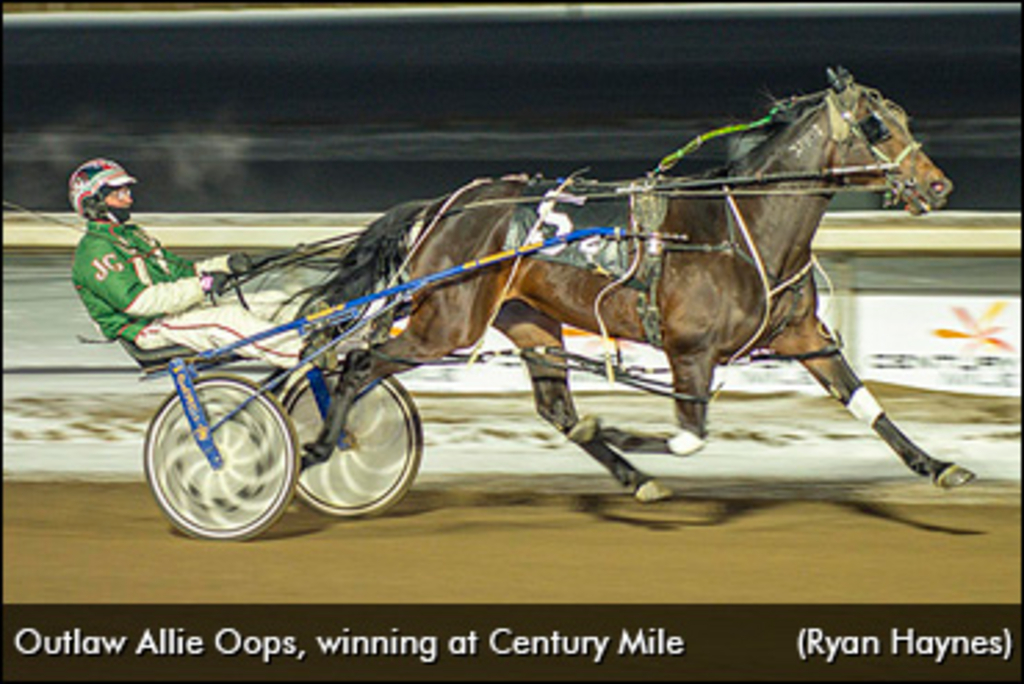 Published:
January 3, 2020 10:27 am EST
A gift from the clouds, Outlaw Allie Oops' meteoric rise is simply amazing if not improbable. Five months ago, she was a three-year-old filly racing against lowly $7,500 claimers for trainer Keith Clark. Now, after being purchased privately from Clark last August by Joe Ratchford, Outlaw Allie Oops is simply unbeatable.
Including her last appearance -- the Dec. 20 $20,000 Century Milers Pacing Series Final where she was sent away at odds of five cents on the dollar and won by 13 lengths as ridiculously easily as possible in a superb 1:54 -- Outlaw Allie Oops has won five races in a row.
"Oh my gosh; I'm shocked. When I bought her I never thought she'd be this good," said Ratchford, 64, who has been training harness horses for most of his life and who has five brothers who are also in horse racing. "Keith told me she was wicked fast but she couldn't breathe properly. So we operated on her throat. Sometimes the surgery works. Sometimes it doesn't. It sure worked this time. It helped her. It helped her a lot. We hoped for the best with the surgery and it sure worked out. We got lucky I think."
The results of the surgery were immediate. After giving her time to recuperate -- a period of more than two months -- Ratchford entered his new acquisition on Oct. 11 and watched her win a conditioned pace in a career best 1:56.1 by three-and-a-half lengths with regular driver Jamie Gray in the bike.
"Holy cow. Jamie said he couldn't hold her; he said she was pulling a ton," said Ratchford, who is originally from Cape Breton, spent 10 years in Manitoba and when that track closed came to Alberta in 1991.
As it would turn out, Outlaw Allie Oops was just getting started writing the turnaround story of the year. After two unplaced finishes when Gray and Ratchford were still trying to figure her out, Outlaw Allie Oops came from far back to win a $10,000 Alberta Sire stakes race on Nov. 2 by six-and-a-half lengths - also in 1:56.1.
On Nov. 15, she took a conditioned race coming from last place to win by seven lengths over an off track. Next up was the three-race Century Milers Series. She won the first leg on Nov. 22 by three lengths.
"She was on the front end early in that race and that's not how she wants to race," Ratchford said of that race which went in 1:58.3. "She was good but she wasn't real strong. She much prefers to come from behind. She doesn't want to be on top early," said Ratchford, who has won 934 races in his racing career.
Then she really blew the doors off. In the second leg of the Century Milers Series on Dec. 6 Outlaw Allie Oops, a bay filly with no white markings, won by 12 lengths in an eye-popping 1:54. Then, two weeks later, came her scintillating 13-length win in the Final.
Moving to take the lead down the backstretch in a half in :56 4/5, it was like watching a lion eat. Increasing her lead with every step, Century Mile track announcer Ken Gee said "It's a paid workout for Outlaw Allie Oops."
"She's getting better every time I race her," said Ratchford. "Before the throat surgery she had two wins and a second in her previous three starts so she wasn't desperate or anything. But to go in 1:54 twice in a row? I was shocked the first time she went in 1:54. Then she did it again. Wow."
Wow indeed. Outlaw Allie Oops' second back-to-back 1:54 mile was the same time as soon-to-be anointed Alberta aged horse champion Icy Blue Scooter won the Open Pace in a gutsy effort that same evening.
Furthermore, while Icy Blue Scooter, who was parked out until midway down the backstretch, was all out Outlaw Allie Oops was under a snug hold winning eased up by 13 lengths. Regular driver Jamie Gray could have stopped half way down the stretch, grabbed a bag of popcorn and still won. "Her second 1:54 mile was easier than the first one. If Jamie had asked her she could have gone quite a bit faster."
A 'bit?' Never raced as a two-year-old Outlaw Allie Oops probably could have gone at least a second faster. "She's starting to settle down. When a horse can't breathe they panic. Now she's got some confidence," said Ratchford, who has won six of eight races and just under $25,000 since making the decision to buy her.
"I think I got a good one. Hopefully she can carry on. But you never know. There are no guarantees with race horses."
(Curtis Stock / thehorses.com)