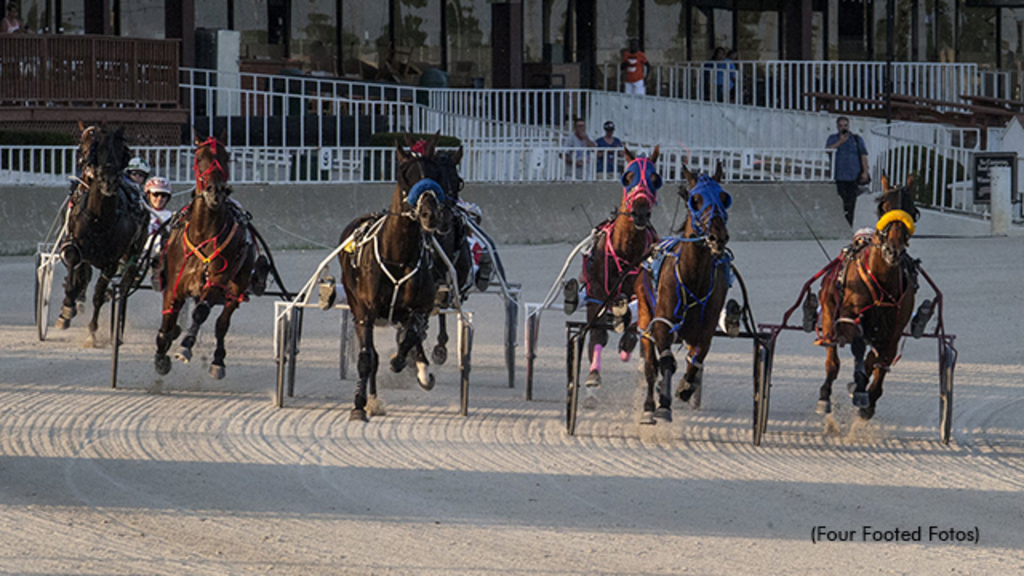 Published:
January 27, 2022 03:59 pm EST
As the daughter of two former skydivers, it's no surprise Kim Roth enjoys an adrenaline surge. But rather than following in her parents' parachutes, Roth gets her rush from harness racing.
Her parents, though, had a hand in that as well.
Roth trains a stable of 10 horses in her native Illinois. Two will be in action in the coming days at Hawthorne Race Course — Hello Sweetie Boy in Friday's $11,200 four-year-old Open Pace and Rockyroad Aldo in Sunday's $13,700 Open Trot.
Her participation in the sport goes back to her parents, Kurt and Marlyne, buying their first racehorse when Roth was around the age of 12. Kurt was a carpenter and Marlyne a beautician whose first involvement with horses was in the show world. After going to the track with a friend, Roth's parents added harness racing to their pursuits.
"My mom, right off the bat, started letting us jog," Roth said, referring to herself and sister Kelly, who is now a colonel and commander in the Air Force. "I couldn't get enough of it. I still can't. Then she started letting us train and I loved every minute of it. I think going fast is what hooked me. I showed horses too, but I converted to racing fulltime when I was 19 and never looked back.
"I love these horses, they're awesome animals. I don't know what I would do without them. I'll keep doing this as long as my body will let me."
Roth's parents, who still board a half-dozen horses at their farm, met through skydiving in the early-to-mid 1960s.
"They've got a little craziness in them," Roth said with a laugh. "My dad was one of the first people to take movies, videos, of skydiving. He mounted one of the old cameras on his helmet and took movies. He was in a skydiving club, and my mom was in a different skydiving club. He had taken the movies to show at the other club and that's where they met. They did (skydiving) for years. My dad competed and was very good at it.
"I never did try it. I was going to and never got around to it. It's hard to get away in this business, especially when you do your own barn. Now, I wouldn't do it. I'm way past that. Sitting behind a horse is plenty of adrenaline for me."
Roth, 54, has won 472 races as a trainer, with purses of $3.33 million. Her stable today consists of five two-year-olds, three three-year-olds, and the aforementioned Hello Sweetie Boy and Rockyroad Aldo.
Hello Sweetie Boy, a son of Aracache Hanoveer-Murvys Lady purchased under the name Hello Sweetie for $6,800 at the 2019 Michiana Classic Sale, has won $53,803 with four wins and a total of 13 top-three finishes in 29 starts. He won an Indiana Sire Stakes division at two before being sidelined by a leg injury after three races.
This year, he had a win and a second in legs of the Winter Wonderland Series and was fifth in the final. He is the 4-1 morning-line favourite in Friday's four-year-old Open Pace, leaving from post nine with driver Todd Warren.
"He's got a big heart," Roth said. "He's not a real big horse, he's just average size, but he loves his job, and he gives you what he's got.
"We spend a lot of time with these horses, I'm here more at the barn than I am at my house, and they become like family. You become attached to them, and they become attached to you. I've had multiple offers to sell him and, business-wise, I probably should have. But I really like him. He's a real racehorse."
Rockyroad Aldo, a six-year-old son of Guccio-Bars Dutchess, was purchased privately before starting his career. Unraced at two, he has won 11 of 42 lifetime starts, hit the board eight more times, and earned $72,669. He has two second-place finishes in three starts this season, all in the Open.
"He was completely wild when we got him, but he has really matured," Roth said. "They say trotters get better with age and he's definitely getting better with age."
Watching horses develop and improve is what Roth most enjoys.
"I like getting a colt that doesn't know anything and teaching them to be competitive," she said. "I love everything about it. It is a challenge. I know not all of them can make it, but I try to make them the best they can be. I treat them good, and they usually give you everything they've got.
"I love coming to the barn. I'm a full-fledged horse girl."
And it all began with a couple of skydivers meeting at a club.
"I've got an amazing family," Roth said. "I'm very lucky with the parents I have, and my sister, the things she's accomplished in her life, I could never compete with. I'm very proud of her.
"It's crazy how things happen. I'm very lucky. I've had a great life. I really have. I wouldn't have changed anything."
Racing begins at 7:15 p.m. (CST) at Hawthorne. Free programs are available at the Illinois Harness Horsemen's Association website.
(USTA)