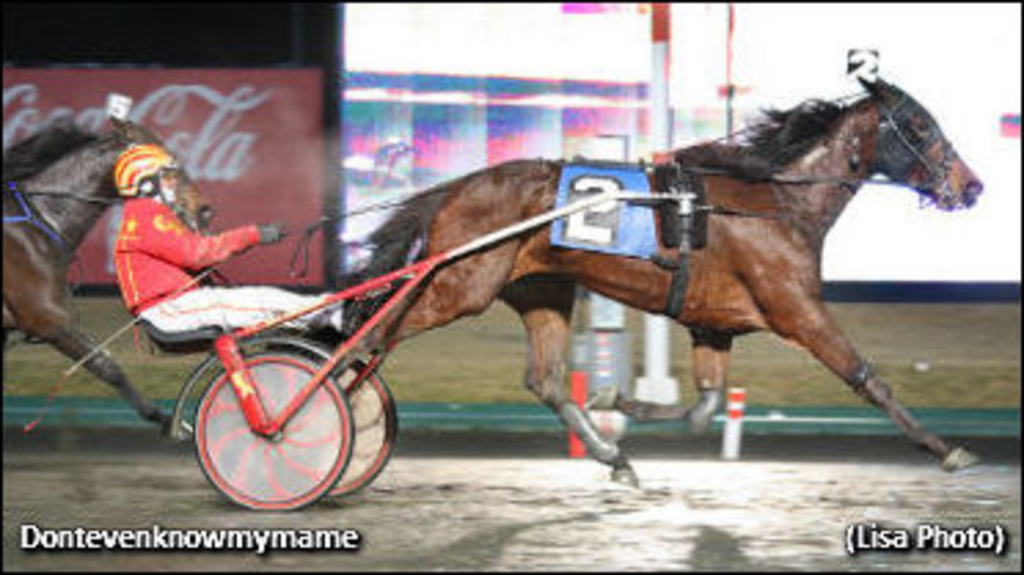 Published:
January 26, 2012 09:30 pm EST
A pair of series concluded at The Meadowlands Racetrack on Thursday evening, as four-year-old mares battled in the $38,000 White Ruffles and four-year-old trotters went toe-to-toe in the $58,500 Super Bowl
.
Fellas Ella pulled of a 75-1 shocker in the White Ruffles for driver Steve Smith, who split horses in the lane to stop the teletimer in 1:55.3 with the John Pyott trainee.
Smith got away ninth in the early going while Look Annie Hall and Angelos Dream battled to the quarter pole in :28.2 over a track rated "good". Angelos Dream eventually worked his way to the lead, but he was pressed by Mandolin Hanover to the mid-way point in :56.3. There were four horses across the track at the three-quarter pole in 1:26.1, and from that foursome it was Crazyboutdadrummer who was charted as the leader despite being parked three-wide.
Fellas Ella, who was parked with cover in the final half of the contest, wiggled through horses in deep stretch and used his :29-second closing panel to win by a head over Devine Filly in 1:55.3. Rei Of Sunshine rounded out the top three finishers.
"I started out in the back and got shuffled," Smith said. "Around the last turn, nobody was behind me so I was actually able to save a little bit of ground. I was able to slip out and just wait for a little bit of room.
"Her lines coming from Monticello didn't look too impressive, but she stepped right up," Smith continued. "She's a big filly and likes a big track. She started out very green and has come a long way in just three weeks."
Despite coming into the rich tilt as a maiden, Fellas Ella scooped up the biggest payday for owner Robert Pyott of Millville, NJ. The lion's share of the purse lifted her bankroll to $25,463.
In the very next race – the Super Bowl – Dontevenknowmymame came first over and drew away for a mild upset over race favourite My Man in a time of 1:57 for driver Eric Abbatiello.
The four-year-old daughter of Master Lavec-Hello Mamie tucked into an early four-hole while In Nomine Patri and Hardrock Kid went at it to the quarter pole in :28.4. Hardrock Kid eventually cleared, but he quickly took a backseat to a backstretch-brushing Buzz Bomb. The new leader was on the hook for a half-mile clocking of :57.2, but Dontevenknowmymame took matters into her owns hands in the third quarter. She passed the third post in 1:26.3 and only needed a :30.2 closing panel to win by 1-1/4 lengths over Man Man. All Munky Business grabbed the show dough.
Owen Eiler, Jr. of Philadelphia, PA owns and trains the 13-time winner, who improved her 2012 record to 2-1-1 in four tries with the victory. The $292,250 payday helped boost her lifetime earnings to $108,861.
"Coming around the last turn I was worried about Yannick [Gingras] on my back [with My Man]," Abbatiello said, "But she kept trotting to the stretch. She put in a good effort. She's very consistent. She hasn't thrown in a clunker since Owen bought her."
(Quotes from The Meadowlands)
To view results for Thursday's card of harness racing, click the following link: Thursday Results – Meadowlands Racetrack.