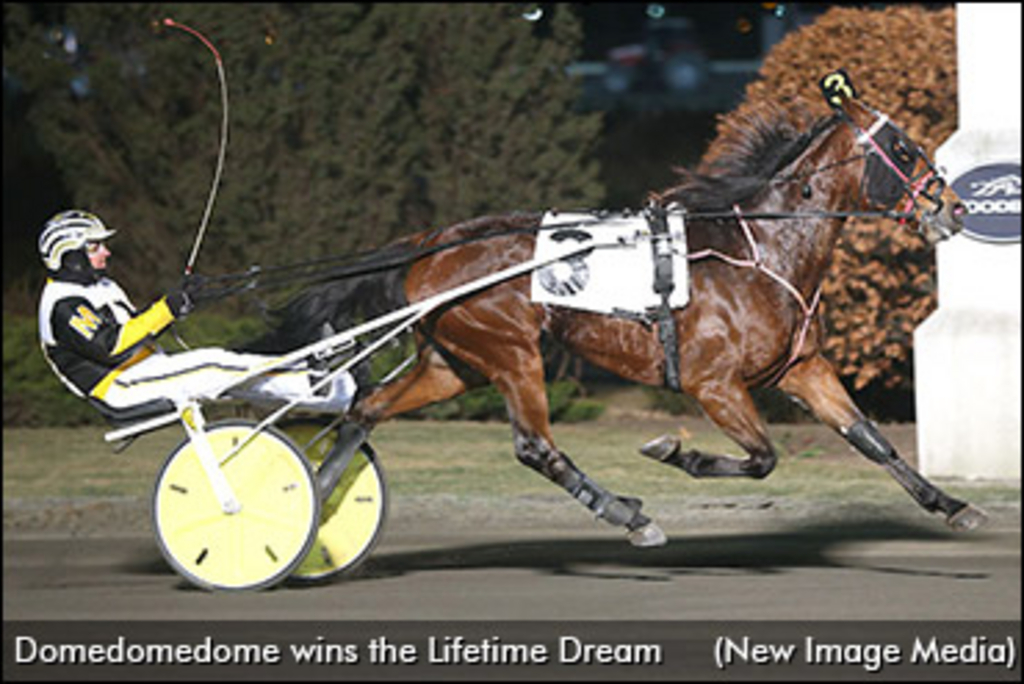 Published:
January 25, 2016 09:55 pm EST

Domedomedome completed her domination of the Lifetime Dream Series with a 1:55.4 victory Monday night at Woodbine Racetrack.
A field of 10 four and five-year-old trotting mares lined up for the $44,200 Lifetime Dream Series final, but all eyes were on five-year-old Domedomedome.
The Jack Moiseyev trainee entered the final off victories of 4 ¼ and 3 ¼ lengths in the preliminary rounds and the public sent her off as the 2-5 favourite.
Driven by Moiseyev, Domedomedome was able to get away second behind Giona, who once again flashed her gate speed to grab command and post an opening quarter of :27.3.
Moiseyev wasted little time circling to the front in the second quarter and his trotting mare marched by the half in :58.3. Lady Ping, who was also aiming for a series sweep, trotted along fifth in the early stages and picked up cover to sit second-over around the final turn.
Domedomedome trotted by the three-quarter pole in 1:27.2 and created a bit of separation on her rivals at the top of the lane. Lady Ping did not fire off cover, but Aspen California, who was third-over, showed good trot in an attempt to catch the favourite in the stretch.
However, Moiseyev had Domedomedome on cruise control and the daughter of Deweycheatumnhowe trotted home comfortably in :28.2 to win by a length and a half over Aspen California. I Jasmin, who came first up, finished third, while Lady Ping was fourth.
Domedomedome is owned by Joanne Colville and Pamela Schmidt. The five-year-old trotting mare now has three wins from four starts this season and ten overall in her career. She pushed her career earnings to $142,650 with the Lifetime Dream Series final victory. She paid $2.90 to win.
In order to be eligible to the Lifetime Dream, the trotting mares had to be non-winners of $100,000 lifetime as of October 31, 2015.
To view the results from Monday night's card at Woodbine, click the following link: Monday Results - Woodbine Racetrack.
(with files from WEG)