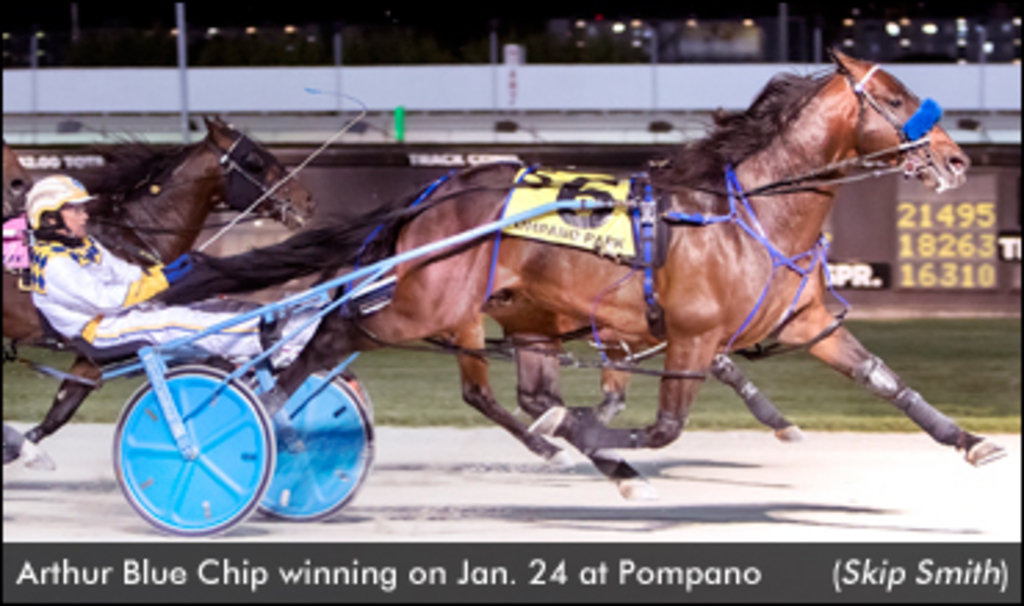 Published:
January 24, 2016 11:04 pm EST
Pompano Park's main event on Sunday, Jan. 24 -- the $13,000 Open Pace -- went to the favoured Arthur Blue Chip, driven by Hall of Famer Wally Hennessey for O'Brien Award of Horsemanship candidate Dr. Ian Moore.
Arthur Blue Chip, the five-year-old son of Shadow Play, eked out a narrow photo finish victory in 1:51.3 over Johnny Grippa (Dan Clements) with Lyons Johnny (Mike Micallef) third, a length away, in a separate photo over Bandolito, the latter cutting panels of :27, :55.4 and 1:23.1. Invader Brees Creek rallied for fifth in his Pompano Park debut.
At the outset, Johnny Grippa and Bandolito were quickest out of the gate with Arthur Blue Chip also showing early speed to land a comfortable spot in third. Positions remained that way until midway on the backstretch when Arthur Blue Chip pulled and went gnawing after Bandolito's lead, reaching alongside turning for home and edging clear only to be threatened by Johnny Grippa, finding clear sailing along the pylons late to just miss by a neck.
In a post-race interview, Hennessey said, "Doc Moore has done a fantastic job with this horse. He's lightly raced, made a lot of money at two [during his O'Brien Award-winning season] and then had a situation where he had to be nursed back to health and missed the better part of two seasons.
"Now that he's back, he's as tough as ever. First up trips don't bother him one bit. He seems to know that 'it's time to go to work' when he goes first up. He went a great mile tonight, but that's not surprising for him."
In making only his 28th lifetime start, Arthur Blue Chip, owned by Moore along with the R G McGroup of Bathurst, N.B. and Serge Savard of St-Bruno, Que., posted his 11th career victory sending his bounty to $519,009.
Off as the 1-5 toteboard choice, Arthur Blue Chip paid $2.40 to win.
Driver George Napolitano Jr. continued his hot hand at Pompano Park on Sunday by scoring his 7,500th career victory in the $10,000 claiming ($30,000) pace with Danger Hi Joltage.
Trained by Chris Oakes for owner Susan Oakes, the seven-year-old gelded son of Village Jolt scored a handy win measuring two lengths in 1:52.1 -- his second straight victory after being claimed for $20,000 two weeks ago. KRs Power Surge (Dave Ingraham) finished second while King Royalty (Matt Romano) was third over Danish Dujour and Thebestofjoel. Dont Tell Rusty, prominent around the opening turn, made a miscue to lose all chance.
The win, carded off fractions of :26.4, :56.1 and 1:24.1, was the 34th lifetime for Danger Hi Joltage, sending his career bankroll to $193,191.
After the event, a reflective Napolitano Jr. said, "You know, it's pretty neat to get my 7,500th win here because here at Pompano Park is where I started.
"I got my first qualifying win here back in late 1992 and my first pari-mutuel win here in 1993. I am so thankful for the opportunity I have been given.
"I guess I'm not one for saying I've been blessed too much, but really, I have been blessed that owners and trainers have recognized my ability and I am thankful for that."
Though Napolitano has been in the business for almost 25 years, more than 4,000 of his wins have come just since 2010.
There were a multitude of Napolitano faithful in that event who also celebrated as they were rewarded with a $4.20 win mutual.
In the $9,000 claiming ($20,000) pace, Napolitano Jr. picked up lifetime win number 7,501 as he guided the 2-5 favourite, Mr Massimo, to a handy gate-to-wire win in 1:52.1 over Grande Seelster (Wally Hennessey) and Trevor Win For Us (Tom Jackson) with All Steinem fourth and Glammit fifth in the quintet.
Mr Massimo, a 10-year-old son of Astreos also trained by Oakes for owner Kathleen Febbraro-Napolitano, won for the 29th time in his career stretching 118 starts with a lifetime bankroll of $452,450.
As the 2-5 public choice, Mr Massimo paid a $2.80 dividend to his many $2 investors.
Finally, in the $6,500 "Over The Hill Gang" trot for nine-year-olds and up, Celtic Merchant, the senior citizen of the group at 13 years old, scored a repeat win for Rick Plano, this one is 1:57.4.
The gelded son of Angus Hall, owned and trained by Steve Oldford, was away, as usual, alertly before being out-brushed early through a :28.4 opener. Shortly thereafter, Celtic Merchant sprinted to the top spot again -- this time for good -- as he carded panels of :58.3 and 1:27.2 before repelling the late-surging Savthelstdancforme (Steve Condren) by a half-length. On The Tab (Wally Hennessey) rallied for third while Adenium finished fourth in a photo over the favoured Mandabra.
Celtic Merchant, making only his 14th start over the past two seasons due to injury, now sports a lifetime scorecard of 44-36-24 in 211 starts, good for $360,104.
As 5-2 second choice, Celtic Merchant paid $7.20.
Racing continues Monday night with a kickoff time of 7:30 p.m.
(With files from Pompano Park)