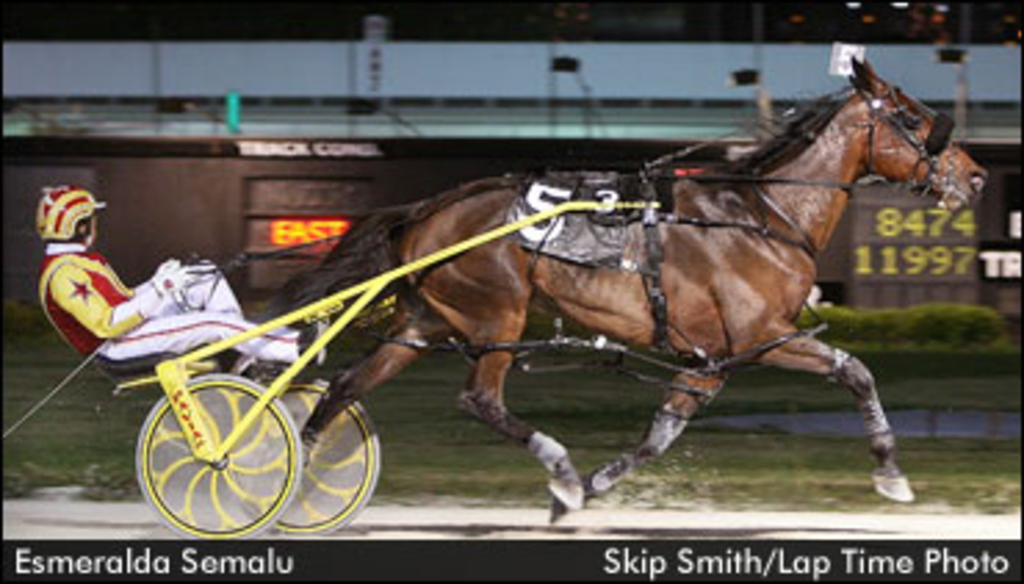 Published:
January 24, 2011 10:38 pm EST
By early next week the racing career of Esmeralda Semalu will be over. Her starts on the Tuesday, January 25 card and in the first week of February will be the final two chances to see the mare that will leave the racetrack as arguably
the greatest in the 47-year history of harness racing in South Florida.
"After she got good again recently there was some discussion about keeping her racing, but not very much discussion," says trainer and driver Joe Pavia Jr. "When we got back to Florida late last fall it was at the end of a year when she was just not quite what she once was. The plan was in place then for her second career as a broodmare."
On Tuesday evening, Esmeralda Semalu has another assigned outside post in the field of nine starters for the weekly $12,000 purse distaff top pacing class at The Isle Casino Racing Pompano Park. From 93 career starts to date she's amassed 33 wins and earned more than $414,000. The career of the Electric Stena-Anemone Semalu mare is perhaps best defined by her life's mark and track record 1:49.4 spin over the South Florida oval on March 10, 2009.
Unraced at two, Esmeralda Semalu first set foot on the track to qualify in Montreal on May 26, 2007. She was originally developed by trainer Pierre Touchette and then turned over to Gerry Nelson. Joe Pavia Jr. first drove her on February 29, 2008 at Pompano and he has been her trainer of record since April of 2008 at Pocono Downs. Her ownership is held by Judith Klein Gilbert (BJR Stables) of Boca Raton, Florida and Stanley H. Levin (AGC Stables) of Highland Beach, Florida.
Pavia says the truck is booked for February 5 to take Esmeralda Semalu to Blue Chip Farms in New York. Her first breeding will be to Bettors Delight.
"If all goes according to plan she'll retire sound and healthy," Pavia said. "Winning from the nine-hole here on Tuesday evening will certainly be no bargain and we'll need a couple things to go our way. If she does win her last two career starts I think it would be fitting and a true reflection of how she always brought her best effort to the track," he adds.
The penultimate career start for Esmeralda Semalu is in the ninth race on the Tuesday evening, January 25 program at The Isle Casino Racing Pompano Park. Post time is 7:05 p.m. EST every Monday, Tuesday, Wednesday and Saturday at The Winter Capital Of Harness Racing. Free race night streaming and the replays archive is in the 'racing' tab at www.theislepompanopark.com.
(Pompano Park)