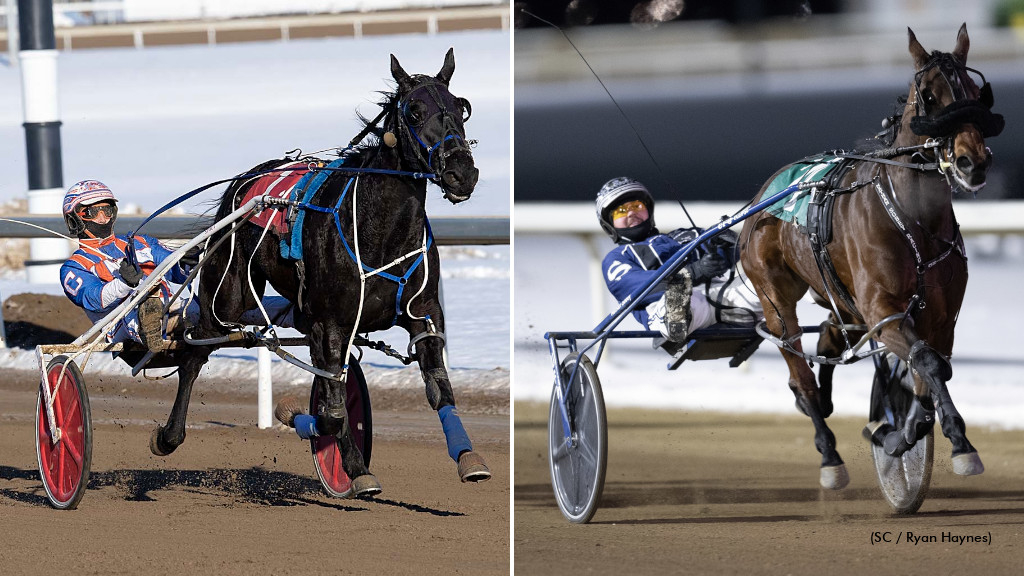 Published:
January 21, 2023 01:19 pm EST
As one star from western Canada aims to keep harness racing's longest active win streak alive on Sunday (Jan. 22) at Cal Expo, another star from western Canada will make his return to California and look to start a new win streak of his own. 
The $30,000 Alan Horowitz Final and the $15,800 Jack Williams Final share the spotlight on Sunday night's Cal Expo program. There will be 12 races presented under the Watch and Wager LLC banner with first post set for 4:55 p.m. 
Cal Expo welcomes back leading western Canada pilot Brandon Campbell, who will be in town Sunday to drive for trainer Travis Ellis in the Alan Horowitz and Jack Williams finals. Campbell will guide Flying Officer in the Horowitz and sits behind HF Flower in the Williams.
The 39-year-old Campbell ended 2022 as the first driver with a $2 million season competing exclusively in Western Canada. He last drove at Cal Expo in 2006.
"They are short drivers there so the owners of the Ellis stable are flying me there for the day," Campbell told Trot Insider. "I think it's just a one-time deal; I might go down a couple more times for stakes...just have to see how this trip wears on me."
Campbell has a full dance card of 12 drives on Saturday (Jan. 21) at Century Mile, including three from his own stable, before heading to Sacramento on Sunday. He's not planning to take any of his own horses stateside for a stint in the sunny south.
The competition for Campbell in the Horowitz includes Ideal One, who captured the second leg of the Horowitz on December 26 and goes about his business for William Neumeister and trainer Bob Johnson with Shawn Thayer at the controls.
A 12-year-old Australian bred, Ideal One went coast-to-coast in his Horowitz leg score and was making his 25th trip to the winner's cirlce from 165 lifetime starts with $161,000 in the bank. He has a 1:52.4 mark that was established at Scioto Downs two years ago.
Villa For Rent also accounted for a Horowitz leg on December 18 and looms large with the scratch of Nebble Hanover from this cast.
Racing for Benvenga Racing and Robin Gostovich, he takes his lessons from Kathie Plested and will once again have the services of Mooney Svendsen for Sunday's assignment.
Villa For Rent was a game winner in last month's score after being used early to the lead and then shuffled midway before coming home smartly for the decision.
Rounding out the field are Rockinscience, Flying Officer, Prom Queen, Some Playa, Pecorino, Rockin Jimmy Brown and Impressive Art.
Looking at the Williams, there are more connections to western Canada. Princessofthedawn is a four-year-old daughter of Mystician who arrived at Cal Expo from her Alberta winless in 10 starts but has been unbeaten and untested in her four solid appearances over this layout.
Owned by Tamara Wainscott and Rick Cisco, trained by Cisco and guided once again by Rene Goulet, she is looking to parlay a December 26 victory in the Funicello/Holt Final to Sunday's Wilson finale.
In that last score, Princessofhedawn left to find an early pocket, was back to the lead down the backside and took complete control of the Funicello/Holt, reporting home with three and three-quarter lengths to spare over the sloppy track.
Salary would appear to be an excellent fit in this cast for owner/trainer Kelly Crump and pilot Brad Irvine. She started off this meet with a solid tally in November and has been meeting some tough customers since with a trio of exacta completions and a place finish in the last four.
Completing the cast, from the rail out, are Aint She Special, Bekkums Fancy Star, HF Flower, Sierra Mystique, Snoah and Muffin Top.
The Open Pace finds Dancin Lance and Major Attribute in a rematch, while the Filly and Mare Open Pace will find 2022 O'Brien Award finalist Divine Art stepping up in class while seeking her 15th straight victory for owner / driver / trainer Gerry Longo.
 (with files from Cal Expo)