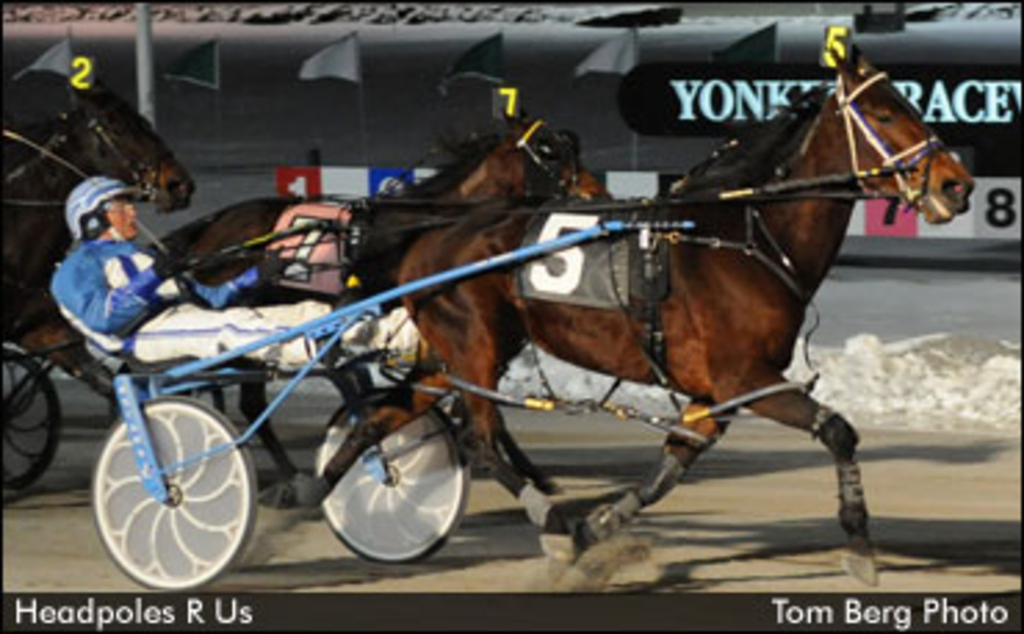 Published:
January 21, 2011 10:00 pm EST
Headpoles R Us (Cat Manzi) timed it just right Friday night, winning Yonkers Raceway's $38,000 co-featured Filly and Mare Open Handicap Pace
.
Leaving from post position No. 5, she watched the early antics as slight 5-2 choice Little Mermaid N (Jim Pantaleano) and Twin B Tiara (Dan Dube) took turns on the lead though intervals of :28.1 and :58.
Up Front Cruiser (Yannick Gingras), who had wedged into a four-hole, went up and over a tiring Twin B Tiara before the 1:26.3 three-quarters. Up Front Cruiser then widened to 2-3/4 lengths turning for home. Headpoles R Us, ending up third-over after Little Mermaid N slipped out, threw into overdrive. She whizzed by the leader, hitting the line a length-and-a-half to the good in 1:55.2.
Up Front Cruiser barely saved second, with Little Mermaid N, Bling (Eric Goodell) and Celtic Danser (Jordan Stratton) completing the cashers.
For Headpoles R Us, a seven-year-old daughter of Bo Knows Jate trained by Joe Anderson for owner Gerrie Tucker of Montreal, she returned $11 (third choice) for her first win in a couple of seasonal starts. The exacta paid $64.50, with the triple returning $223.
Friday night's blind-draw $38,000 Open Trot saw 17-1 T Js Mr Lavec (Jason Bartlett) slam the door with a solid two-move effort.
Leaving from post No. 5, he fell into an early pocket behind 9-10 fave Wind Surfer (Gingras). Rank outsider Friendly Amigo (Manzi) also left, parked two turns (:28.1 opening quarter). That one had the lead at the :57.2 intermission. Wind Surfer sat, while T Js Mr Lavec moved form third, going up and over a stopping Friendly Amigo before a 1:26.3 three-quarters. Wind Surfer then took up the chase, but T Js Mr Lavec was long gone.
The new leader opened three lengths in and out of the final turn, then ran up the score, winning by 7-1/4 lengths in a snappy 1:56. Wind Surfer, Victors Vicky (Stratton), Mystical Starlight (Goodell) and Hurrikanebiggeorge (Dube) rounded out the payees.
For T Js Mr Lavec, a seven-year-old Mr Lavec gelding trained by Scott Blackler for co-owners Beverly and Gary Paganelli of Connecticut, and Leon Schickman and Allen Kaplan of New York, he returned $37.60 (sixth choice) for his first win in two '11 tries. The exacta paid $47.80, with the triple returning $387.50.
(With files from Yonkers Raceway)