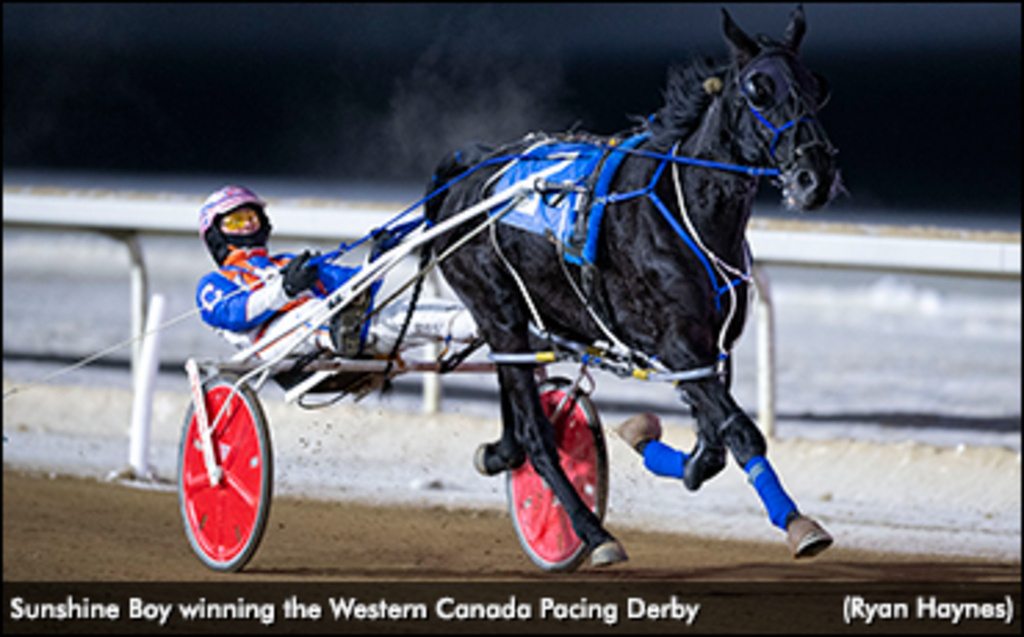 Published:
January 2, 2022 09:06 pm EST

Even-money favourite Sunshine Boy decimated his rivals in the $70,010 Western Canada Pacing Derby on Sunday (Jan. 2), opening an insurmountable lead off the final turn that only expanded to the end of a 1:56.1 mile.
The now four-year-old gelding by Sunshine Beach landed in second as Tajmania led the field by the quarter in :29.1. But trainer-driver Brandon Campbell swiftly swooped Sunshine Boy out of second and to the lead up the backstretch while Tajmania raced a joint second with Saltwater Savage to a :59.3 half. From there, Campbell hit the accelerator and separated from the competition by 10 lengths to three-quarters in 1:28.1 while the backfield settled disputes far behind. He continued to extend his lead through the long straightaway while under zero threat to cross the beam 16-1/2 lengths in front of Momas Son Byrne closing for second. Nevada Vacation took third and Codename Cigar Box settled for fourth.
Owned by Jodi Loftus, Dana Shore and George Rogers, Sunshine Boy won his fifth race in a row and his ninth race from 25 starts, pushing his earnings to $126,571. He paid $4 to win.
Uptown Hanover pulled a 19-1 upset in the co-featured $68,910 Century Casinos Filly Pace when posting a 1:57.1 victory a few races earlier.
Odds-on choice Exotic Dragon pushed from the pylon post for the front and led the field by the quarter in :28.3 and to the half in :59.1. But the pacesetter proved weary into the final turn when braced by a challenge from Uptown Hanover, who took over the lead heading to three-quarters in 1:28.4 and had to fend a challenge from pocket-popping Burning Hot. Uptown Hanover held command through the straightaway and edged 2-1/4 lengths clear of Burning Hot to win while Coz Im Special rallied for third and In High Cotton came from last for fourth. Exotic Dragon faltered into the stretch and finished last of the seven.
Co-owned by trainer-driver Kelly Hoerdt with K. Carole Dunbar, Uptown Hanover won her sixth race from 28 starts, pushing her earnings to $127,499. The four-year-old Somebeachsomewhere mare paid $41.70 to win.
Trainer Trevor Williams and driver Phil Giesbrecht both had sharp days on the 15-race card with Williams landing a hat trick and Giesbrecht winning five. Williams' wins came with Lisplaced ($12), A Cowboys Dream ($4.20) and Pure Addition ($11.70) while Giesbrecht's victories came with Next Thing Smoken ($12.70), Munchie Chris ($14.40), Portrstowncrhis IR ($14.50), Ontheroadtotexas ($3.50) and Mystic Dragon ($2.90).
To view Sunday's harness racing results, click on the following link: Sunday Results - Century Mile.