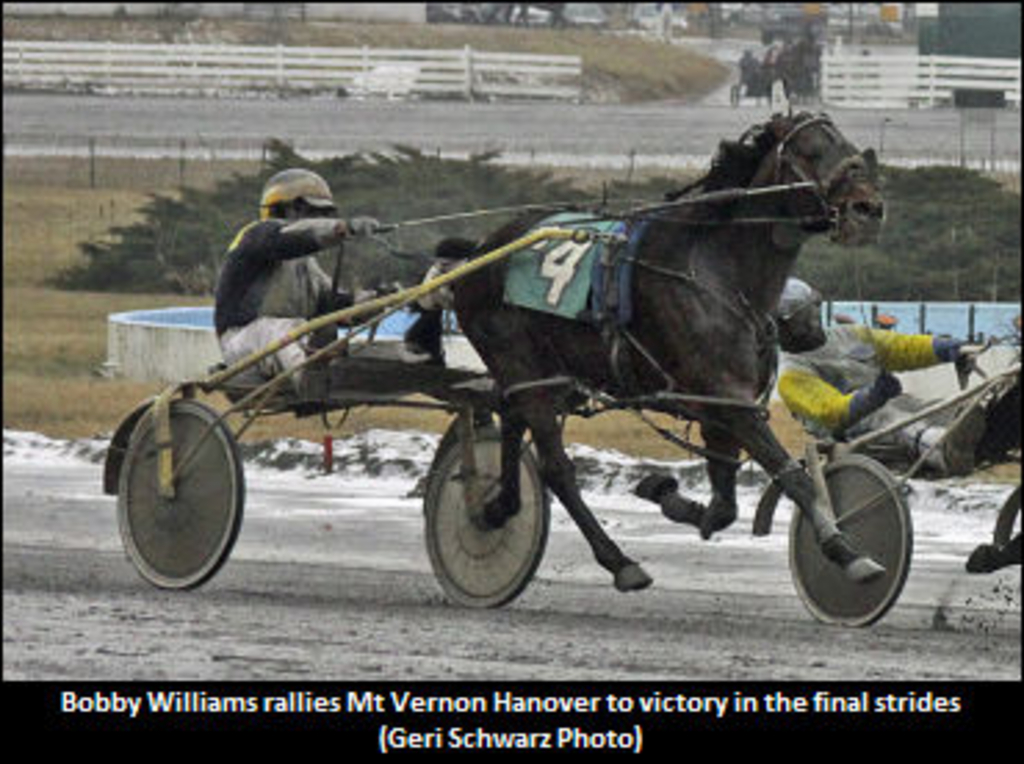 Published:
January 18, 2012 12:25 pm EST
Bobby 'Boonie' Williams pulled a stunning upset when he stalked the odds-on favourite with Mt Vernon Hanover and then rallied his pacer down the centre of the track to win the 12th edition of Monticello Raceway's Dr. Martin Luther King Jr. Pace on Tuesday, January 17 in 2:01.2.
For Williams, who has competed in all of the Dr. King Paces, it marked his first victory in the event.
With favoured CC Make A Buck on the front end, driver Cedric Washington seemed to be having things his own way with a slow first quarter in the making, until Jonathan Oney moved Fifth Street out from fourth position to challenge for the lead. Once alongside the leader, the pace then quickened and the next quarter was paced in 29 seconds.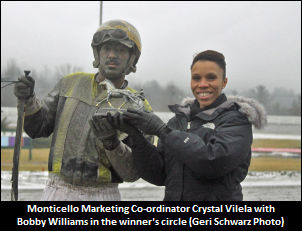 Up the backside, both CC Make A Buck and Fifth Street raced head-to-head past the third stanza and into the final turn. At that point, Williams, who was travelling along in fourth position, found racing room and moved to the outside where the harder ground was on the rain-soaked racetrack.
Once the field straightened in the lane and headed for home, Williams began to urge Mt Vernon Hanover, and the pacer got up in the final strides to defeat CC Make A Buck by a neck. Fifth Street hung on for third money.
Upon his return to the winner's circle, Williams had a smile a mile long.
"I'm a happy man and I'm especially honoured to have won the race named for the great Dr. King," he said. "Seems like it was a long time coming, and it was, but now after winning it, I feel real good."
Mt Vernon Hanover is owned by Ruth Ingram of Bloomsburg, Pennsylvania and trained by Vernon James. He paid $11.80 for win.
JD Lewis finished fourth with Rawhide N; Dennis Watson was fifth with Come On Honey; Big Native finished sixth for Cedric Washington; seventh place went to Bold N Brazen with George Newell Jr. aboard; and Paul Moore brought up the rears with Catherines Colt after making a break at the start.
The race was the first of the 'Mighty M's Heritage Drivers Series 2012.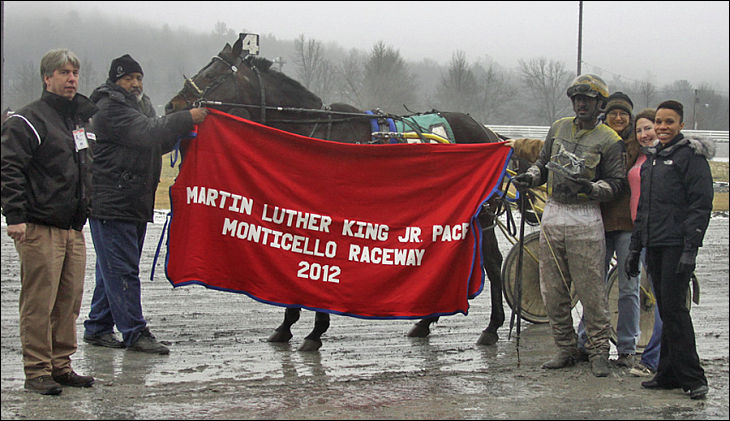 (Monticello)