Published:
January 17, 2017 04:05 pm EST
The Meadowlands Racetrack, the world's premier harness horse racing track, located in East Rutherford, NJ, and SNY, the official home of the New York Mets, Jets, and all things New York sports, have struck a deal to broadcast seven live nights of racing.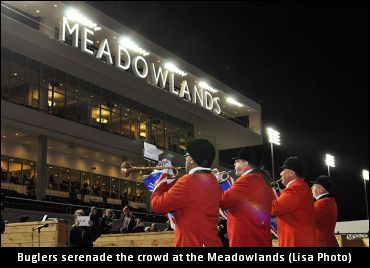 'Meadowlands Harness Live' will air from 9:30 p.m. – 10:30 p.m. for seven consecutive Thursdays from January 26 – March 9. The programs will be broadcast in high definition and produced by the award-winning Meadowlands television department. SNY already broadcasts the Meadowlands nightly recap show.
Three live Meadowlands races are scheduled to be shown during each broadcast.
"This is a tremendous deal that will showcase our racing product to a national audience on a major mainstream sports network," said Meadowlands COO/GM Jason M. Settlemoir. "This has the potential to drive incremental wagering handle and help to strengthen the already powerful Meadowlands brand. We have to thank our partners at the United States Trotting Association and their television fund for their sponsorship and support of these broadcasts."
The pot will be sweetened for fans watching the broadcasts, as TVG, the nation's largest advanced deposit wagering operator, will offer a special sign-up bonus for new customers and a money-back special for existing customers. More details will be provided in advance of the broadcasts.
Meadowlands Harness Live will be hosted by award-winning horse racing broadcaster Justin Horowitz. Other Meadowlands television commentators, including harness racing hall of famers Sam McKee and Bob 'Hollywood' Heyden, as well as Ken Warkentin and Jennifer Bongiorno, will be part of the broadcasts. Leading trainers Tony Alagna, Ron Burke, and other top horsemen are also scheduled to appear.
(Meadowlands Racetrack)