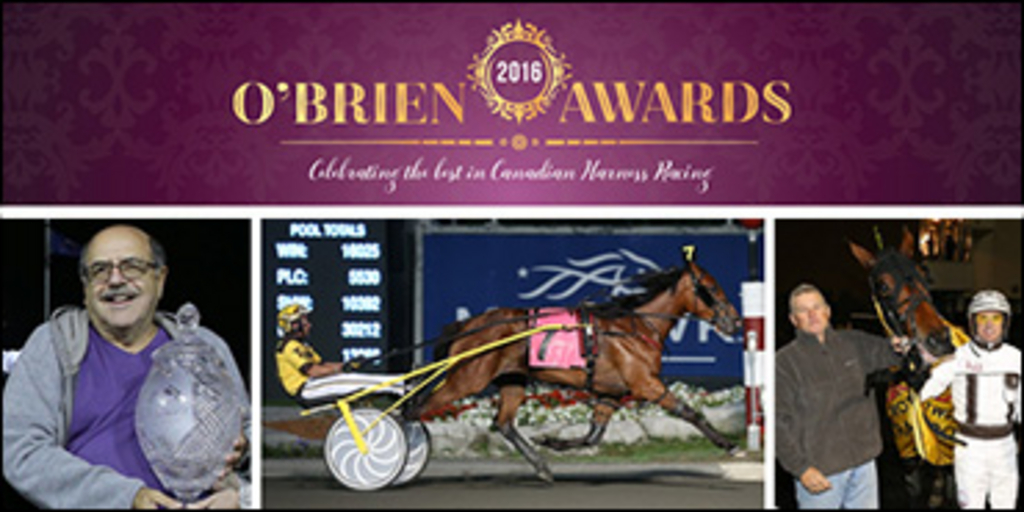 Published:
January 16, 2017 09:36 am EST
While the 2016 season laid out for trotting filly Magic Presto didn't go quite according to plan, the Ontario Sired lass ended her year on a high note that helped propel her close to the top of her divisional standings and into O'Brien Award consideration.
Magic Presto came into her rookie season with high expectations from her connections. The daughter of Kadabra - In The Meantime was a $160,000 Harrisburg yearling purchase for Mel Hartman of Ottawa, Ont., expat Herb Liverman of Miami Beach, David Mc Duffee of Delray Beach, Fl. and Jeff Gural's Little E LLC of New York, N.Y. Her campaign was successful but her purchase price was more than vindicated when she captured the 2016 Goldsmith Maid Final to close her two-year-old year with a 4-2-1 summary from nine starts, a mark of 1:55 and $393,049 in earnings.
"She's a hell of a filly; we always knew she was a good filly," co-owner Mel Hartman told Trot Insider. "She got sick [around] the Super Final and we couldn't race her. We tried to race her in the Breeders Crown but we just couldn't get her tight enough; we didn't have enough time. So we decided, since she'd shown so much talent to us and we knew that she was something special, that we'd race her in the Goldsmith Maid. I would say that was the highlight of the year for sure. She showed what she's made of and we're very proud of her, obviously."
Magic Presto is a finalist in the two-year-old trotting filly category along with Ariana G. The winners will be announced at the annual O'Brien Awards Black Tie Gala on Saturday, January 28, 2017 at the Hilton Mississauga / Meadowvale Hotel in Mississauga, Ont.
"She's up against a hell of a filly who has done a lot," admitted Hartman. "We may not have the highest of expectations but we're still honoured that she was nominated."
Hartman's confidence shifts in discussing his O'Brien Award finalist, feeling his filly got sick just as her form was on the upswing. The longtime owner reflected with pragmatic hindsight on those stakes events missed due to illness.
"We don't want to brag or anything but I think in the Super Final she would have done very, very well. And I really believe in the Breeders Crown she would have shown herself there also. But if we would have done well there, given that the Goldsmith Maid was later, I don't know that we would have raced her in the Goldsmith Maid if she'd had success in the other two. Part of the reason we raced her in the Goldsmith Maid is she only had eight starts up to that time, so we decided to go on with her."
Hartman heaped praise on trainer Richard 'Nifty' Norman, who has also helped a pair of Kadabra daughters owned by Hartman -- Poof Shes Gone and 2013 Horse of the Year Bee A Magician -- evolve into O'Brien Award winners.
"He brought [Magic Presto] along, took good care of her...he said right from Day One that she was something special," said Hartman. "We paid enough money for her to feel that other people probably thought she had the potential also, but he did a hell of a job with her."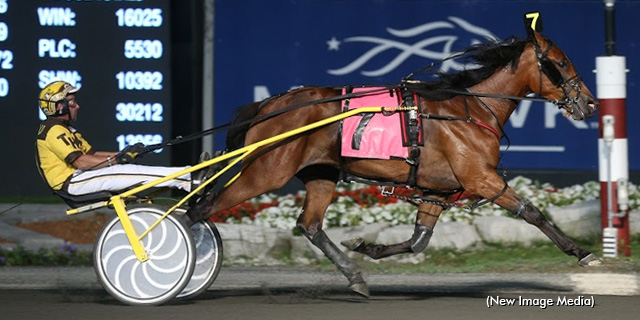 Magic Presto, winning at Mohawk Racetrack
Hartman received notification from Standardbred Canada that Magic Presto was an O'Brien Award finalist, but he found out himself just prior to that much-anticipated December 20 phone call.
"I read it on the internet to be honest with you! And I got a phone call from [Standardbred Canada] and let us know...We're very happy that she's one of the finalists."
For a full list of O'Brien Award finalists, click here. For details about the Black Tie Gala and how to purchase tickets, click here.