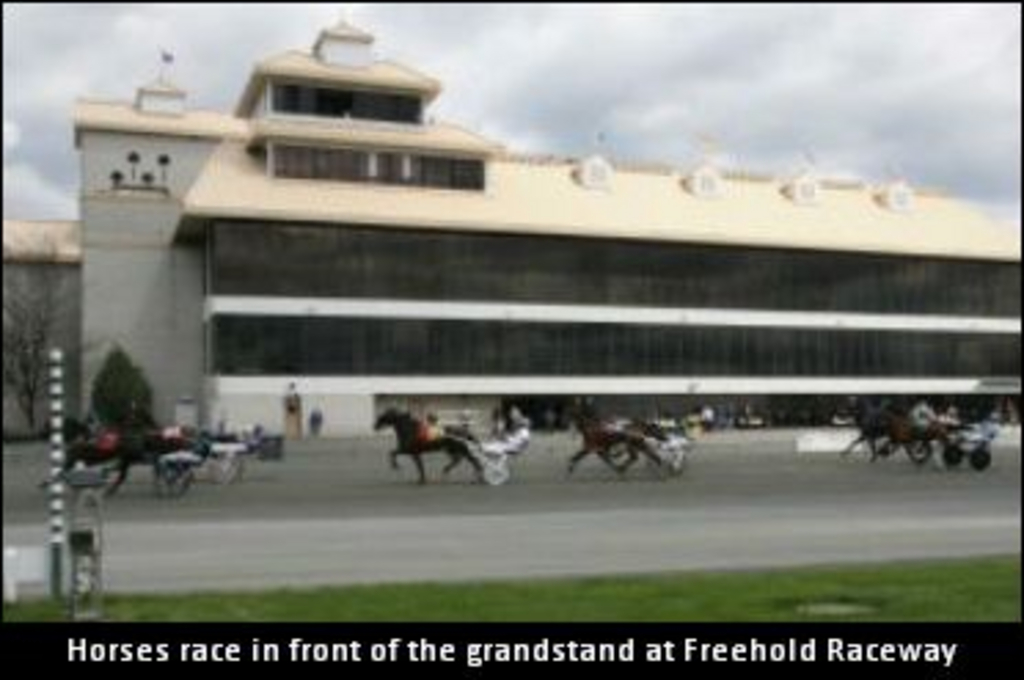 Published:
January 16, 2014 09:11 am EST
Track officials and New Jersey-based horsemen met for 90 minutes on Wednesday to discuss the scary incident that occurred last Friday in an effort to ensure something of that nature never happens again.
And according to a report published by the Asbury Park Press, progress was made.
"I personally would like to see the track redone," said SBOANJ President Tom Luchento. "I'm a horseman who has raced on a lot of tracks, and I get feedback, and every time it rains this track gets bad. Really bad. I'm echoing what my horsemen have been saying."
According to the report, Luchento noted that horsemen have been hesitant to express concerns on conditions to track officials or or scratch horses due to track conditions for "fear of retribution" but horsemen were assured that would not be an issue.
"I think it's clearing the air because the horsemen are now emboldened to stand up and say what they think," Luchento added. "And Freehold understands what they need to do because there's going to be a problem moving forward. And either you're going to address it or you're not. And if it's about money then you're going to end up with something worse. Because I've seen accidents not as bad as this where people died, and this thing, I can't believe everyone got up and walked away because that's the worse one I've seen."
Freehold officials discussed the possibility of contracting an outside consultant to evaluate the track's surface.
"Safety is always our primary concern," said Freehold's general manager Howard Bruno. "Several different issues were brought up, but overall concerns about track conditions were raised. We're trying to establish a protocol where when something like this happens all of the sudden they say, 'Hey, there are these problems with the track,' when the issues were never brought to our attention before. We want to set up like a driver's committee to make sure if there are concerns they have that they bring it to our attention so we can address them."
The APP report also states that Cat Manzi, who suffered a punctured lung and multiple rib fractures in the incident, was released from Jersey Shore University Medical Center on Wednesday.
On Thursday, January 16, the SBOANJ issued a press release on the meeting. The contents of the release appear below.
---
HORSEMEN ADDRESS CONCERNS TO FREEHOLD MANAGEMENT AT 90-MINUTE MEETING
---
In a 90-minute meeting, mediated by Standardbred Breeders & Owners Association of New Jersey President Tom Luchento, more than 150 horsemen had an opportunity to verbalize their concerns to Freehold management.
The meeting, conducted in the Renaissance Room at Freehold Raceway on January 15, was focused on track conditions, medical response and other issues triggered by the horrific spill that occurred in the fifth race on Friday, January 10, 2014. Five drivers – Cat Manzi, Debra Rucker, Vincent Ginsburg, Chris Scicluna and Jim Pantaleano – ended up at area hospitals and a sixth driver, Rick Pantano, was also checked out after the starting gate slide into the field on the first turn. Horses suffered cuts and bruises.
Representing Freehold were general manager Howard Bruno, director of racing Karen Fagliarone, starter Robert Blum and track supervisor Michael Fagliarone.
"As a result of this meeting, we all seem to agree that there is a need for an independent track expert to review the track surface and the manner in which it is maintained," said Luchento. "We've also called upon Freehold to pay for the replacement of the racing bikes, colors, veterinarian bills and other costs that derived out of this accident. Additionally, the owners of the horses that did not get to race because of the cancellation of the balance of the card on January 10 will be reimbursed $125."
All seven of the starters in the fifth race will equally split the $4,300 purse.
Some speakers described the freeze-thaw cycle of the afternoon of January 10 as the 'perfect storm' for the track conditions to turn dangerous in a short amount of time.
Others expressed concern that if they complained or scratched horses on bad weather days, they would face retribution. Both Luchento and Karen Fagliarone assured horsemen that this would not be the case and that it was important for there to be an open dialogue between drivers and the judges.
While outrider Beth Cumberland was praised for her quick response to gathering up the loose horses, there were questions about the slow response time for additional ambulances from local hospitals. This was exacerbated by the volume of black ice road accidents in the region, it was explained.
Cat Manzi, who suffered multiple broken ribs and a punctured lung, was released from Jersey Shore University Medical Center on Wednesday, January 15. Debbie Rucker, who had internal bleeding in her leg, was discharged the prior day.
(SBOANJ)
---
Related Stories
• Updated: Manzi Remains Hospitalized
• Update On Freehold Accident