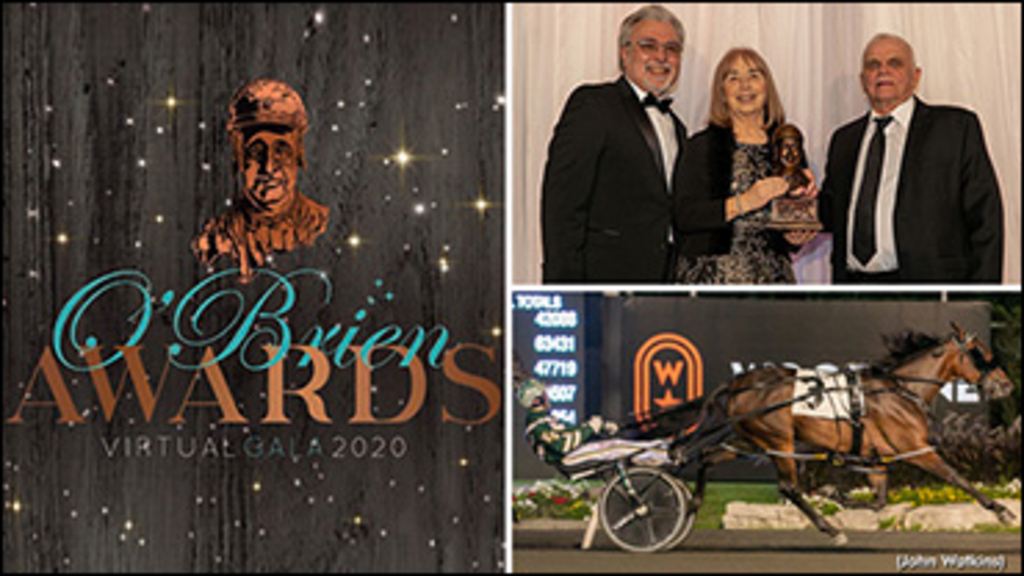 Published:
January 15, 2021 08:15 pm EST
Not many fillies can become the fourth female in the family to win an O'Brien Award, but then again few fillies come to the races with the pedigree of Caviart Audrey.
One of the two finalists for Two-Year-Old Pacing Filly of the Year, Caviart Audrey won five of nine races and more than $372,000 in her rookie campaign which included victories in the Eternal Camnation, Champlain, an elimination and final of the Shes A Great Lady. The daughter of Somebeachsomewhere - Darlins Delight, a $280,000 yearling that sold as Beach Finale at Harrisburg, was purchased by Buck & Judy Chaffee of Caviart Farm.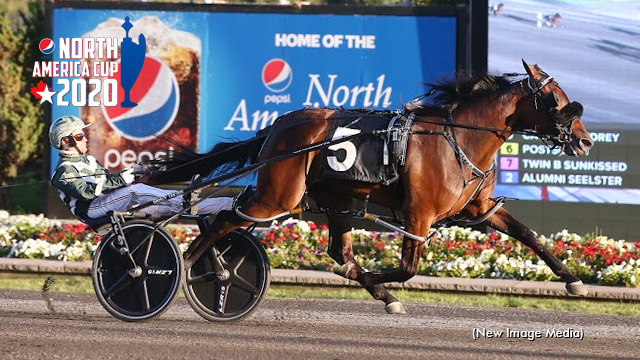 "Watching Caviart Audrey race so superbly this past season was the culmination of a decades old dream," Judy Chaffee told Trot Insider  "You see, back when Darlins Delight and My Little Dragon were the top fillies in the country, I fell completely in love with them -- and hoped to someday have a daughter of either.  That was years ago, of course.  When we did get Audrey, Buck and I felt pretty confident that with her pedigree, there was every reason to believe that she might be really talented, but it was never really a thought that her talent might actually mirror her mom's kind of talent."
It's not just her mom that was talented, as Caviart Audrey hails from an extremely strong filly family. Darlins Delight, a triple millionaire that garnered an O'Brien Award in 2006, is a foal of 1990 Canadian Horse of the Year and Hall of Famer Town Pro. Her dam, Programmed won the 1990 O'Brien Award for Broodmare of the Year.
"The first hint that Audrey was special actually came as an email from her trainer, Nancy Takter, who wrote, 'Yannick loves Audrey.'  Then she explained that Yannick had driven Darlins Delight and thought that Audrey was a lot like her, even more like her than the very talented Darlinonthebeach."
A full sister to the ultra-talented Darlinonthebeach, Caviart Audrey showed the talent to justify that six-figure price tag from her very first start.
"In Audrey's first baby race, she finished second -- with an impressive :25.4 final quarter," recalled Chaffee. "Next was the Home Grown stake.  We never expected that Audrey would win that race since she had drawn Post 9 and was up against the already racing and undefeated Grace Hill, but she surprised by winning in 1:51.4 with another last quarter of :25.4.  That is when Buck and I – and the Caviart Farms team – became true believers that Audrey was that dream kind of filly, very very special!  Audrey then continued on, winning the Eternal Camnation, the Champlain by three full seconds faster than the other division and the She's A Great Lady."
Chaffee noted that the win in the Eternal Camnation was the highlight of Caviart Audrey's campaign, one of many stakes wins for Caviart Farms over a sensational 2020 season that also included campaigners the likes of Tall Dark Stranger, Caviart Ally and Anoka Hanover.  
"Absolutely I believe that the highlight of Audrey's two-year-old campaign was the Eternal Camnation.  She not only won that race easily, but won it pulling away," recalled Chaffee. "Going into the final turn she was ahead by a couple of lengths.  More and more she began to pull away, one length after another.  I still remember the announcer calling it a blowout, saying, 'She'll win it by half the length of the stretch!'
"I also recall that during the interview after the race, Yannick (Gingras) was asked whether Audrey was like her mom and he answered that the two are very similar, including that you can drive them any way that you want.  That Eternal Camnation was unbelievable, and capping off the evening was our Tall Dark Stranger winning the North America Cup!"
According to Chaffee, Caviart Audrey did suffer a health issue -- an infection -- after the Eternal Camnation that bothered her for the rest of the season.  "Now we hope that in being completely well this year, she will be able to show us the entire extent of her talent."
Talented horses aren't always able to garner O'Brien Award nominations. There's a larger element at play, one that requires a talented and dedicated team and solid management.
"A huge amount of credit also goes to those who worked with her every single day, getting her fully prepared for her races," added Chaffee.  "Her trainer, Nancy Takter, is a complete professional, I think one of the best young trainers in the industry.  Caretakers Yomara Valladares and Anette Zackrisson and the entire Takter team did a phenomenal job as well.  Then, of course, there is Yannick Gingras who not only did such a great job of driving her in her races, but who also went to the Takter farm to sit behind her in those months leading up to racing."
An O'Brien Award winner in 2019 courtesy the now-retired Caviart Ally, Chaffee is thrilled to once again have a horse recognized as one of Canadian harness racing's best.
"There is no question – it is a tremendous honour to have a horse nominated for an O'Brien Award.  So when Buck and I were notified that Audrey was a nominee, we were super excited.  The first thing that we did was call our son Terry who manages the Kentucky farm.  We could hardly wait to tell him, and, of course, wanted everyone there at the farm to know too.  After that we called our other children, others of our family and friends.  Everyone was just thrilled!"
After attending their first O'Brien Awards ceremony in 2019 when Caviart Ally was as a first-time finalist, the Chaffees were so impressed with the evening that they vowed to return regardless of whether or not they had a finalist nominated. They've been fortunate enough to receive nominations the two years since, and collected the hardware in person last year. Win or lose, that opportunity isn't an option this year due to the virtual nature of the gala.
 
"It is truly disappointing that the O'Brien Awards must be held virtually this year.  Buck and I have attended the awards banquet over the past couple of years, and it is always such a grand time -- well-planned, well-orchestrated and a true celebration of outstanding horses, terrific races and an acknowledgement of some very talented people in our sport.  We have just loved it – the chance to meet up with friends, talk horses and it is a great chance to actually shake hands and offer congratulations in person.  We will really miss being there for sure.  
"My expectation is that after watching the announcement of those receiving the awards, Buck and I will likely do what we so often do: spend the evening watching replays of some of the races, most definitely Audrey's races, and likely some of those of our Tall Dark Stranger, Caviart Ally, Anoka Hanover, No Lou Zing and Caviart Eva.  It was a tremendous year, and it seems that a glass of red wine might be in order too.  Regardless of the awards outcome for Audrey, her season is definitely one that deserves to be celebrated."
The 2020 Virtual O'Brien Awards Gala takes place on Sunday, January 31, 2021 and will be available for viewing on standardbredcanada.ca from 7:00 – 8:30 p.m. (EST).