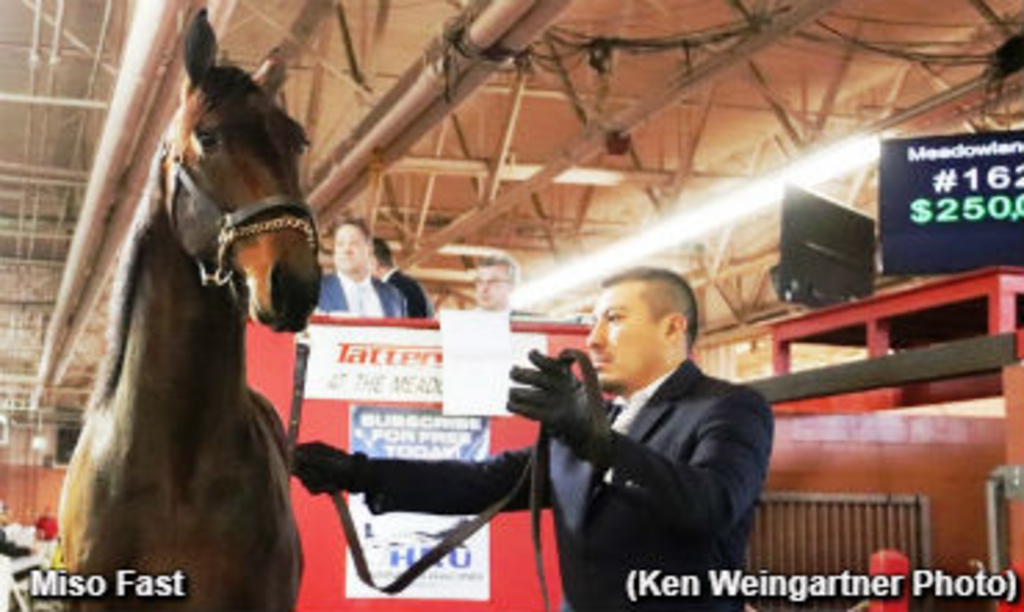 Published:
January 15, 2018 08:43 pm EST
Ed Telle arrived at Monday's Tattersalls January Select Mixed Sale at the Meadowlands Racetrack with the intentions of buying one horse, Miso Fast. Several hours later, Telle accomplished his goal.
Telle purchased the four-year-old pacing stallion for $250,000, which was the day's top price. Formerly trained by Ron Burke, Miso Fast has won seven of 36 career races and earned $647,938.
Miso Fast's victories include five divisions of the New York Sire Stakes and an elimination of the Max C. Hempt Memorial. He was second in the 2016 New York Sire Stakes championship as well as the 2017 Empire Breeders Classic. He also was second in a division of the Tattersalls Pace last year.
"He's a gorgeous horse and he's going to make a nice racehorse for the next four or five years," Telle said. "I came here to buy him. I'm going to send him to Florida for a couple of months to get him ready and then bring him back up. He'll go to Ohio and Pennsylvania and then he'll come out east.
"He's just so consistent. Maybe as a four-year-old he'll get a little stronger and be a little better."
Telle, who lives in Ohio and bought Miso Fast for his Winchester Baye Acres, enjoyed success last year with female pacer Safe From Terror. The mare, purchased for $210,000 during the mixed sale portion of the 2015 Standardbred Horse Sale, won 22 of 36 races last season and earned $239,630. Her 22 victories tied for the most in North America.
Other successes for Telle included campaigning 2011 Little Brown Jug winner Big Bad John, who earned $1 million in his career.
"If you're going to be in this industry, why not buy the best if you can afford it," Telle said. "Luckily for me, I've had a few good years.
"I just figure if you buy good quality horses, I give them to good trainers, and we do well."
Miso Fast was among six racehorses to sell for at least $130,000 on Monday. Next on the list was Kentucky Futurity champion Snowstorm Hanover at $180,000, followed by female pacer Inverse Hanover at $155,000 and male pacer Art Scene at $150,000.
Male trotter New Jersey Viking, at $140,000, and male pacer Ocean Colony, at $130,000, completed the group of six-figure sellers.
Snowstorm Hanover, another horse formerly trained by Burke, was purchased by trainer Marcus Melander as agent for overseas buyers. The four-year-old stallion has won eight of 36 career races and earned $658,761.
"He's a nice horse," Melander said. "He won the Kentucky Futurity and he was good as a two-year-old, as well. We'll see what we can do with him.
"We'll bring him home and see what's happening. They have a good program (in Europe) for four-year-olds, so it's not impossible he would go to Sweden. When he won the Kentucky Futurity, he showed a lot. Hopefully we can do good with him."
Inverse Hanover was purchased by Tom Pollack. She has won five of 20 career races and earned $136,560. Her wins include a division of the Pennsylvania Sire Stakes and she finished 2017 by beating a field that included older horses at the Meadowlands.
The four-year-old mare, formerly trained by Richard "Nifty" Norman, will be sent to Indiana with trainer Jeff Cullipher.
"I've always done pretty well racing mares," Pollack said. "I just liked she's got a big motor and a high turn of speed. She went a big trip against older horses, which I like to see that.
"She looks like a big-track horse. She will race a lot at Hoosier Park with Jeff Cullipher. I thought she would be a good fit out there. We'll stake her where she may fit."
In 2016, Pollack purchased female pacer Medusa for $65,000 at the Tattersalls January Select Mixed Sale. She has won nearly $450,000 since then.
"We're willing to spend," Pollack said. "You have to sometimes to get good horses. Hopefully this will fall into that category."
For complete sale results, click here.
---
This story courtesy of Harness Racing Communications, a division of the U.S. Trotting Association. For more information, visit www.ustrotting.com.