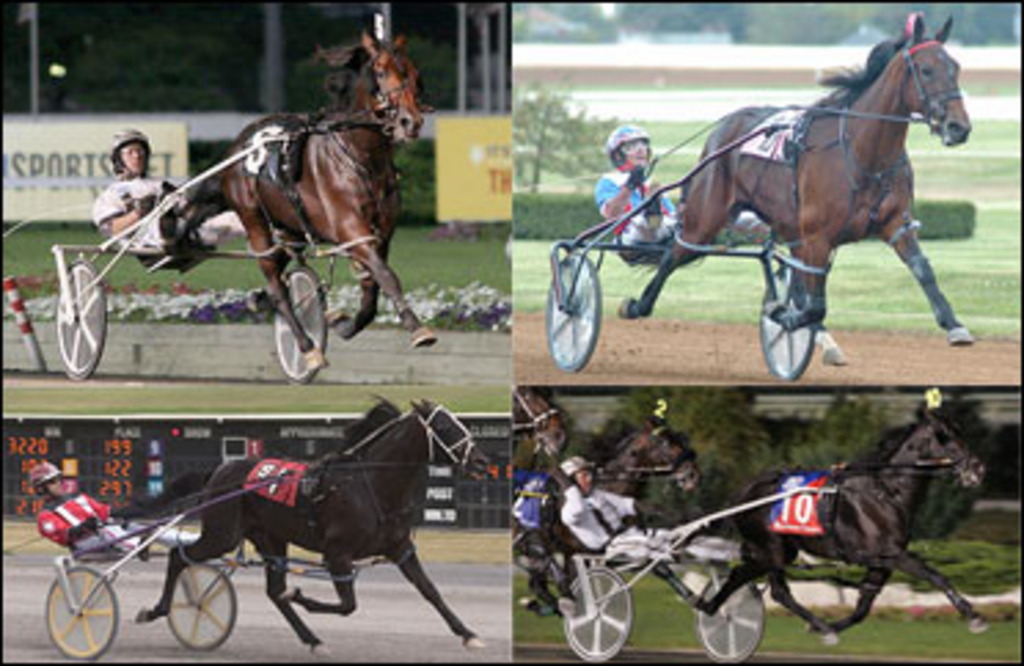 Published:
January 15, 2012 09:27 am EST

The Living Horse Hall of Fame nominating committee of the Harness Racing Museum & Hall of Fame has announced the results of recent balloting to determine the 2012 inductees into the Harness Racing Living Horse Hall of Fame
. Annual members (in good standing) voted for the two horses they felt best exemplified greatness. Their choices are racehorses Rocknroll Hanover and Rainbow Blue.
The other nominees were Bettor's Delight, Real Desire and Donerail.
Also entering the Living Horse Hall of Fame in 2012 will be broodmare Arterra, having met the required criteria for induction (see below).
Rocknroll Hanover, Rainbow Blue and Arterra will be inducted on Hall of Fame Day, Sunday, July 1, 2012. The ceremonies honoring these extraordinary Standardbred horses will take place during the Harness Racing Museum & Hall of Fame's annual dinner. For information on the Hall of Fame weekend and other festivities surrounding this important occasion visit www.harnessmuseum.com from April 2012 onward or call or write the Museum at 240 Main Street, Goshen, NY 10924. Phone: 845.294.6330.
Standardbreds are only eligible for nomination to harness racing's highest accolade if they comply with the following strict criteria: They must be retired from racing for five years and had a drug-free career. In addition, racehorses must have won 75 percent of their lifetime starts, or gone undefeated in a single season campaign of 12 or more races, or been the winner of $3 million lifetime or named Harness Horse of the Year (US and/or Canada).
Stallions must rank among the 10 all-time leading money-winning sires at their gait or have sired at least 100 $200,000 winners or been a leading money-winning sire at his gait in three or more seasons.
Broodmares are automatically elected if they have produced a $1 million winner and two other winners of $500,000 or produced a Harness Horse of the Year (US and/or Canada) and another $500,000 winner.
---
ROCKNROLL HANOVER
(Nominated as Racehorse)
p,3,1:48.3 ($3,069,093) Bay Horse, 2002
(Western Ideal–Rich N Elegant–Direct Scooter)
Bred by Hanover Shoe Farms, 2005 Horse of the Year and world champion pacer Rocknroll Hanover was foaled on April 2, 2002. He raced in 2004 and 2005 and accumulated a lifetime record of 26-15-5-5. At the time of his retirement, Rocknroll Hanover was the fastest two-year-old Standardbred in history, the third leading single-season moneywinning Standardbred of all time (currently sixth) and the 11th leading all-time moneywinning pacer (currently still in the top 20). He was trained by Brett Pelling and driven by Brian Sears.
In September 2004, two-year-old Rocknroll Hanover brought a modest record of 4-1-0-2 and 31-1 odds to the Metro Stakes final at Woodbine, and left with the distinction of being the first two-year-old in history of harness racing to have broken the 1:50 mark (1:49.4s). One week later Rocknroll Hanover finished in a dead heat in the Champlain Stakes, and completed his season with a record of 8-3-1-3 and total earnings of $688,275.
Rockroll Hanover - 2004 Metro
Rocknroll Hanover never finished off the board during his 2005 sophomorecampaign, winning 12 of 18 and garnering $2,380,818 in earnings. His richest victories included the New Jersey Classic, North America Cup, Meadowlands Pace (in record time), Simcoe Stakes, Bluegrass, Tattersalls Pace, James B. Dancer Memorial and Breeders Crown. Rocknroll Hanover's Meadowlands Pace victory made him the first Standardbred horse in history to win three million-dollar races (U.S. or Canada).
Rocknroll Hanover is currently a shuttle stallion, whose home base is Perretti Farms in Cream Ridge, New Jersey. He is owned by Perretti Farms, Jeffrey S. Snyder of New York City and Lothlorien Equestrian Centre in Ontario.
RAINBOW BLUE
(Nominated as Racehorse)
p,3,1:49.2s ($1,600,012) Bay Mare, 2001
(Artiscape–Vesta Blue Chip–On The Road Again)
Foaled on March 8, 2001, at the farm of her breeder, Winbak, in Chesapeake City, Md., Rainbow Blue, 2004 Horse of the Year, posted a remarkable lifetime record of 32-30-0-1. She remains only the third filly pacer ever to win the Horse of the Year award. At her retirement, Rainbow Blue was the top single-season money-winning pacing filly and had recorded two of the three fastest miles ever paced by a three-year-old filly.
As a two-year-old in 2003, Rainbow Blue earned $102,674 while winning six of seven, including divisions of the Debutante Stakes and the Molly Pitcher.
In 2004 Rainbow Blue won 20 of 21 races and was named three-year-old Pacing Filly of the Year, Pacer of the Year and Horse of the Year. She was the year's leading dashwinning three-year-old pacer and money-winning pacer with $1,355,888 in earnings. Her 2004 victories included the Blossom Series, Rose Red final, New Jersey Sire Stakes final for three-year-old filly pacers, Ladyship Stakes, Tarport Hap (in a stakes record 1:50), Mistletoe Shalee elimination, Fan Hanover Stakes (equaling a 1:49.2s world record in the elimination), Nadia Lobell (in a track record-setting and world record-equaling 1:49.2), Glen Garnsey Memorial, Breeders Crown three-year-old Filly Pace and the Matron Stakes.
As a four-year-old in 2005, Rainbow Blue won four of four and earned $141,450. Victories included two Classic Series races at Woodbine Racetrack and Dover Downs, where she set the 1:49.4 world record for all-age and four-year-old pacing mares on a five-eighths-mile track.
Rainbow Blue was trained by George Teague, Jr. and her primary driver was Hall of Famer Ron Pierce. Rainbow Blue is currently performing her broodmare duties in Pennsylvania and is owned by K & R Racing of Houston, Del., and Teague Inc. of Harrington, Del.
ARTERRA
(Broodmare)
p,2,1:53.4 ($161,976)
(Artsplace-Delinquent Account–On The Road Again)
Sired by 1992 Horse of the Year Artsplace and bred by Brittany Farms of Versailles, Ky., and Brian P. Monieson of Northbrook, Ill., pacer Arterra was foaled on April 26, 1997. As a racehorse, Arterra competed as a 2-year-old, with her major career victory coming in the 1999 Countess Adios, driven by Hall of Famer John Campbell. Arterra's lifetime record was 17-2-2-5 with earnings of $161,976. She was trained by Hall of Famer Robert McIntosh.
The progeny that qualified Arterra for the Hall of Fame are 2009 Breeders Crown, Messenger Stakes, Confederation Cup, Art Rooney, Tattersalls Pace and Cleveland Classic winner, world champion If I Can Dream p,3,1:49.4f ($2,038,153), Western Terror p,3,1:48.3 ($1,289,422), winner of the 2004 Breeders Crown, Windy City Pace, Cane Pace (dead heat) and Tattersalls Pace -- both sired by Hall of Fame Immortal Western Hanover -- and Cinderella Guy p,6,1:49.1f ($646,030) sired by Real Desire.
If I Can Dream - 2009 Breeders Crown
To date, Arterra has produced two fillies and eight colts, with seven racing and earnings in excess of $4.1 million. She is currently performing her broodmare duties at VAE Farm in Oley, Pa. Her most recent colt was by fellow 2012 Living Horse Hall of Fame inductee Rocknroll Hanover. Arterra is owned by Jeffrey Brooks of Oley, Pa.
(Harness Racing Museum & Hall of Fame)