Published:
January 10, 2017 03:18 pm EST
Martin 'Marty' Wollam, one of the top trainers in Ohio, has been elected as the newest member of the Ohio Harness Racing Hall of Fame.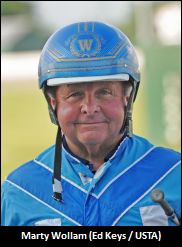 Wollam was elected by a vote of the Ohio chapter of the U.S. Harness Writers Association.
Wollam, 67, has amassed 1,783 career training wins and has won 12 Ohio Sire Stakes Championships with such standouts as Full Count, Count Me In, Doink N Doni, Contessa Leigh and Neelys Messenger.
Wollam also campaigned Striking Sahbra, the 2008 inductee into the Ohio Horse Hall of Fame, and Caviar Forthe Lady, a Pennsylvania Sire Stake champion and winner of $567,306. As a driver, Wollam made 1,139 trips to the winner's circle.
A resident of Vienna, Ohio, Wollam was selected as a 2011 Wall of Fame honouree by his home track, Northfield Park.
Wollam will be honoured at the Ohio Harness Horsemen's Association banquet in Worthington, Ohio on Saturday, January 21.
For more information on the OHHA banquet, visit ohha.com or call 800-353-6442.
(USHWA)