In the June 2003 issue of TROT Magazine, Chris Roberts presented a riveting Q&A with a then-39-year-old Danny Clements, and the horseman didn't hold back. He spoke openly of his drug and alcohol addictions, the pressures of being the son of a very successful businessman, and also the extreme despair of losing two baby daughters just a few years apart. Fast-forward almost 20 years, and what seems like a number of lifetimes, and the 58-year-old Clements, now winning races again after a six-year hiatus from driving, is back in TROT once again. A lot has happened to the man in the past 20 years, some good and some bad, but once again Danny doesn't hold back. By Dan Fisher.
To understand and appreciate the story of Dan Clements today, you have to at least be somewhat familiar with the whole story. In the June 2003 issue of TROT, almost 20 years ago, Chris Roberts sat down for what turned out to be a riveting Q & A with a 39-year-old Clements. Today, using excerpts from the 2003 piece at the beginning, to bring those not in-the-know up-to-date, we pick up the story of the devoted family man, who after a recent six-year hiatus from driving, has been back in the bike and tearing it up for the past several months at Hiawatha, Dresden, Leamington and Western Fair. Much has changed in the life of Danny… a few things not so much. Either way though, the man with an unquestionable ability to drive a horse was just as transparent with TROT this time around as he was all of those years ago - we truly thank him for his candor.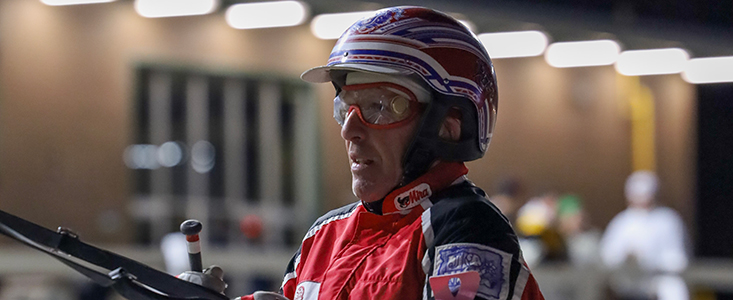 Excerpts from the JUNE 2003 issue of TROT Magazine
"Cocaine took all of my money… and drinking ruined my life."
"During the '80s everything was big. Big hair, big money, big drugs. I was a partier growing up. When I got some money, I kept doing the same."
"There's a misconception that we were rich, that we were born rich. When we wanted $20 he [my dad] told us to go get a job."
"...our house growing up was always the party house… Every weekend we had parties… and when this horse came along [Cam Fella] dad decided that we'd party around him."
"I don't know if I had a chip on my shoulder because I was raised by a man… but I was a bit of a bully in school and I never liked taking orders."
"[People thought] that nothing I did was on my own, [they thought] it was always because my dad gave it to me."
"We had a son [Ryan] and two years later [in 1989] we had a daughter [Jennifer Ashleigh]… she just wasn't doing what kids are supposed to do. She was floppy so we took her to a doctor and they sent us to Sick Kids. They told us she had SMA, Spinal Muscular Atrophy… Six months later she died of the disease."
"After that, the partying, or whatever you call it, trying to hide the pain, got really bad. I [eventually] sobered up long enough to decide that we would have another kid… we had a 75% chance of having a healthy kid."
"...she [Danica] had it too. I stayed home for four months, we kept her home. With our first daughter… my wife [Mary] stayed in the hospital for four months. This one [Danica] died at home."
"I ended up in rehab for three months, either that or I was going to kill myself."
"My wife is a Christian… she was praying for me… One day I was waiting in her car and started listening to this tape [cassette] she had... it was like the guy on the tape was talking to me. From that day forward I've been changing my life."
"I'd probably be dead if it wasn't for her [Mary], simple as that."
"...we started, my dad started a charity after Jennifer (the Jennifer Ashleigh Foundation), it's been going for 13 years… We've raised over $3.5 million… We've helped over 3,000 [terminally ill] kids. We're not a 'send them to Disney World' type… we pay if someone has to take an apartment close to the hospital, pay for daily parking or buy a kid a computer."
"It really changes people's lives. That's why my daughters were born, so we could help. It was just a matter if I was willing to accept that or not."
"I'm getting now, what I've wanted my whole life. I'm a father, husband, Christian and a horse driver. That's it."
--------
That was then, this is now. After battling through more trials and tribulations than most will ever face in one lifetime, Daniel Clements finally seemed to have his life in order back in the summer of 2003. He was still only 39-years-old at the time however, so there was lots more life yet to live. Where would his story go from there one wondered?
"I had just started trying to make it as a catch-driver a while before that story came out," Clements tells TROT today. "I was never actually a catch-driver until I was about 37-years-old [in 2001], and I didn't really have any idea of what it was all about until then. Before that, all of the horses I had driven were horses that we owned and trained as well. Catch-driving was a whole different thing. I was just trying to figure it out and it took a few years… it was a whole process.
"I wasn't drinking anymore. Nothing about what I had been was still there. I changed my colours from my old green-and-black to Canada's colours [red-and-white]. I wanted to change my colours as a representation that I was a whole new person; it was a fresh new start.
"Georgian Downs had opened [in late 2001]" a now 58-year-old Clements says, "and I started doing really well there. I'll tell you how good it was at Georgian then too. Two years in a row [2005-2006] I went over $2 million [in purses] at Georgian alone. And not only was I over $2 million but there were four other guys, I know that Steve Byron was one of them, that were over $1 million there too.
"The owners of the track then were really supportive of the game… they were always adding race dates. Then, when Great Canadian Gaming bought it things changed. They started cutting race dates," Dan sighs. "Everything went downhill after that. Remember when we were picketing and stuff? Because they were cutting dates and we said that they shouldn't be able to do that if they wanted the casino to stay open? Looking back now, 20 years later, we were obviously right. But things really changed then. A few years later, after I moved to Florida, I used to fly back and do a Sunday-Tuesday thing, and Simon Allard was the only guy there over $1 million a year then. That was really sad.
"I had done the haul for a few years back then. I lived out of my car for a while but I hated it. I was doing Grand River; Georgian had been going 3-4 days a week. I'd go to Western Fair on Mondays and also visit my son Ryan, who was going to [the University of] Western then. It was just constant in the car - I was just tired of it. Things were getting bad at Georgian. We tried our best but we couldn't change it… the writing was on the wall.
"I also had a lot of personal issues with… let's just say whenever you're involved in a family business it can be hard. I just wanted to get away. From the time I was young I always had some baggage because of who my dad was. I was winning a lot of races and driving for just about everybody - I won the Battle Of Lake Erie at Northfield with Buckeye One for Bill Robinson and ended up on the cover of Hoof Beats even. But I wanted my own identity and I needed to prove to myself that I could do it on my own, so eventually I just walked away from all of it.
"We had started onlineharnessowner off of my dad's farm and it got really big - I think we had 27 horses at one point. Eventually there was some conflict about money and let's just say that two kings in one castle doesn't work… my dad is the king. I didn't like the way it was going, I didn't like the situation that I was in.
"I  didn't like the cold either but I also had this thing where I couldn't escape my dad's shadow I guess you could say. National Sports was my dad and not me… so was Cam Fella. I'll always remember this one time at Greenwood… some people will remember that the paddock was basically in the centre of the grandstand. I was going out to drive one in an early race and some guy in the crowd yells 'Hey Clements, wait until I tell your dad you left the shoe department early!'
"My whole life I could never get away from that.
"So it was 2007 now. I was tired of living in my car, I had conflict with my dad, I had some conflict with Marty Fine - things were crazy with onlineharnessowner. Everything was chaotic. Georgian Downs was sinking… speaking of Georgian Downs, there's something else that happened around then that I should mention. Billy Elliott - basically Bill Robinson - called me one night when I was driving to Western Fair and said 'We want you to come to Woodbine. Randy's not taking any of our horses, Ricky Macomber will take your spot [for us] at Georgian - come give it a try.' So I talked it over with my wife and I thought that I'd give Woodbine a try. Long-story-short, the race office was great, they got me a few drives, but I never got one single drive from Billy Elliott the whole time I was there. I had been winning four or five a night at Georgian and started watching Ricky Macomber do that while I was sitting in the driver's room at Woodbine. I gave it a good go, I stayed for about four months, but it was never going to work out.
"That's a true story, and it hurt my relationship with Randy [Waples] too because he thought that I was trying to steal his drives. Mark MacDonald had just arrived from Windsor and he was getting some Robinson horses… it was all really chaotic.
"In the Greenwood days everyone was my friend because I just drove my own. So I was at Woodbine all these years later trying to be friends with everyone, but being a catch driver is a job and I quickly realized that, at Woodbine anyways, they're not necessarily all your friends when you're a catch driver. People get funny ya know.
"Anyway, add that in too, as something else I wanted to get away from. Everything I was told was going to happen didn't happen.
"So I was in my mid-40s and Ryan was grown up and away at school in London. There was a ton of drama and chaos around home so this was the perfect time to leave. I knew that I loved it at Pompano [Park] when I was 19-years-old, and we had a place down there, so we decided to try Florida. Mary and I were just talking the other day about how my first driving cheque from Pompano was for about $6," he laughs.
"A funny story about that time, shortly after we went to Florida. One night when I was coming home after the races there was this big SUV Cadillac right on my ass, and I'm like 'What the hell's going on?' It tails me right into my parking lot and when I get out I see that it's [Bill] Robinson. He looks at me and says 'Well kid I can see you jumped over a buck to get to a quarter' (laughing). There were a lot of people that couldn't understand what I was doing.
"The best thing that ever happened to me personally though, was that I went to Florida. I was 1,000 miles away from any track I had ever been at. I had to learn to… I had to learn to keep my mouth shut is what I basically had to do. Being in Pompano, being around Wally and around Bruce Ranger and those types of drivers was a totally different ballgame. It seemed much more professional down there at the time. I had to conduct myself in a way like I was starting all over again. I didn't know anyone down there when I arrived.
"We were in Florida for seven years basically. I got a five-year visa [2007-2011] and then we had to come back for a bit. Then we got the second visa and went back down for two more years [2014-15]. My stats luckily got me a sports visa the second time because statistically it showed that I was in the top 1% in my field.
"I went there to get a fresh start and to learn to become a [professional] driver. I needed to prove to myself that I could do it - and I did become a driver down there. I also enjoyed the warmth, and sitting there smokin' cigars for a number of years while I was there too (laughing).
"The first couple years I was down there they were pretty much racing year-round then, and a lot of the bigger names weren't there in July and August - that's how I started getting a lot of drives, because it was pretty much just Bruce [Ranger] and I in the summer. That's how I got off to a good start and that's how I ended up pretty much becoming best friends with Bruce Ranger. They used to call us 'Spaghetti and Rice' - I was the bible guy and he was the AA guy and we used to host meetings. I would do the track thing with bible studies there and he would have the AA groups at his house. I'd do one meeting at the track a week and he'd have two AA meetings a week at his place. He'd attend my meetings and I'd go to his also.
"It was Spaghetti and Rice because that is the combination of two different things meeting together. We did that for quite a while. We even went into the 'hood a few times and had some really interesting experiences there… that's all we did, was try to help people. Bruce lived there most of his life so he was connected to people that knew people who needed help. I remember one time when we picked up a bunch of people and took like 20 of them to church one Sunday - it was crazy. Most of them only went though because we promised to buy breakfast for all of them afterwards… we did too, we took them all out to a restaurant.
"We were able to really help some people, but we experienced some really sad cases too. Beating an addiction isn't an easy thing," explains the man who definitely knows.
As far as his own vices - they say that an addict will be an addict for the rest of their lives - has Clements been clean and sober for over 20 years now?
"I don't care to speak about my failures as much anymore but I went sideways for a while once when we first moved back home [2012]. I had a real struggle with my knee, I had five knee operations and went a little sideways for a while on the pain meds. I know I wasn't the only horseperson that battled with those, and that was just a brief interruption in my life… I went to a clinic in British Columbia and got off the pills. The problem with those things is that it's not about getting high, it's about just trying to stay the same. If you didn't take them you didn't stay the same, you'd get sick. I just needed to go somewhere where I could be sick for a while," Danny admits.
"After I got past that I hooked up with Ronnie Morales and we went back down to Florida and had two more great years down there. We had ten horses when we went down and we did well. We just got bigger and bigger and it was a lot of fun.
"In 2015 though, Ryan and his wife Charis informed us that we were going to be grandparents, and Mary said to me 'Well that's enough of following you around' and we moved back home (laughing).
"We helped Ronnie get a visa to be in Canada and his wife moved up here too, but our stock wasn't good enough for Woodbine as it turned out and things didn't necessarily go as planned. Most of the horses were in his name as trainer and I stopped driving completely in 2016… I just wanted to be Norm [Clements] I guess. I wanted to be the boss behind the scenes," Dan admits.
"We hung in there for about three years and had a bit of success, but then I got a positive test [in the fall of 2019] with a two-year-old called P L Nellie, and I basically quit. I don't know how that happened. My grandson was actually born that day and I got a call on the phone on my way home from the hospital… it was Jeff Milner and he told me that I got a positive test. I was shocked. I knew that I didn't give the horse anything that would do that and I just said 'I'm done with this.'
"I basically quit. We sold our house at the farm [Prince Lee Acres] and basically decided to follow Ryan to London - he loves it there. It was actually during COVID when we moved. I didn't know what I wanted to do but I had a love-hate relationship with it [racing] and had been doing it since I was 13-years-old. I actually got a job, believe-it-or-not, with the post office. It's not exactly easy to get a job with a grade-8 education but after about six months of going through the process I got hired to be a delivery guy.
"The way they hire you is that you're on-call at the start, and as a horseperson I'm a morning glory. I need to be up and moving. I never got a call for a month and when I did I got a one-week shift. I didn't mind it but after that week I didn't get a call for another month. When they did call me it was around noon-ish, and I wasn't really interested in going out around noon on a last minute call. I knew I couldn't do this.
"That's when Ryan - my advisor (laughing) - said that I had to get driving horses again and he hooked me up with Lorne House. I was basically helping Lorne for… the whole idea was that if I was going to start driving again I needed to get around the horses. I was a little overweight and hadn't been around them for a bit so I worked for the winter with him, with full intention that when Hiawatha opened I'd leave the job and try to get some drives. It was more than just a jumping-in-the-bike plan, it was more of a long-term 'how am I going to get back there plan', Clements admits. The first part of that was working for Lorne. He was a big part of my coming back.
"We moved four 'P L' horses into his barn. I was working for him… he was paying me and we worked out a deal on the horse bills. It was good for us both because he had someone to train his babies with and I was able to work and be around the horses again," Danny relates. "I got to meet some people that I didn't know before, as well, and then I just quit my job with him when Hiawatha opened.
"I'm kind of in the same boat now, that I was in when I first went to Florida. I didn't really know many people in the western part [of Ontario], I was always more in the east like at Kawartha Downs and stuff.
"One thing I really like is that I'm driving against a lot of kids now. I really see my professional life as a driver in three stages: One was when I was 37 and first became a catch driver. Two was when I went to Florida. Now this is me, 3.0… my job now is racing against guys that are 20-30 years younger than me. My goal is to be a guy that can still make them go fast and win, but also I'm making it my new focus to be the encourager. If I see a guy who is 22 and has a pot-belly I want to say to him, 'You're supposed to be a professional athlete… let's get with the program and invest in yourself a little bit'. I never had anyone when I was that age who did that with me… I'm not going in there thinking I'm going to be number one, but I'd like them to see me as a guy who can still win and maybe be a positive influence on some of the younger guys - that's what I see as my new role.
Dan Clements said, in his June 2003 TROT interview, that he hoped one day he could try and help people, the way people had helped him. He did that for a number of years in South Florida with his friend Bruce Ranger, and he's hoping to do more of that here in Canada.
"Right now I'm already investing in a couple guys, not with addiction issues but more with trying to help them keep positive about their driving careers and giving them advice that might help them along those lines. I try to encourage them. Western Fair has only been open for a week but I'm now starting to meet guys like Colin Kelly and Tyler Borth - the next-in-line guys. Are they going to be able to go to Woodbine full-time one day and know what it's going to be like? Maybe they want to know a bit more of what it's like and what you have to do to succeed there. I tried [Woodbine] and failed but at least I tried, and I know what it's like to make it at a Pompano when no one knows you. I have wisdom now that I can share with them if they're interested in listening.
Sitting no lower than fourth in the driver standings at Hiawatha (2nd), Dresden (3rd) and Leamington (4th) in 2022, the lifetime winner of 2,607 dashes and $20.2 million in purses, currently sports a brilliant UDRS of 0.372. Is he still the same driver he used to be, or could it be that after a six-year hiatus from driving he's even better?
"I can tell you that I've lost 25 pounds, I go to the gym every day, and I'm going crazy on this new health conscious diet I'm on," he shares. "When I do something I'm all-in and this really is the best version of me that anybody has seen in a long time."
What about the temper and the trash-talking that was synonymous with a younger Daniel Clements many years ago? Can a Christian that gives bible study lessons be a trash-talking harness driver, or is that somewhat hypocritical?
"I'm a human being. Basically because I believe in something that maybe other people don't believe in, I still have the same… I grew up in the horse business, I'm still as competitive, I still have a bit of a sewer mouth sometimes. I'm anything but perfect, but this version of myself right now, I'm much more mature. I'm still human, I've got faults that I still work on as I get older, maybe ones that I haven't completely succeeded in tackling but I rarely chirp on the track any longer - I used to be really bad for that. If I have something to say to one of the guys I usually say it one-on-one off to the side… seems to be the best way. I only really get mad anymore if someone does something to me that I'd never do to them - then we have a problem. My nickname used to be Lieutenant Dan, and I've had a couple of standoffs on the track this summer where I've had to hold my ground, but I don't get too carried away with it anymore. I'm pretty easy to get along with on the track, maybe compared to the old days," he laughs.
And his relationship with his dad - how is that now?
"We've always had some issues," he shares honestly, "but we've worked past a lot of them too. I can truly say that we're probably in a better place than we've been in a long, long time. I always thought that I'd take over the farm one day - that the Prince of Prince Lee would eventually become the King of Prince Lee, but my dad is 83, he's still quite active, and he's not going anywhere for a long, long time. In fact, I recently found out that his plans for the main farm, after he passes, are to turn it into part of the Jennifer Ashleigh Children's Charity. Apparently it's going to become a place to go for people that are struggling - whether it be a pastor, an addict or someone that's just down on their luck and needs a place to stay.
"It's kind of hard to hear that something you thought would eventually be yours, your entire life, isn't going to be yours afterall, but after I had some time to think about it I'm good with it. In the past 30 years the charity named after our daughter has now helped the families of over 15,000 ill children - it's pretty incredible," Clements relates.
What about professionally? Can the man who once drove in the Canadian Pacing Derby for Bill Robinson, when it went for just shy of $1 million, be content driving on the smaller tracks of southwestern Ontario?
"I know who I am," Clements shares. "I've been a journeyman driver who has always known what it was like to win. I won eight at Grand River one day. I won six in a row at Georgian in my swan song there. At one point I knew that I needed to prove to myself that I could go somewhere where nobody knew me and that I could make it - and I did it. That's what Florida did for me.
"They asked Keith Richards what was the best part of being in the Rolling Stones and he said 'Man, it was the journey. Once we got to the top we found out nothing was there'. Today I tell everyone to enjoy the ride. Horse racing is funny - in football they get to enjoy the victory for a week, in horse racing, as a driver, you get to enjoy it for about four minutes, and then if you drive the next one bad you're a bum. You don't get to bask in it often. The wins didn't sustain me and that's what Florida was about for me. I felt like I was missing something. I got to reinvent myself. All that I had been through with our daughters and my addictions, and my dad, and not feeling like I was worthy of anything… all that went away when I finally started to do it on my own. I had nothing but my will that this was going to happen, and we stuck it out and it happened.
"I've been doing this since I was 13-years-old and I've met a lot of people over those 40-plus years that I can call lifetime friends. I couldn't imagine us being in a better situation than we are now. We're grandparents, and we live five minutes from our son and his family. The only regret I have about London is that we didn't do it sooner.
"This life has taken us to a lot of places, including being warm in the Florida sun for a number of years," Clements smiles.
'Taken them to a lot of places' indeed. In the June 2003 feature, Dan admitted that in the years following the death of their girls, the young family moved around often, staying nowhere for much more than two years while always "trying to feel better about themselves."
In 1997 however, after moving back to Canada one of many times, Danny created the Finally Home Stable - a stable with three members: Daniel, Mary and Ryan Clements. It was a symbolic way of saying they were finally back home. Obviously, the naming of that stable was a bit premature, as this feature clearly relates, but when asked this time…
Danny, are you finally home?
The answer was, "I think I am."
 This feature originally appeared in the November issue of TROT Magazine. Subscribe to TROT today by clicking the banner below.