Clint Galbraith drove Niatross. Harry Poulton trained Matts Scooter. Paul MacDonell drove Somebeachsomewhere. Hanover Shoe Farms bred Bulldog Hanover. This is all pretty much common knowledge. Who was the farrier of each however? Many people think that caretakers are underappreciated - how about blacksmiths? Every racehorse needs one, but most fly below the radar and can't be named by the average spectator. Felix Marion shod 7 of the 12 Breeders Crown winners in 2019 but you've probably never heard his name. By the way, Felix shod Bulldog Hanover his entire career as well. By Chris Lomon.
When it comes to the biggest equine heroes of the Standardbred world, most people can name the driver and trainer of the majority of them. We all know that Paul MacDonell was the man that sat behind Somebeachsomewhere and that Nifty Norman trained Bee A Magician, but can you name who the blacksmith of each was? It's doubtful that you can. The farrier however, is key to any horse's success - Breeders Crown Champion or $7,000 claimer. Felix Marion is one such name in our sport, that you may not be familiar with - you probably should be though. You may recall that David Miller won five Breeders Crown finals in 2015; bet you didn't know that Felix shod seven of the Crown champs in 2019.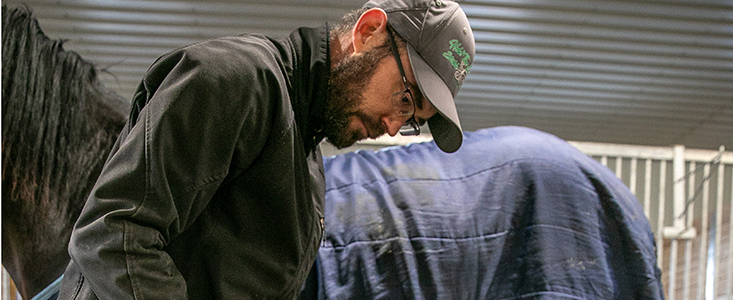 It is a treasured objet d'art, a showcase of aluminum, steel and wood that adorns the wall of Felix Marion's treasured workshop.
The horseshoes, some still sporting a shine, others more worn, each have their own story to tell, just like the man who created them.
"I keep adding shoes to the wall, which come from some of the best horses I have worked with," shared Marion. "I put a plate with their name underneath the shoe. I want to be able to say, 20 years from now, that my family and I can look back and see the memories that were made."
Hailing from Angers, a city in western France beside the Maine River at the edge of the Loire Valley, Felix developed an early fascination with horses, an affinity that continued to grow throughout his teens and into his adult years.
He knew he wanted to work with horses, but didn't know, at the time, in what capacity it would be.
"At the age of 15, after [graduating from] school, similar to what you would refer to as Grade 12 in North America, I went to an agricultural school in Europe. These schools are where you go if you want to get into Standardbreds, Thoroughbreds, show jumping, or become a blacksmith. You go one week in school and one week as an apprentice working for a stable, a trainer. I did that for two years and I got my diploma from there. After graduation, I would have been 17. We had an opportunity through the school to go to England or Ireland after you received your diploma. You were able to go to one of those places to work for six months, up to a year, year-and-a-half. At the time, I had nothing holding me back so I put my name on the list and thought I'd give it a go. Long story short, at the end of June 1998, I went to Dublin to the Wallace's Newtown Stud Farm."
The original plan in Ireland was for Marion to stay half the year and then move back to France. After six months in Dublin, those plans changed.
It would be the start of a somewhat nomadic horse racing journey, one that would eventually bring him to Canada, more specifically, southwestern Ontario.
"At the end of six months working there I ended up staying for two years because I liked it that much. At that time I wasn't into the blacksmith side of things, but I was more into training horses. I had my toes into shoeing because I knew a little bit about it, but I was mostly training. After those two years, in 2000, I decided to go back to France, where for the next four years I worked for a couple of stables. I drove in races, but after that I went back to Dublin in 2004. I stayed there for another year-and-a-half. By then, I took over the training at the stable I was working at because I had more experience and I also started shoeing the horses at that time. After a year-and-a-half or so, in the spring of 2006, the people I was working for in Dublin - Liam Wallace was the patriarch - he had bought a training centre in Canada, near Flamboro Downs, called Emerald Isle Training Centre.
"After they bought the training centre in 2006 I was asked if I could come to Canada, and I thought, 'Why not?' I was young and I thought I could go there and see new things and learn new things. I jumped on the plane and I've never left. The next year, I met the woman who would become my wife. We got married in 2009. One thing led to another and I decided to take on the shoeing."
Work, as expected, was slow at the start, but that would change after a couple years spent establishing his business and reputation.
"At first, it took a lot of work, long hours and time to establish myself; don't get me wrong it's still hard work and long hours, but eventually I was able to ride the wave. Like surfing: the wave takes you and you just follow and keep riding until it gets you to where you want to be. The more horses I shod, the more people noticed me. It would have been 2009 or 2010 when I made the switch to shoeing full-time. It took a lot of hard years, but eventually, around 2015, is when things got better and better. The last four years have been tremendous, getting to work for some of the biggest names and with the best horses in the industry. I've been lucky to be associated with some very successful trainers and horses.
"One of the things that helped me back then was picking up a key account in Canada, with [trainer] Tony Alagna. That was the year, 2014, when Artspeak won the Dan Patch and O'Brien Award for top two-year-old pacing colt. It was a much bigger stable than I was used to; the amount of horses and caliber of horses, so that really got the ball rolling. That's how I picked up Jack Darling. I was shoeing at Tony Alagna's and Jack came over and asked if I could shoe some of his horses. Of course, I said yes. Who knew at that point, that five years later I would be privileged enough to shoe Bulldog Hanover as a yearling?"
Over the past seven years Marion's clientele has grown steadily into an A-list group of pacers, trotters, and trainers, bonafide stars of the sport who have stamped themselves as the very best in the business.
With the likes of Mark and Shawn Steacy, Richard Moreau, Tony Beaton, Luc Blais and Scott McEneny, to name a few, of the more than a dozen clients on his roster, Marion is understandably thankful for such associations.
"I'm grateful to all of my clients, they're all great trainers to work for."
Regardless of status, accolades, purse earnings or popularity, Felix views his craft and each subject as a blend of art and science, one that demands a keen eye, steady hand, and open mind.
"They are beautiful creatures. I don't just go underneath them and start working. I like to look at them and see their conformation. I try to study the horses and see their individual trademarks. What will a Shadow Play yearling look like and need? Or a Father Patrick, a Captaintreacherous, or a Sportswriter? I try to put in as much studying as I can because it makes my job easier down the road. I kind of know what the trend is with their feet [depending on who their sire is], so I can be ahead of the game. No two horses for me have ever been the same, and that will never change."
Marion pauses briefly to ruminate before he speaks of the stars he's shod, including a celebrated pacer who holds the distinction of being the fastest of all time.
"Bulldog Hanover, he's a gentleman. He's good and he knows he's good. He's got class. Those kind of horses, they all have the same thing, which is class. [2019 Hambletonian winner] Forbidden Trade is a great example. He's my favourite horse to shoe, not just because he is great, but because he is the classiest horse I have been under. He is the nicest horse I have worked with. Never one bad move. He just lets me do my job, no matter how long it takes. He trusts me."
As do a growing number of trainers who have made Felix their go-to farrier.
His services are so much in demand that road trips, as well as plane travel, have become a staple for the business.
"The last three or four years have been great. I put in a lot of miles. Since 2018, I've been going to the States to shoe as well. The summer of that year, Donna Lee [Tony Alagna's mother] and I were talking, and we were sort of half-joking about me going to Florida to shoe Tony's horses there over the winter. The next thing you know, a few months later, I was on a plane to Florida. I would go down once a month and shoe his horses. Obviously, because of Covid, I couldn't go down for a while. I now go to New Jersey in the spring and Lexington in the summer and fall [for them] as well.
"I try to not limit myself. I don't like to leave any stone unturned or leave any margin for error. When Bulldog was in Lexington, I went there to shoe him. When Warrawee Xenia went to the Hambletonian Oaks, I was there too. There is a lot of money on the line for my clients and owners; the horses and their people deserve that respect. And for me, the more I see the more I learn."
Marion is also a teacher of sorts, eager to share his expertise and education with those who work for him, namely, full-time assistant Georgia Gaudet, along with part-time help Joe Johnston and Riley McGilloway.
"My team, they all have a great attention to detail and are very passionate about what they do. They are very eager to understand the craft and want to make their skills better."
He is also quick to laud his wife, Christine.
"My wife has been amazing too. I'm very fortunate to have her help me in so many ways. Whenever I need to go somewhere, she takes care of all the details of wherever I'm going, which lets me focus on my job. That makes such a huge difference. And when I'm gone, I know everything is in good hands with her, and the team we have."
Felix's greatest reward is found in those picture-perfect moments in the winner's circle.
The 36th edition of the Breeders Crown - in 2019 - was exactly that for Felix.
"2019 was a big year for me - I picked up a lot of new horses. Come Breeders Crown time at Mohawk that year I was lucky enough to be associated with so many good horses for those races. I ended up having seven winners [out of the 12 in total] and I was able to shoe [legendary French trotter] Bold Eagle. I was pretty pumped up. Some I had only shod once, others I had shod for longer. But they are all special."
While his name isn't listed in the race program, ownership papers, or anywhere the horse is mentioned, there is, he noted, a deep connection to those he has helped line up behind the starting gate in racing's marquee events.   
"For me, it's more of a satisfaction to see them winning races than anything else. Financially it is important to do well in your job, but I have great pride when I see the horses win. That's what I get the biggest joy from. I make sure I go to the races, like the Breeders Crown, when they are racing.
"Five years ago, I shod Dr J Hanover when he was the fastest horse in Canada, and Bulldog Hanover was able to tie that mark twice this year. Two years ago we had good luck with Donna Soprano and On A Streak for Luc Blais and [owner] Determination. Warrawee Xenia has been amazing this year. She's a beautiful horse and one of my favourites that I have shod this year. She's very classy. Being associated with such great horses and great people, things like that make my job even better. When they race, I want to see them do it. I want to go into the winner's circle because that's how much I feel involved with them. I don't just shoe them, and not care what happens after. I do care about them, and I want every one of them to do well."
Watching them succeed is a reminder of the reverence Marion holds for the pacers and trotters.
"I love to see them win big races. At first, I started shoeing older horses, overnight horses, but for me, what I like the best is to look at the babies, to study their lineage and what that means in terms of how they need to be shod. There is so much you need to do to keep them sound and to get them to the races. You want them good-gaited from day one. I get a kick out of seeing them progress. Shoeing each horse as an individual is the technical part of the job. But every horse needs to be treated as the unique animal they are."
There have been times of course, albeit not often, when Marion's skills are truly put to the test.
One of those was three years ago, when world-class trotter Manchego, trained by Nancy Takter, was set to contest the prestigious Maple Leaf Trot at Woodbine Mohawk Park.
"In 2019, for the Maple Leaf Trot elimination, Nancy called me on a Friday night and mentioned that Manchego had a conniption in the trailer and ripped her hind shoe off; her foot was a mess. She made a few phone calls to people around here and I was the one that she was recommended to call. She sent me a photo and said, 'I hear you're the guy who can fix this.' I told her I would try my best. I met Nancy in the retention barn, and we did the best we could. She made the final. The rest of that year, she went on a tear and won everything. This horse overcame a lot and that was nice to see. It made us happy to help her."
It's how Marion, who also shod Alagna's Hambletonian winner Ramona Hill, has walked away on other occasions, with a smile on his face, not formed by conceit, but rather by contentment.
"At that Breeders Crown three years ago, on the Saturday afternoon, the weather turned, and some trainers were considering shoeing changes. It just rained and rained. I was still in the paddock at four in the afternoon, shoeing When Dovescry, because she needed back shoes. We decided to put a different type of shoe on her to address the weather."
It was the same story for Felix recently, with a rookie filly who claimed victory in her 2022 Breeders Crown division.
Trained by Shawn Steacy, for Hudson Standardbred Stable, Sylvia Hanover was fresh off another impressive outing, a one-length win in her Breeders Crown elimination, on October 21st, at Woodbine Mohawk Park.
Three days before the final however, Marion received a call from Mark Steacy.
"She had won her Breeders Crown elimination but Mark called me on the Wednesday to say she had an issue with her foot; of course, she was going to be the favourite for the Breeders Crown [final]. Mark and I looked at her and came up with a game plan, and we put on a different shoe for the week. We waited until she went her second trip on the night of the final, and we changed her shoes [again] in the paddock. We took the one therapeutic shoe off and put on her normal racing one, and she went out and won. Little things like that make it even sweeter. We didn't panic and we got it done. With experience you don't panic as much. We had to help her the best we could. Sometimes you have to go a little above and beyond, but that is no problem for me."
Certainly not when you view your job as a labour of love.
One of Felix's greatest hopes is that others will follow in his footsteps and find the same fulfillment for a horse racing role that doesn't receive nearly the same plaudits as others.
"It's unfortunate, but I believe the blacksmith role is under-publicized. You never hear about blacksmiths, but it's just as important as any other thing that goes into a horse's success. That's how we will get the younger generation to be part of this trade, because we will see a shortage of blacksmiths soon. Younger horse people aren't taken with this trade, but it is so important. We need to make the profession more publicized to get the younger generation interested and aspire to do this job."
That's one of many thoughts that come to mind whenever Felix opens the door to his workshop and sees that magical wall that represents a life's work.
Soon, there will be more shoes to add, more names to be engraved, and more memories to cherish.
Setting out to become one of the most sought-after Standardbred blacksmiths was not his original plan, yet it is precisely where Felix now finds himself.
"We have to make memories and recall those moments. There are tales behind these shoes, and I want to be able to look back and have something to talk about."
 This feature originally appeared in the January issue of TROT Magazine. Subscribe to TROT today by clicking the banner below.