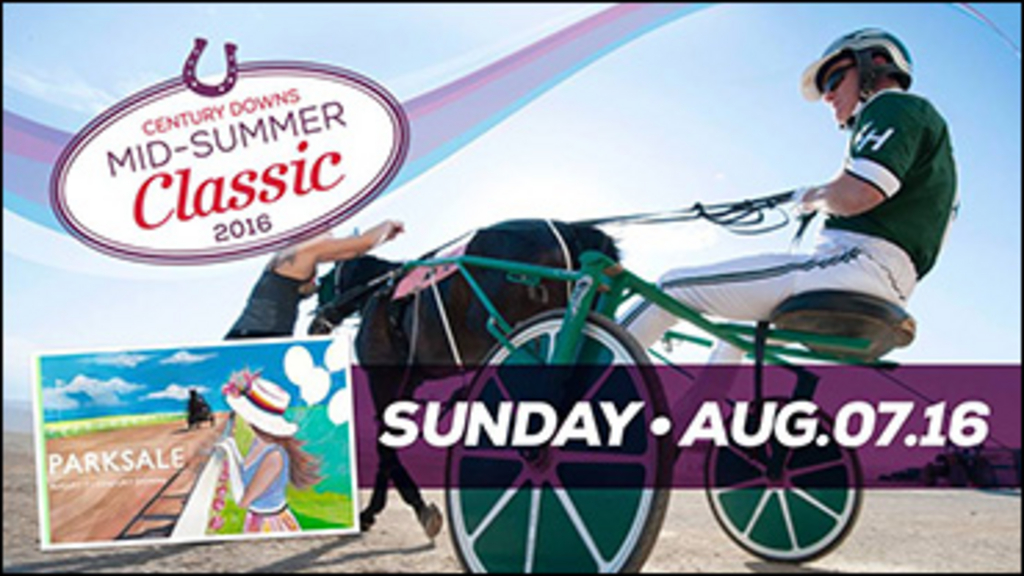 Published:
August 6, 2016 08:39 am EDT

This year's Mid-Summer Classic day features a stakes-filled program set for Sunday, August 7 at Century Downs Racetrack and Casino.
The three-year-old girls and boys will take over center stage at Century Downs Racetrack and Casino. The Ralph Klein Breeders Stakes for the ladies and the Brad Gunn Stakes for the boys will both contest respective finals with a very lucrative $70,000 up for grabs.
Supporting the card will be the two-year-old pacers of the Alberta Sires Stakes program looking to be the future harness racing stars racing for these main events in one year's time. Colts and geldings will clash in a trio of $18,767 divisions of the Alberta Rising Star while the fillies will butt heads in a four-pack of $14,600 Alberta Starburst splits.
Brad Gunn Stakes
Punters had it right sending Its Eds Idea off as the 6/5 favourite in the first elimination of the Brad Gunn Stakes elimination last weekend. He rewarded his backers by notching his first win of 2016. The Western Ideal-Keystone Edna colt went coast-to-coast, posting splits of :29.3, :58 and 1:26.3 before stopping the timer in a sizzling 1:55.1. Trained and driven by Serge Masse for Edmonton-based owner Lucy Raymond, Its Eds Idea will surely get support at the windows again.
Other contenders include Wranglers Cash (Kelly Hoerdt). The 8/5 second favourite used a first-over trip but could not overhaul Its Ed Idea and ended up third. Blue Star Maverick (Mike Hennessy) rallied for place dough. Wranglers Cash will go on the Lasix program on Sunday.
The 4/5 favourite Outlaw Turn N Burn was treated to a nice two-hole trip in the second elimination after an adventurous first quarter. He was forced to go wide when the early pocket rider Keep Coming broke stride. He then tracked the leader Blue Star Jet (Hennessy) through splits of: 28.2, :58.1, 1:27. and really pressed on the gas petal using a devastating :27.4 final quarter to post the win in a sharp 1:55, which was also a lifetime best. Blue Star Jet hung on for second. Despite a tough, long first-over trip Appellate (Keith Clark) did make it to the big show finishing third.
Outlaw Turn N Burn's form is very sharp as evidenced by his effort two starts back as he punished a group of older condition types by using a big three-wide power move down the backstretch to win by almost three lengths in a sizzling 1:55.3.
"We definitely had our share of racing luck so far. We have to hope he continues to stay healthy and sound and the luck continues to carry on," said trainer Donna Sarin. "With horses now allowed to be treated with Lasix such as Blue Star Jet and Wrangler Cash they could be some very tough customers. A lot of racing goes on in these big stakes. I'm sure some horses will be rolling to the half. We will have to race tough and hope for the good trip as we are facing a very nice group of three-year-olds."
Outlaw Turn N Burn has four wins from nine starts in 2016 and is owned by 8113564 Canada Ltd. Last year as a two-year-old, he set a track record for rookie colts in a time of 1:56.3.
Blue Star Jet (Hennessy) did all the grunt work from the rail in his elimination leading all the way through splits of :28.2, :58.1, and 1:27 before succumbing to aforementioned Outlaw Turn N Burn. We may see a different Blue Star Jet this Sunday.
"We will be treating him with Lasix. He is not a true bad bleeder but we hope it will reduce his blood pressure. We want him to relax. If he is controllable that would be great. If not, well, anyone to our right will get tired in a hurry," stated trainer Rod Hennessy, who acknowledged this race is loaded with talent.
"This is a tough bunch with five or six horses all capable of winning. This is what the field should look like for a $70,000 purse."
Hennessy shares ownership of the Blue Burner son with Lorne Duffield of Edmonton, AB. He has bankrolled $75,594 and has notched seven wins from 16 career starts.
Ralph Klein Stakes
The first of two $10,000 Ralph Klein eliminations for the fillies saw the rise and fall of the 3/5 favourite Divas Dragonfly (Jamie Gray). She won like a chalk horse should but was disqualified for interfering with One Big Hottie (Redwood) down the backstretch. Senga Napta, a 47-1 longshot was second and moved to first as a result thereby notching her first win of 2016 from seven attempts for trainer/driver Ryan Grundy. Kenneth Gunn owns and is the breeder on record of this Blue Burner filly.
However, the connections of aforementioned Divas Dragonfly (Mystery Chase-Midnight Diva) appealed the disqualification late this week and has now found herself back in the show. The purse money from that race ($10,000) has now been frozen pending a further review of the appeal. She has drawn post eight but is a threat regardless.
"I believe she is very capable of winning even from this outside post. She is on her game, excited and just a happy-go-lucky filly. We obviously need luck and a good trip from our outside post. I don't think anyone including myself knows just how good she is," commented trainer Carl Archibald.
The Meadowlark Farms' homebred filly's regular driver, Jamie Gray will again be calling the shots. The top two-year-old Alberta filly last season, she has career earnings of $99,544 with seven wins from 18 career starts.
As a result of the disqualification as it stands now, Cenalta Artistry was moved to second and Jet Blue Burner (Cullen) was awarded third. Jet Blue Burner also had an adventurous journey. Track announcer Murray Slough noted this race got "Western" early for good reason. The Blue Burner filly started out last but used a big power move early in the first quarter of :27.3 right in front of the Century Downs' fans and opened up six lengths on top through middle panels of :58.1 and 1:27.1 before breaking stride. She still rallied to finish fourth-placed-third as a result of the inquiry. If she stays flat in the final she will be a threat.
Outlawsureshotshark claimed the fastest Ralph Klein elimination in 1:56.1, knocking off one-fifth of a second off her lifetime mark. Travis Cullen trains, drives and co-owns the Smart Shark-Fox Valley Cherish filly, with father Ron Cullen and the Don Byrne Stables Inc. This filly was unraced as a two-year-old and was a private purchase from Connie Kolthammer's Outlaw Stables earlier this year. She has had a fantastic year so far visiting the winners circle 10 times already from sixteen starts this year and has drawn a kind post (2) for the big show.
Monstrous (Hensley) and Brighten Your Life (Hoerdt) ended up second and third respectively and these off the pace threats will get some respect from the punters on Sunday. Monstrous gets the rail, a huge improvement from the trailing position she had in the elimination.
Two-year-old pacing fillies and colts will get their second taste of stakes action at Century Downs Racetrack and Casino this weekend in the Alberta Starlet and the Alberta Rising Star stakes.
Alberta Starlet Stakes
In the first division two players are most likely to grab a share of the limelight. Pickles On Top (Camystic-Real Chop) was a $24,500 yearling purchase for the Cullen barn. In her most recent start she demolished a group of condition types in 1:57.2. Outlaw Fireball (Blue Burner-Watchasgirlsgoby) was also visually impressive winning her division of the Emerald Filly stake back on July 23 with a last to first move in a time of 1:57. She was a private purchase from Connie Kolthammer last week by the Gagne barn.
The second division will feature Shesamysterytome (Mystery Chase-Allamerican Boo), who was second to the aforementioned Outlaw Fireball and has finished second in all of her three career starts. Wedding Dance (Mystery Chase-Westart Love) looked sharp finishing second behind Nightime Chase, who equaled the track record for two-year-old fillies at Century Downs in a time of 1:56.1. She was a $6,500 yearling purchase for the Haining barn.
The third division will see Kurt and Kathy Schmidt's homebred Lil Bit O Jingle (Blue Burner-Rain Drop Hanover) come into this race fresh off a six-length romp in her maiden-breaking performance. Trained by leading trainer-driver Travis Cullen, she should attract some attention at the windows. Keep an eye on Perfect Mystery (Shaw) was a decent third to Serge Masse's Last Time To Play last time out.
The fourth division appears to be a bit of a wide-open affair. Cardinal Rule (Travis Bowman), Tick Tick Kaboom (Dave Hudon), and Keep On Burning (Cullen) are all coming off decent efforts. Keep On Burning (Blue Burner-Sin Queen) is the only horse to have broken her maiden in this division with a 2:00.1 score back on July 30.
Alberta Rising Star Stakes
Mateo could not have looked more impressive in his career debut, destroying the opposition in a quick 1:57. That effort has promoted him to stakes action here in his second ever start. The two-year-old son of the wildly popular sire Blue Burner sat patiently in the four-hole through early splits of :28.2 and :59.1 before using a first-over trip to take the lead down the backstretch (1:28.4) and continuing on to demolish the field by seven widening lengths. The Darryl Cutting trainee could be any kind and will again have Ed Hensley in the bike.
Ima Dude is a youngster that appears to have a bright future. Trained and driven by Brandon Campbell, the two-year-old son of Lil Dude Starrbuck stood firm tangling with older foes, chasing home sophomore Tolly Ho in his career debut while pacing his own mile in a sparkling 1:56.4
Ryan Grundy has a tiger in the second division. Senga Nitro (Blue Burner-Nells Sweet) used a double wide trip down the backstretch to paste the field in his division of the Century Bets Pace by a widening six lengths in 1:58.3.
Heated Exchange (Cullen) took a lot of action at the mutuels back on August 1 in his second ever start but broke stride and deserves another chance.
In the last division for the boys, it may be hard to look beyond Retros Mystery (Mystery Chase-Retro). His times just keep on getting better. The Starkewski trainee posted a neck victory versus condition types in 1:57.4 in a prep for this race.
Tap Man (Mystery Chase-Tapioca Hanover) was a $9,000 purchase from the ASHA sale last year however the connections still feel he has untapped talent.
"We continue trying to figure him out. We will eventually find out what he is all about, but we feel we will be better this Sunday," stated trainer Rod Hennessy.
Hennessy hopes Tap Man follows along the lines of some of his siblings. "He is a half-brother to a couple of horses I trained long ago in Tip Top Tap (paced 1:52 at Alberta Downs) and to the filly Tap Out (paced 1:53 at Alberta Downs)."
Century Downs Racetrack and Casino will feature 11 dashes on both Saturday and Sunday, with a first race post time of 1:10 p.m. scheduled for both days. To view entries for Sunday's card, click one of the following links: Sunday Entries - Century Downs -- Sunday Program Pages - Century Downs (courtesy TrackIT)
(A Trot Insider Exclusive by Frank Fontana; videos produced by Horse Racing Alberta)