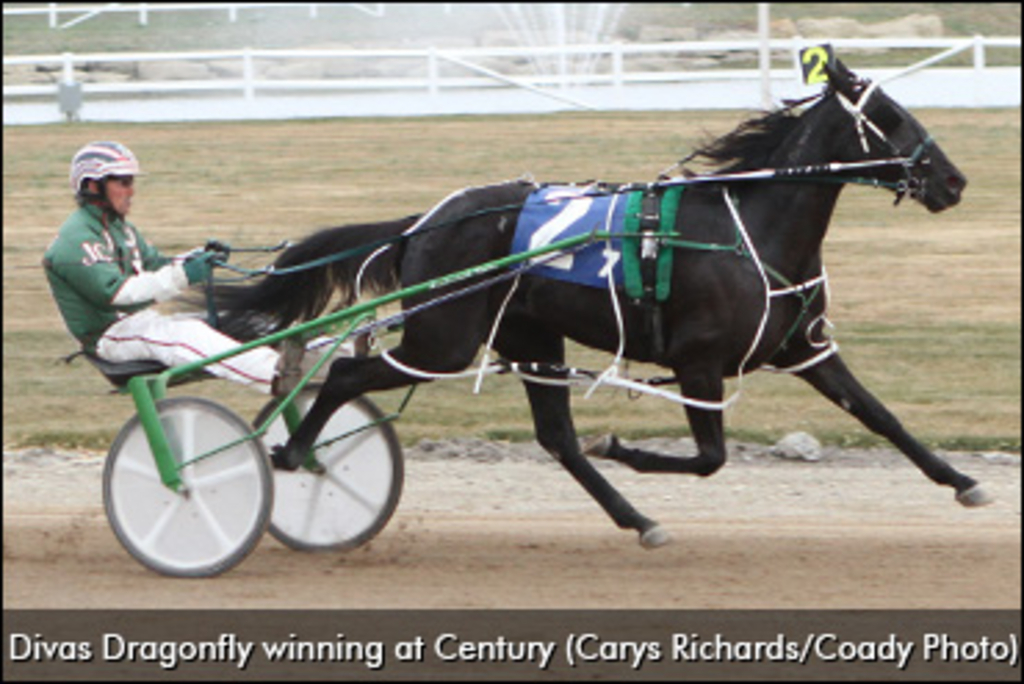 Published:
July 29, 2016 06:09 pm EDT
The three-year-old girls and boys will be taking centre stage at Century Downs Racetrack and Casino this Saturday. The Ralph Klein Breeders Stakes for the ladies and the Brad Gunn Stakes for the gentlemen will both be contested. Each stakes event has two $10,000 eliminations with the $70,000 finals scheduled for Mid-Summer Classic Day on Sunday, August 7.
In the first elimination, Divas Dragonfly (Mystery Chase-Midnight Diva) is coming into this contest in fine fashion and will be the likely post-time favourite. The top two-year-old Alberta filly last season, she was a decent third to Outlawsurshotshark in the Alberta Princess stakes final and got herself ready for this affair with a blowout win over condition types posting a personal lifetime best mark of 1:56.1. Jamie Gray, the Meadowlark Farms' homebred filly's regular driver, was out of town in B.C. attending his brother's wedding but had a very special replacement in Keith Clark for her latest win.
"Anytime you can get a Hall of Fame driver in your sulky you can't go wrong. In fact, Keith told me after the race she was a very special filly and was very impressed with her," commented trainer Carl Archibald, who feels he drew in a favourable division with a decent post.
"I believe there should not be much to interfere with her early as she can cut 27-second quarters if we she had to. Any post draw between post three and five is fine by me. She came out of her last race in good shape and has been training well. Cullen's horse has to be respected on the outside with Jet Blue Burner as well as Kelly Hoerdt's filly on the rail, Lucky Lucka."
The second division will feature the streaking Outlawsurshotshark (Travis Cullen). The daughter of Smart Shark will surely command most of the action on the toteboard. The ultra-consistent filly boasts a superb 15-9-4-2 record in 2016. She was unraced as a two-year-old and was a private purchase for the Cullen barn from Connie Kolthammer's Outlaw Stables earlier this year.
Last time out, Monstrous (Ed Hensley) was made the post-time favourite in the Alberta Princess but saw her her four-race win streak snapped by the aforementioned Outlawsurshotshark. She endured a tough parked-out trip early in that race but still hung on for second.
"I got pushed hard in the opening quarter," said the personable Hensley, "but she still hung on for second."
The Darryl Cutting-trained and Warren Fuller-owned filly will need to work out a trip, however, having drawn post nine in this elimination.
"I don't like post nine. It's not an easy place to win from," stated Hensley. "She is going real good now. We just need a little racing luck and if things set up for her we can save her for the stretch drive. She has a great late kick."
Punters looking for an interesting alternative may want to take a look at Somewhereaplace (Serge Masse). The daughter of Somebeachsomewhere has been tangling with tough older foes and may enjoy the company.
Switching to the boys, the Brad Gunn Stakes will see a number of familiar faces battling it out. In his latest stakes race, Blue Star Jet was the big favourite to win the $56,300 Alberta Plainsman Final but Wrangler Cash and trainer-driver Kelly Hoerdt had other plans and rallied for a 5-1 upset. Hoerdt picked a great time to get hot concluding the day with a training-driving triple. The O'Brien Award winner admitted he had some luck on his side that day.
"I was lucky to get out in the final turn for sure. Everyone was shocked to see what happened to Blue Star Jet," added Hoerdt, who is happy to draw into this division. "My horse came out great out of that race and I just gave him an easy trip against condition types in his next start finishing a non-threatening fifth. Blue Star Maverick, who was second to us in the Plainsman, could be the tough again in our division. I just want to flash a little speed, make sure we get to the final and hope for some racing luck."
Wrangler Cash (As Promised-W Jean) boasts earnings of $117,344 for Hoerdt and partners Blair Corbeil and Dr. Maurice Stewart.
Blue Star Jet (Blue Burner-Movin Uptown) has seen best of times and the worst of times in his last couple of races. He opened the 2016 Alberta Sires Stakes season with a track record performance at Century Downs on Canada Day in a sizzling 1:54.4 wire-to-wire victory. Off that eye-popping win, he was sent postward as the heavy favourite in the Alberta Plainsman stakes final, where he marched to the front in suicidal fractions of :27 and :55.4 from the outside post before not surprising completely caving in to finish last.
"He just decided that starting from the outside post, marching on through a 27-second opening split and a 55-second half he had enough and packed it in, but that is not surprising after those fractions," said trainer Rod Hennessy, who feels his colt is a work in progress.
"We are still experimenting with him. We changed a few things up, including his training schedule. He has responded well and we are happy to get the advantageous post one, so we go back to the drawing board and we will see what happens on Saturday."
Blue Star Jet is owned by trainer Hennessy and Edmonton's Lorne Duffield. He was a $12,000 yearling purchase and a half brother to Blue Star Admiral and Blue Star Texas.
Outlaw Turn N Burn (Blue Burner-Penny Lace) has looked sharp in his last couple and figures to be a dangerous threat in here. The Donna Sarin trainee set a track record last year for rookie colts in a time of 1:56.3, and he prepped for this contest by punishing a group of older condition types by employing a big three-wide power move down the backstretch to win by almost three lengths in a sizzling 1:55.3.
A possible spoiler could include the late-closing Classy Artist (Trust The Artist-Ding Gua Gua), who has been tangling with condition types in his last three races with some success. A pace meltdown in here would aid this guy's chances.
This will be a busy weekend of harness racing at Century Downs Racetrack and Casino. There are no races scheduled this Friday. Instead, 10 races are set for Saturday, nine dashes for Sunday and nine races set for holiday Monday, all with a first race post time of 1:10 p.m. each day.
(A Trot Insider Exclusive by Frank Fontana)