Published:
June 1, 2018 11:42 am EDT
Many 10-year-old horses with nearly $1.7 million in their bank accounts would back off a little, perhaps enjoy a cozy retirement or a frolic in the breeding shed. Not Dancin Yankee. This old gent is still competing and winning at top levels. In fact, he'll be seeking his fourth straight victory in Saturday's $20,000 Preferred Handicap Pace at The Meadows.
A $17,000 yearling acquisition, Dancin Yankee showed some promise at three when he won a pair of Ohio Sires Stakes legs and was the beaten favourite in the championship. But he's blossomed since then, winning back-to-back OSS titles in 2014-2015, and he's a three-time Ohio Aged Pacer of the Year.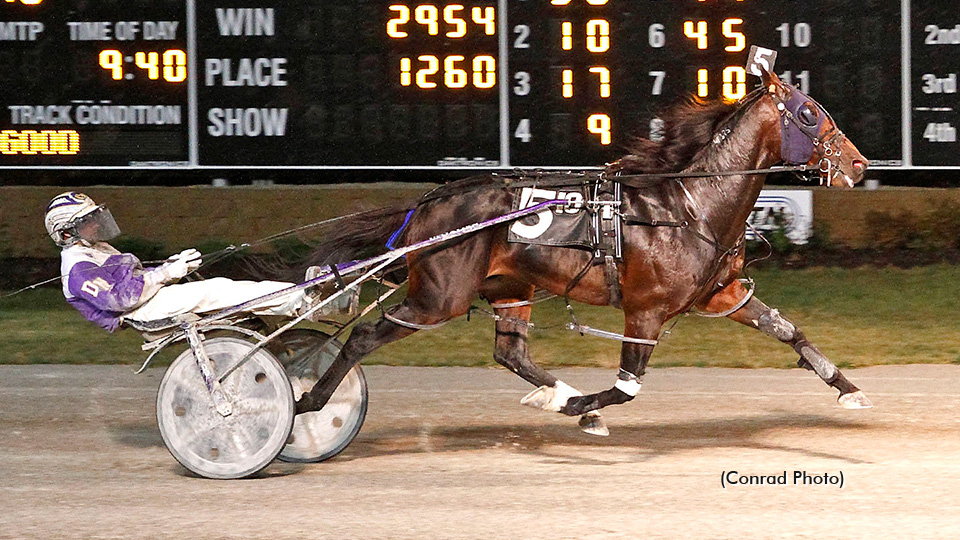 Dancin Yankee, winning at Hollywood Dayton in 2015
Burke Racing Stable and Weaver Bruscemi, LLC purchased the son of Yankee Cruiser-Dancewiththebest last year via Internet auction.
"He's always been a good horse, but he definitely got better as he aged," says trainer Ron Burke. "I've always paid attention to him. I think he can race another year or two in top company." (Burke, by the way, will miss the race. He's in France, helping the French American Trotting Club and the Standardbred Owners Association of New York purchase trotters to race at Yonkers later this season.)
Mark Weaver of Weaver Bruscemi indicates his partnership gave about $74,000 for Dancin Yankee.
"We figured he's worth a good portion of that as a stallion in the right market," Weaver says. "We've had a number of dominant aged horses over the years, such as Foiled Again and Sweet Lou. This guy always was very competitive with them.
"The way he carries himself, the way he looks on the track, you can tell he's a classy animal. I feel fortunate that we get to own him, even late in his career. He's becoming one of my favorites in a short time."
His current streak includes wins at Scioto Downs and Yonkers, but Dancin Yankee will need his 'A' game to extend his skein. He'll be facing such stalwarts as fellow millionaire Dapper Dude; Phoenix Warrior N, who also has won three straight; Down-Under wonder Anythingforlove A, and Rancousy, a hard knocker who captured his last start at Pocono in 1:49.1.
Dancin Yankee leaves from post 3, with Dave Palone driving. First post is 1:05 PM, with the Preferred Handicap as race 8.
Also on Saturday, The Meadows will introduce the Super High 5, a winner-take-all-type wager that has generated huge jackpots and fan excitement wherever it's been offered. The Super High 5 will be featured on the final race of each card. In addition, the program includes a pair of rich total-pool guarantees — $7,500 for the Pick 4 (races 4-7), $5,000 for the Pick 5 (races 8-12).
Fans may enjoy and participate in a number of special activities, including "Rockin on the Rail," a series of live musical concerts that will take place on the apron each Saturday through Sept. 1. The music begins at the conclusion of the live card, projected for 5:30 p.m. Featured band Saturday is Johnny Angel & The Halos.
During the live card, fans on the apron can meet the active Standardbred racehorse Bellows Binge from the Dirk Simpson stable, an event organized by the Meadows Standardbred Owners Association (MSOA). The MSOA also will conduct paddock tours, starting gate rides and a "Pick the Winners" contest, with a $100 voucher up for grabs. For more information or to register, stop by the MSOA table in the Racebook.
(with files from The Meadows)