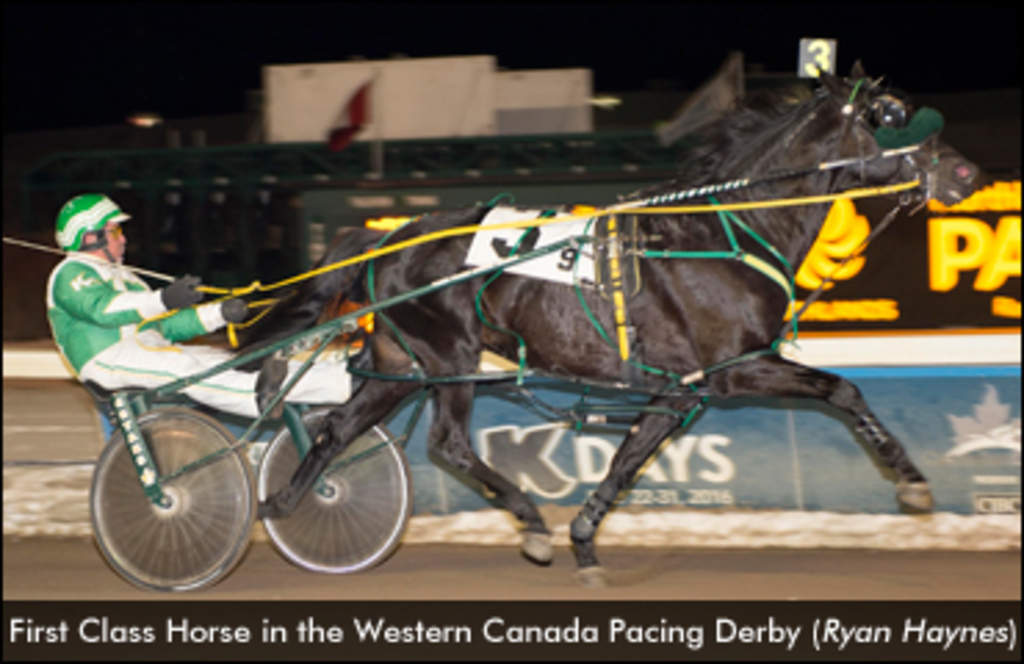 Published:
April 9, 2016 12:45 am EDT
The Champions of Alberta were celebrated at Friday's 2016 Alberta Standardbred Horse Association's annual Awards Gala.
Industry partners from Horse Racing Alberta, Century Downs Racetrack and Casino, the ASHA, and many sponsors, owners, breeders, and horsemen were on hand to congratulate the horses and horsemen who excelled in 2015.
First Class Horse was victorious in both Three-Year-Old-Colt and Gelding category as well as the prestigious Horse of the Year. Trained and driven by longtime horseman and Hall of Famer Keith Clark and owned by Robert Jones and Doris McDougall, First Class Horse was definitely a standout for these categories.
The Meadowlark Farms filly Divas Dragonfly trained by Carl Archibald and driven to numerous victories by Jamie Gray, took home both two-year-old categories of Alberta Sired Filly as well as Alberta Filly.
Travis Cullen has a great year once again, taking home Driver, Trainer, and Horseperson of the year as well as six awards for horses he trained and drove.
Once again, the combination of Kelly Hoerdt and Blair Corbeil was well represented taking home Owner of the Year as well as Two-Year-Old Alberta Sired Colt/Gelding (with Dr. M Stewart), Three-Year-Old Filly and Fastest Boy with Ghost Pine.
The Ron McLeod Award was presented to longtime horseman Rod Hennessy, who carries on the tradition of generations before him in Standardbred racing in Alberta. Hennessy has dedicated many years to the industry in many different facets of the industry and his son Mike heads the next generation of Hennessy horsemen.
Longtime owner and breeder Pieter Besselink was honoured with the Breeders' Award of Recognition for over 30 years of dedication to the industry.
"I just love the sport," says Besselink. "My wife and I love to go to the races. We love working the farm and taking care of the horses. I've got seven broodmares out in the pasture and I'm looking forward to having some new foals on the ground in this spring."
For the first time ever, Caretaker of the Year was tied between Kaitlin Haining and Danielle Schedlosky. Each of these hard working, gifted ladies was honoured to receive the award, but both were very excited for the other to have received it as well.
Here's a complete list of the winners:
TWO YEAR OLD ALBERTA SIRED FILLY
Divas Dragonfly
Owner: Meadowlark Farms
TWO YEAR OLD FILLY
Divas Dragonfly
Owner: Meadowlark Farms
TWO YEAR OLD ALBERTA SIRED COLT/GELDING
Wrangler Cash
Owners: Kelly Hoerdt, Blair Corbeil, Dr. M Stewart
TWO YEAR OLD COLT/GELDING
Blue Star Jet
Owners: Lorne Duffield, Rod Hennessy
THREE YEAR OLD ALBERTA SIRED FILLY
Fire Watch
Owners: Travis Cullen, Ron Cullen, Dwayne Taylor
THREE YEAR OLD FILLY
Thats Extra
Owners: Blair & Erna Corbeil, Kelly Hoerdt
THREE YEAR OLD ALBERTA SIRED COLT/GELDING
Johnny Gun
Owner: Don Richardson
THREE YEAR OLD COLT/GELDING
First Class Horse
Owners: Robert Jones, Doris McDougall
CHAMPION AGED MARE
Sing Like An Angel
Owners: Keith & Margaret Hannah, Jodie Cullen, Travis Cullen
CHAMPION AGED HORSE
Who Doesnt
Owners: Travis Cullen, Ken & Jeanne Cullen, Jodie Cullen
CLAIMER FILLIES AND MARES
Gottaluckydeal
Owner: Cory Manning
CLAIMER COLTS/GELDINGS
Raging Fingers
Owners: Travis Cullen, Keith Hannah
FASTEST GIRL
Feelin Flush
Owners: Travis Cullen, Ken Hanson
FASTEST BOY
Ghost Pine
Owners: Blair Corbeil, Kelly Hoerdt
RISING STAR
Preston Shaw
CARETAKER OF THE YEAR
Kaitlin Haining and Danielle Schedlosky
TRAINER OF THE YEAR – under 200 starts
Marjorie Dumont
TRAINER OF THE YEAR
Travis Cullen
DRIVER OF THE YEAR – under 200 starts
J F Gagne
DRIVER OF THE YEAR
Travis Cullen
OWNER OF THE YEAR
Kelly Hoerdt, Blair Corbeil
BREEDER OF THE YEAR
Meridian Farms, Bill Andrew
HORSEPERSON OF THE YEAR
Travis Cullen
BREEDERS AWARD OF RECOGNITION
Pieter Besselink
RON MCLEOD AWARD
Rod Hennessy
HORSE OF THE YEAR
First Class Horse
Owners: Robert Jones, Doris McDougall
(ASHA)