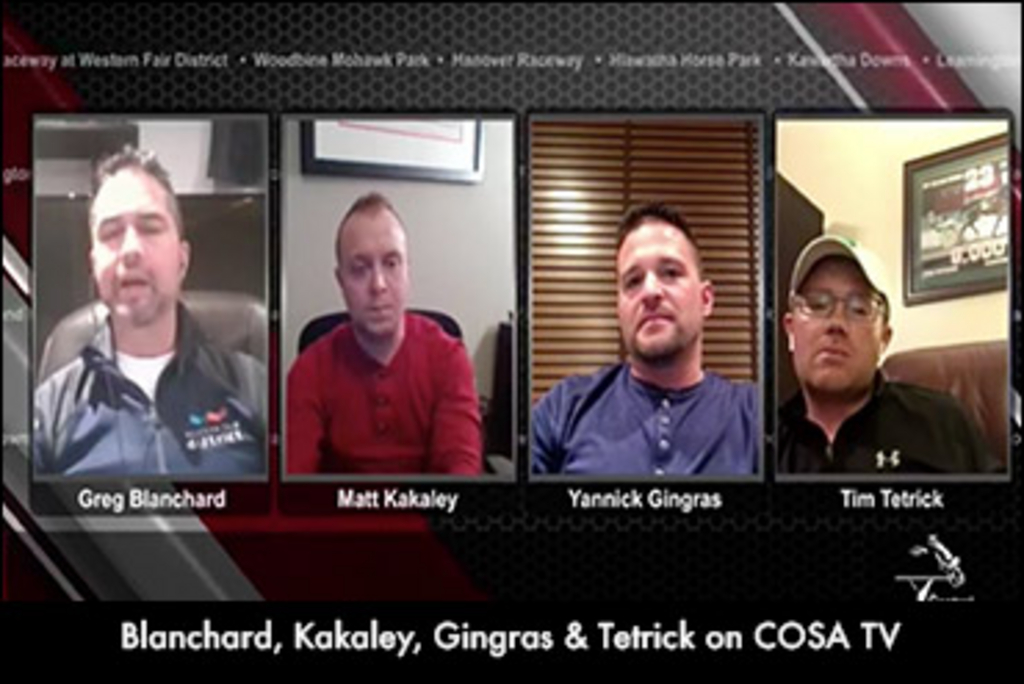 Published:
April 5, 2020 06:48 pm EDT

Sunday evening (April 5), saw another COSA TV episode featuring host Greg Blanchard and three of this generation's most accomplished and respected catch drivers - Yannick Gingras, Matt Kakaley and Tim Tetrick.
The interview was streamed on COSA TV's Facebook Page and was produced by Curtis MacDonald's CUJO Entertainment. The trio of drivers answered questions from fans, revisited memorable moments and filled the harness racing world in on what they are doing during dark days of racing as racing continues to be suspended across North America due to the COVID-19 outbreak.
For Tim Tetrick, who has more than 11,000 driving wins, one might assume the driver who often does double duty by driving at multiple tracks a day might be quite bored during the mandatory 'break' from work.
"It's tough, usually I'm on the road racing. Right now we'd be doing Chester, Meadowlands, series at Yonkers, and Dover, I was racing six or seven days a week and now I'm at home seven days a week. It's life changing for me because I'm so used to being busy and going forward."
Gingras, who is coming off of yet another career year, sees the COVID-19 pandemic through a different set of lenses.
"Of course this is hard, but as far as me racing, I don't race a lot right now. Chester would have just been opening up this weekend, so for me I would only be racing a couple days a week. It's the future - it's not knowing what is going to happen or what is coming up. I'm just a driver so it's nothing for me, I'm not the one who has to get horses ready. It's going to be hard for trainers to get horses ready to race or ready to peak at the right time when you don't even know when we are going to start back up. Nobody knows how long this is going to last. So, for me as a driver, it stinks but I can only imagine what all the trainers and owners are going through because it would be a lot tougher than what I'm going through."
Driver Matt Kakaley, who has already rebounded once in his career from a serious driving accident in 2018, is enjoying the extra time with family while trying to stay positive for a quick return.
"We're just doing what we can, I have a young daughter at home, she keeps me busy. She's a big daddy's girl so daddy's always gotta put her to bed, put her down for a nap and keep her entertained. Besides that, I try to exercise a little, take the dog for a walk, today I pressure washed the back deck since it was nice today. You just have to try and keep your mind off of things and take it all day by day."
During this time, Kakaley has been able to reflect upon opportunities he has been given throughout his career, one of those opportunities being the 2015 Jugette with Sassa Hanover - one of the first major stake races won by Kakaley for trainer Ron Burke.
"I figured if I got a breather going to the half that she would jog and she really took care of business."
Kakaley also reflected on his first career driving win, taken in only his second career drive aboard one of his mother's trainees, a trotter by the name of OGS Charlene.
In a previous episode of COSA TV, driver Chris Christoforou mentioned two iconic races to win in the harness racing industry - The Hambletonian and The Little Brown Jug. Of the three drivers assembled, Yannick Gingras is no stranger to winning the Little Brown Jug and revisited the 2017 Jug with Ron Burke trainee Filibuster Hanover.
"The horse was coming into the race very good. We had high hopes for him as a two-year-old and it didn't really pan out the way we wanted it to. He came back as a three-year-old and his attitude wasn't the best but to me what made that race so special was that one of the owners, Joe Di Scala, I go way back with. I had horses with him back when I trained horses in 2002 or so. I have been going to the Jug with him for ten years so, for us to be able to win the race and share the moment together was definitely a very special moment in time for me. There were a couple other good horses in that race but after the first heat, Ronnie and I discussed that I wasn't going to let anyone go. There are some races where every move you make is the wrong move but then there was that race where all the horses I had to beat I had them in a place to beat."
Tim Tetrick, who has won virtually every major North American stakes race aside from the Jug, revisited a race that neither of the other two drivers have been able to capture - the 2012 Hambletonian with the great Market Share.
"The race before the Hambletonian I was pretty upset with myself, I thought I had the favourite and she made a break around the last turn for whatever reason. Going in with Market Share, Linda [Toscano] told me 'go down swinging, give him a good shot.' Everything that year was rolling for Linda and Market Share was having a great year, so we gave it a run. We got away mid-pack with fast fractions and my horse never minded to be first up with pace to chase and even though the wire couldn't have gotten there fast enough - he got the job done.
The talented trio answered many engaging questions from fans throughout the episode while sharing a few laughs and memories of their successful careers. The feature can be viewed below.