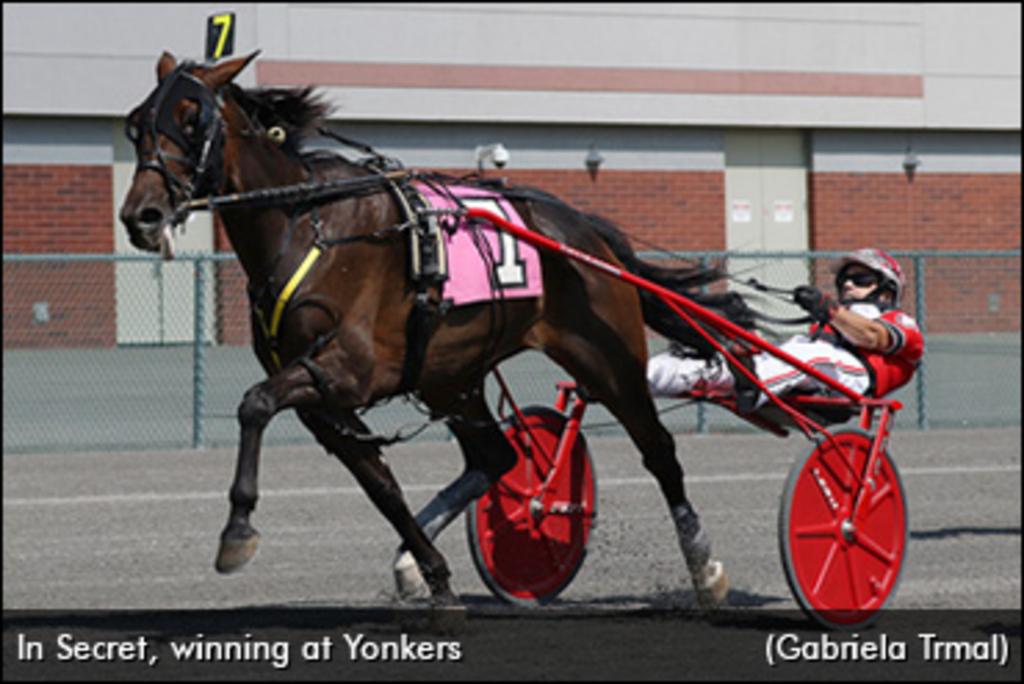 Published:
October 5, 2017 09:46 am EDT
In Secret has been an unstoppable force at Yonkers Raceway of late. He boasts a six-race win streak dating to July 2, the last four of which have come at the Open level. In Secret's driver, George Brennan, hoped the trotter's exploits would earn him an invitation to the Harry Harvey Trot on the International Trot undercard October 14. To his surprise, the raceway announced In Secret as a representative of the United States in the International this Monday (Oct. 2).
"I was just hoping maybe we would get an invite to the $250,000 invitational they have that day," he said. "It was a pleasant surprise when I saw it. It's great."
For Brennan, the chance to compete in the International Trot is about more than the race's $1 million purse. Although he drove Arch Madness to a fifth place finish in the $250,000 International Trot Preview in 2014, Brennan has lacked a horse for the International Trot since the race's revival in 2015.
"It's my home track, Yonkers. It's a very good horse. It's been my main account, Ron Burke. It means a lot," Brennan said. "There's a lot going into it, a lot at stake to it. The stars are lined up. It's really exciting."
In Secret's win streak began when the 5-year-old won a $35,000 overnight at Yonkers July 2 for trainer Noel Daley. In his next start, In Secret debuted a winner for Ron Burke in a $42,000 overnight August 13 before winning his first local Open in Brennan's characteristic wire-to-wire style in his next try the following week.
In Secret wired the field in another Open August 27 before showing a different dimension when he won his third Open in first-over fashion September 16. In Secret won his most recent start at the Open level on the lead September 30.
With his success, the son of Deweycheatumnhowe's earnings have swelled to $398,805.
"He's done everything I could ask. I've raced him on the lead. A couple weeks ago, I had to drop in fourth, I raced him first-over. He came first-over and won that race," Brennan explained. "He's done everything I've asked of him so far and he's responded to it. He's pretty solid. He knows the track, he gets over the track perfect."
Making In Secret's win streak even more impressive, two of his victories came from post six, another three came from post seven, and one came from the far outside. In Secret's first two wins came at the 1 1/4-mile distance of the International Trot. Brennan also drove In Secret to victory in a 10-furlong overnight from an outside post earlier this year.
"He's good, he's solid, he's professional. He makes my job easy," Brennan said. "I raced him earlier in the year for Noel Daley and he won that race also. I left for the lead, but somebody pounced. He sat the two-hole and he won easily. He's versatile."
In Secret's impressive feats haven't come without a price. The difficulty of dealing with outside assignments week after week means In Secret never gets an easy race or trip; he earns every win, Brennan explained.
"He's got to work hard. Every week he does win is work," he said. "That's the only thing. It makes it tough going into (the International) because he's had no cupcakes. Every race is work for him because of the post positions. But it is what it is and he's overcome them, so let's hope the success continues."
In Secret will get a final start in before the International Trot in this week's $50,000 Open Handicap Trot, carded as race six Saturday night. In Secret will start from post eight, and Brennan doesn't intend to pamper the gelding a week before the biggest race of his career.
"I'm going into that race, it's a $50,000 Open, that's a heck of a purse, and I'm still trying to win it. We'll go forward, try and get him involved, if not on the lead, involved somewhat, and we're going in to win," he said. "Definitely not racing him easy going in. When horses are good and horses are sharp, you've got to race them. That's how you keep them sharp."
Looking ahead to the International Trot, Brennan hopes to draw a post position in the first tier where In Secret can have his nose on the gate. Although he isn't sure how the presence of seven European horses and drivers will change the dynamics of the race, he is confident in his horse and his own ability on his home oval.
"A lot of it is going to have to do with the post positions. I've never raced in Europe before. I've watched those guys race here before," he said. "I'd like to draw a good post position and you know what, the European drivers are going to have to worry about me if I get a good post position.
"He's been pretty much automatic, push-button and I just hope it continues. Whatever the case may be, I know he's going to give me a good race," Brennan continued. "Whatever it is in the International, I know he'll give me a good, solid race and that's all I can ask for."
The $1 million Yonkers International Trot will be raced Saturday, October 14 at Yonkers Raceway.
(SOA of NY)