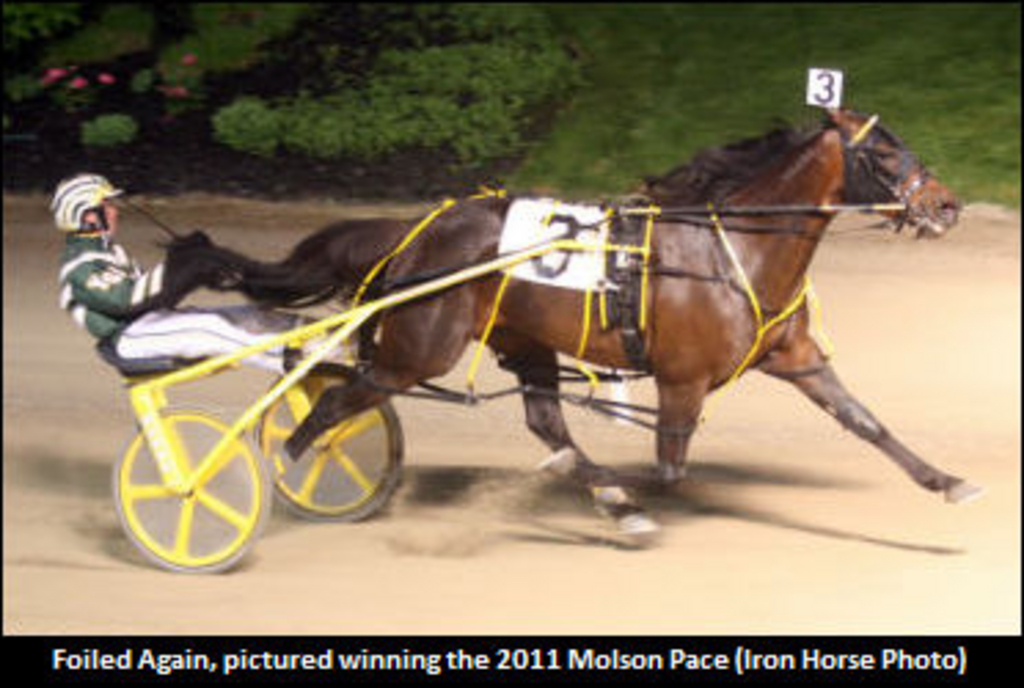 Published:
October 25, 2018 10:27 am EDT
The richest Standardbred in the history of the sport, the $7.6-million earner Foiled Again, will make a farewell tour stop at Plainridge Park on Tuesday afternoon (Oct. 30) as part of the biggest day of racing in Massachusetts this year.
Foiled Again's lifetime win count currently stands at 105, as he will head to Plainridge off of a victory in a $10,000 condition race at Harrington Raceway where he paced in 1:55.1. For more on Foiled Again's Harrington win, click here.
Foiled Again has been in New England before. He recently posted his 102nd lifetime victory at the Windsor Fair in Maine on Labour Day while driven by Plainridge's own Mitchell Cushing. Foiled Again also won the 2009 Beckwith Pace at Plainridge in 1:50.3 with Dave Palone driving.
Owned by Burke Racing, the Weaver Bruscemi partnership, and JJK Stables and trained by Ron Burke, Foiled Again will not compete in a race during his Tuesday Plainridge stop. However, he will go a training mile in front of the crowd and will lead several post parades and greet his fans in the winner's circle for pictures.
During his career, Foiled Again received three consecutive Dan Patch Awards for best older male pacer, and as a seven-year-old was named Pacer of the Year in the United States. Two years later, he became the oldest horse to win a Breeders Crown race, as he captured the Open Pace in 2013. His other major career wins include the Ben Franklin Pace, Bobby Quillen Memorial, Canadian Pacing Derby, George Morton Levy Series, Molson Pace and TVG Free For All Series Championship.
Foiled Again will just be a part of this year's biggest day of racing at Plainridge. The $800,000 Massachusetts Sire Stakes finals will also be held on Tuesday, as eight divisions are scheduled to head postward during the card. Fans on hand can look forward to gift card giveaways after every stakes race, sponsored by the Standardbred Owners of Massachusetts.
Post time for the first race Tuesday will be at 2 p.m.
(Standardbred Owners of Massachusetts)