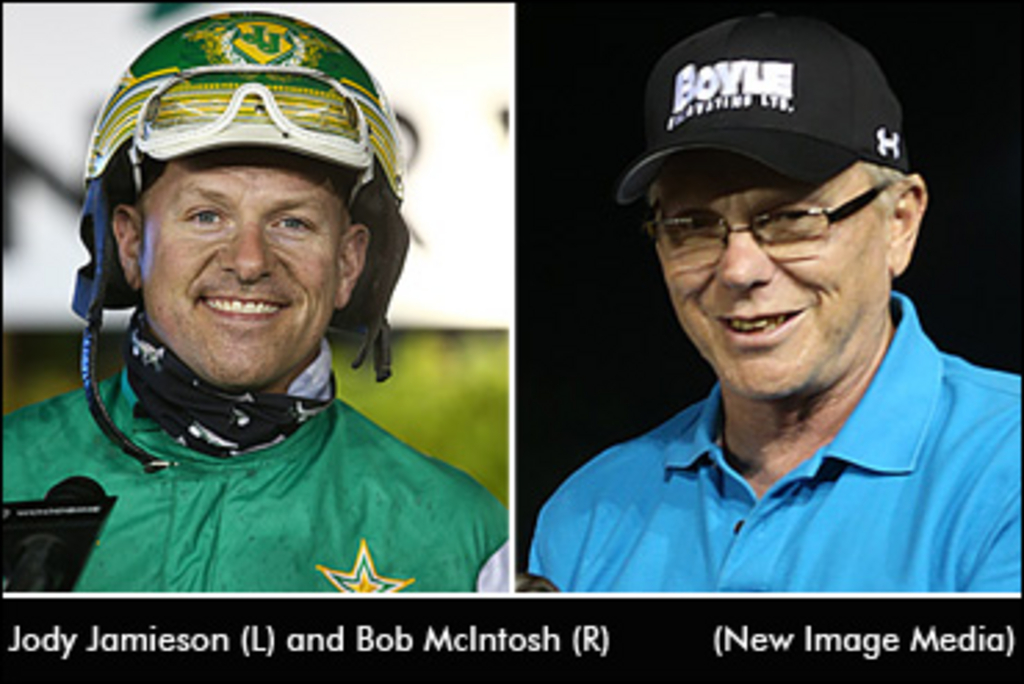 Published:
October 16, 2020 05:10 pm EDT
Bob McIntosh started his first horse in the Ontario Sires Stakes program in 1983 and has won a total of 11 Super Finals since they were introduced in 2000.
On Saturday, Oct. 17 at Woodbine Mohawk Park the Hall of Fame horseman will be looking to make it an even dozen when he sends out Sex Appeal and So Delightful in the $250,000 three-year-old pacing filly showdown and Best Head West in the two-year-old pacing filly battle.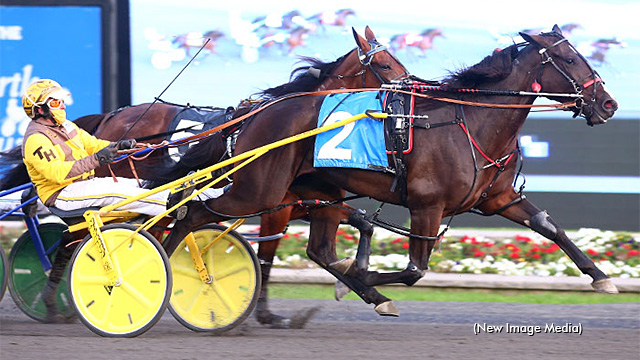 Sex Appeal, winning at Mohawk
"Sex Appeal's had a big year and trained up good this week, I'm hoping for some racing luck. So Delightful's no slouch either," said McIntosh of the sophomore fillies who will start from Posts 7 and 10, respectively. "The two-year-old drew the dreaded nine-hole; that kind of rained on my parade. She's a good filly, I mean who knows, Trevor (Henry) is a good driver. I was talking to him today and I only gave him one piece of advice; it was don't get away last going for $250,000. John Campbell and I used to have that little joke between us, I said, 'All you need to know is don't get away last', and he says, 'I didn't plan on it'. When you're going for that kind of money you want to go down swinging."
Hall of Famer Campbell was part of one of McIntosh's biggest Super Final nights and one of his favourite memories of the season finale. The pair had been in Lexington, Ky. for the annual yearling sale and Grand Circuit races the week before the 2015 Super Final and barely made it back to Woodbine Racetrack for Campbell's winning drive aboard two-year-old trotting colt Tony Soprano in the sixth race.
"We flew in on a private plane from Lexington and got held up at customs and I didn't know whether he was going to make it there in time to drive him. So that was a nail biter, but it turned out well," said McIntosh, whose L A Delight had already won the two-year-old pacing filly Super Final four races earlier. "I think he was putting his colours on in the car on the way there."
McIntosh won his first Super Final the year they were introduced to the provincial program, taking the three-year-old pacing colt division with Intrepid Seelster and also had a two-win night in 2003 when Please Me Please took the three-year-old pacing filly final and In Conchnito captured the three-year-old trotting colt battle. L A Delight was a Super Final winner at both two and three, as was trotting colt Text Me in 2009 and 2010.
"I still stay it's the best program in North America, I'd stand by that," said the Windsor, Ont. resident. "I guess the most rewarding part is I bred most of my winners myself, and it's a little extra satisfying when you go back in pedigrees two or three generations. The homebreds have been awfully good to me, that's for sure."
Since the current record keeping system was introduced in 1997, McIntosh leads all trainers in the Ontario Sires Stakes (OSS) program with 472 victories and $18.1 million in earnings. On the driver's side of the stats column, Jody Jamieson boasts 532 wins and $22 million in earnings and will be looking for Super Final win number six on Saturday.
"I tell you what, if I had half the luck I've had in the Sires Stakes in general on Super Final night I'd have a way bigger lead because I think I've only won like five Super Finals in my career," said Jamieson. "I hadn't won a super Final in years until last year."
Jamieson piloted Jula Shes Magic to victory in the two-year-old trotting filly division last fall. Prior to that his Super Final wins came in 2014 with two-year-old trotting filly Danielle Hall, 2012 with two-year-old pacing filly Love Canal, 2011 with two-year-old pacing colt Warrawee Needy and 2006 with two-year-old pacing colt Doonbeg.
The Moffat, Ont. resident will appear in seven of the eight Super Finals on Saturday and said all of his mounts have a legitimate shot at taking home the title.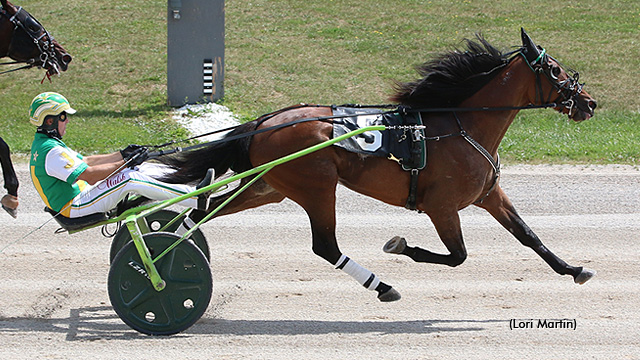 Hot Wheelz, winning at Hanover
"Hot Wheelz (Post 5), obviously I own him, so I'm hoping he does really well. Beaumond Hanover (Post 4) is in a spot where hopefully he'll be able to maybe beat everybody this time instead of just everybody except for Tattoo Artist. Rose Run Victoria (Post 8) drew a tough spot, but she's going to be closing, so she might have a shot that way too. She's won a couple Golds this year already," said the driver of his three-year-old trotting gelding, three-year-old pacing colt and three-year-old pacing filly prospects. "Tokyo Seelster's been a good colt all along. I've never driven him, but he's got a shot. Bulldog Hanover, he made an uncharacteristic break at Flamboro, but he should be really good at Mohawk, it's where he's had all his wins and he's been awesome there so I'm expecting him to be really good."
Two-year-old trotting colt Tokyo Seelster will start from Post 6 and two-year-old pacing colt Bulldog Hanover gets Post 7.
"When the OSS rolls around it's the real fun time of year," Jamieson added. "The money is great and you get racing young horses, and that's my favourite thing to do in the world is race young horses."
Ontario's top young horses will face off in Races 1 through 4 and 6 through 9 at Woodbine Mohawk Park on Saturday, Oct. 17, with the action getting underway at 7:00 p.m. Although on-track attendance is limited to registered guests, fans can follow along at home and watch the races live on the Standardbred Canada website.
To view entries for Saturday's OSS Super Final card, click one of the following links:
► Saturday Entries – Woodbine Mohawk Park
► Saturday Program Pages – Woodbine Mohawk Park (courtesy TrackIT).
► Saturday Program Pages – Woodbine Mohawk Park (PDF)
(with files from OSS)