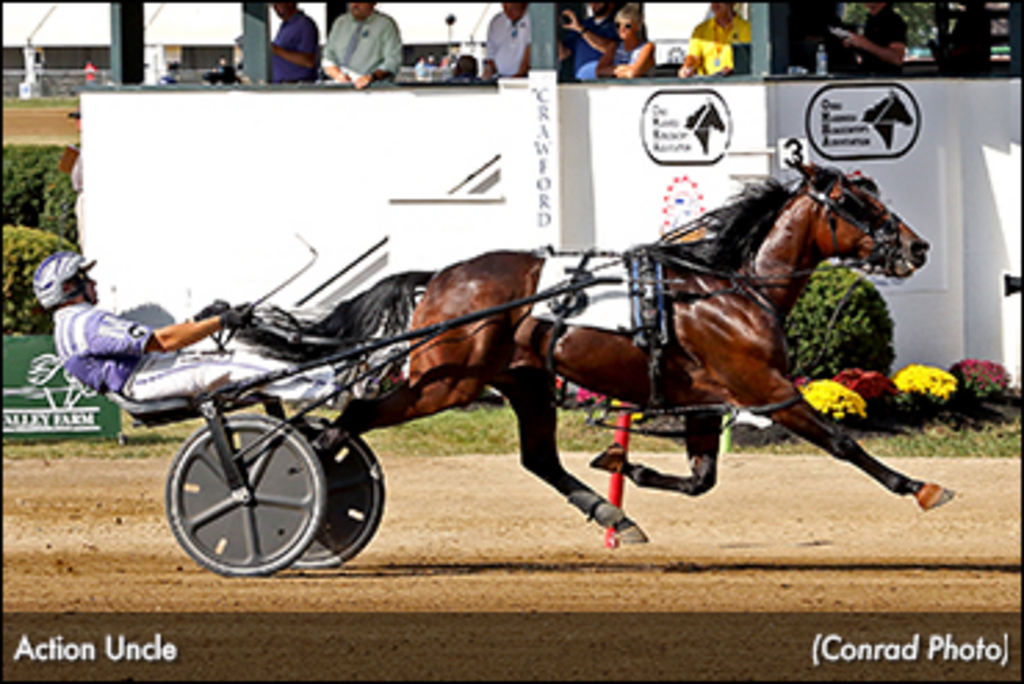 Published:
January 2, 2020 11:59 am EST
It was an action-packed year for the 2019 Ohio Two-Year-Old Trotting Colt of the Year, as Action Uncle made the most of his three wins in 2019.
Action Uncle, a son of Uncle Peter and Action Broadway, hit the board in all six of his starts in 2019 for trainer Virgil Morgan Jr. and the Kenneth A. Sommer Trust. Action Uncle earned $225,575.
Action Uncle, an Ohio Triple Crown winner, set a new stakes, track and world record by winning the second division of the Ohio Breeders Championship at thee Delaware County Fair in 1:54. The Ohio Triple Crown consists of the Ohio Sire Stakes Final, the Ohio Breeders Championship and the Ohio State Fair Stakes.
Action Uncle was bred by Kenneth A. Sommer of Sheffield, Ohio.
Trainer Virgil Morgan Jr. trained Action Uncle's dam Action Broadway.
"It was special to have the mom and break her and then have the first foal and start from scratch with him."
Morgan says he knew Action Uncle was going to be special.
"He's very athletic. He's not the biggest trotter but he was very handy last year and I'm just glad I have him."
Action Uncle will be honoured at the Ohio Harness Horsemen's Association and United States Trotting Association's District 1 Annual Awards Banquet January 18, 2020 at the University Area Marriott in Columbus, Ohio. Tickets to the banquet are $30 each and can be purchased by calling the OHHA office at 614-221-3650. Reservation forms are also available on the OHHA website at www.ohha.com.
The Ohio Harness Horsemen's Association (OHHA) is a non-profit organization serving Standardbred horse owners, breeders, trainers, drivers and fans who participate in the sport of harness racing in the Buckeye State.
OHHA was founded in 1953. The mission of the Ohio Harness Horsemen's Association is to preserve, protect, promote and serve the entire Standardbred industry in Ohio and beyond.
(Ohio Harness Horsemen's Association)