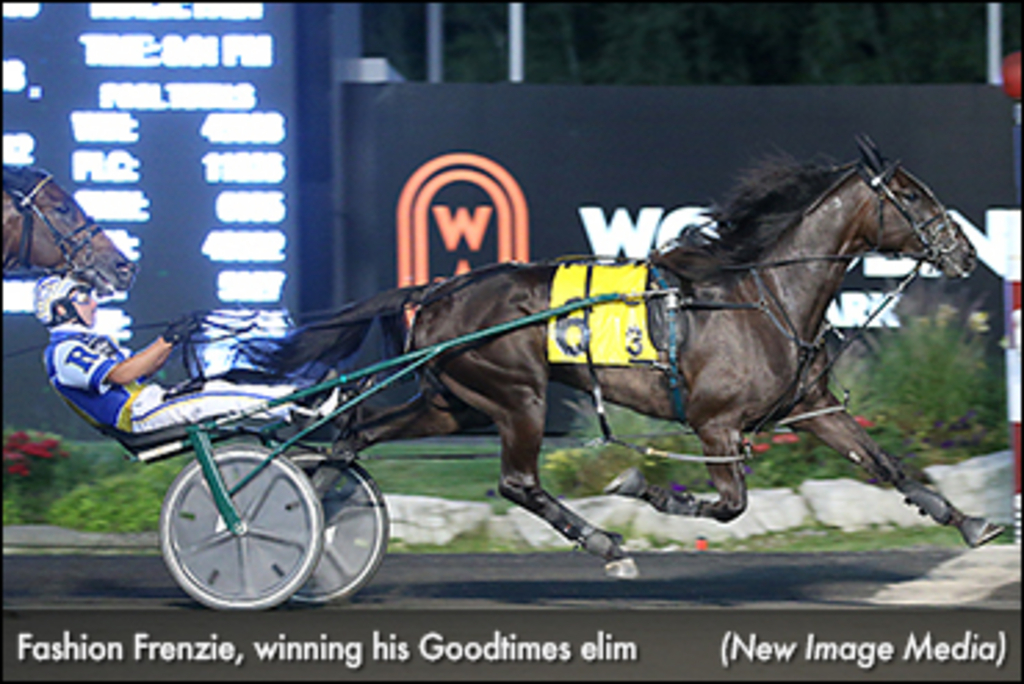 Published:
September 4, 2021 08:55 pm EDT

Fashion Frenzie ($5.80) and Locatelli ($12.20) recorded matching 1:53.2 miles to win their respective $30,000 eliminations of the Goodtimes, for three-year-old trotters, to kick off Saturday night's (Sept. 4) slate of Grand Circuit races at Woodbine Mohawk Park.
In the first elimination, Fashion Frenzie and driver Louis-Philippe Roy strode immediately to the fore from their outside post 6, clearing Logan Park (Jody Jamieson) with a circuit to go and rating a comfortable :58 first half. Approaching the far turn, the Archangel gelding picked up the pace, bracing for the first-over attack of 4-5 favourite Dancinginthedark M (Tim Tetrick) and evading him past three-quarters in 1:26.2. Off the home turn, Fashion Frenzie kicked on the afterburners, using :27 stretch speed to keep Dancinginthedark M 1-1/4 lengths at bay. Logan Park remained one-paced in the pocket to finish third, followed 5-1/2 lengths farther back by Ritson and On A Streak, who also qualify for next Saturday's (Sept. 11) Goodtimes final.
"After the first half in :58, they would have needed horse to sprint really fast to get by," Roy said of the slow early pace. "He was kind of game up front then. My horse just responded pretty well. I'm very high on him. Like I said in the last interview with him [after winning an Ontario Sires Stakes Gold event on Aug. 23], he used to be pretty tricky in the post parade and kind of a hot trotter, and now he's getting more and more nice."
Richard Moreau trains nine-time winner Fashion Frenzie for Ecurie Francis Richard, Mario Bourgea, Pierre Guillemette and Sylvain Richard.
The second elimination nearly appeared to be a sure thing for 1-5 favourite Sonofamistery at the top of the stretch, but when the Marcus Melander trainee broke stride at the eighth pole, it paved the way for the first-over Locatelli and driver Andy McCarthy to stride to a 5-1 upset.
Sonofamistery and Tim Tetrick brushed from third to clear Publicity Seeker (Doug McNair) with five-eighths to go and controlled middle fractions of :56.4 and 1:25.2 while keeping Publicity Seeker boxed and Locatelli at bay in the breeze. But, as Publicity Seeker wedged out of the pocket in upper stretch, Sonofamistery faltered, and Locatelli surged to a mid-stretch lead, which increased to two lengths at the winning post. Publicity Seeker held off an inside rally from Warrawee Whisper to preserve second; Tokyo Seelster and Macho Martini completed the top five finishers and also earned berths to the final.
"I thought he'd be good enough tonight," McCarthy said of the Muscle Hill gelding, who encountered traffic trouble and faltered in both the Hambletonian and the Earl Beal Memorial, but benefitted from a clear journey in Ontario. "I wanted to get myself into a spot where I could move to the front or be first-over. I just let him do his thing. Once I got him straightened up, I got the ear plugs out and he marched right on."
Nancy Takter trains four-time winner Locatelli for John Fielding, Steve Heimbecker and Black Horse Racing.
Post positions for next week's $240,000 Goodtimes final are as follows:
1. On A Streak
2. Macho Martini
3. Locatelli
4. Publicity Seeker
5. Fashion Frenzie
6. Dancinginthedark M
7. Tokyo Seelster
8. Logan Park
9. Warrawee Whisper
10. Ritson
AE. Sonofamistery
To return to the News Centre, click here.