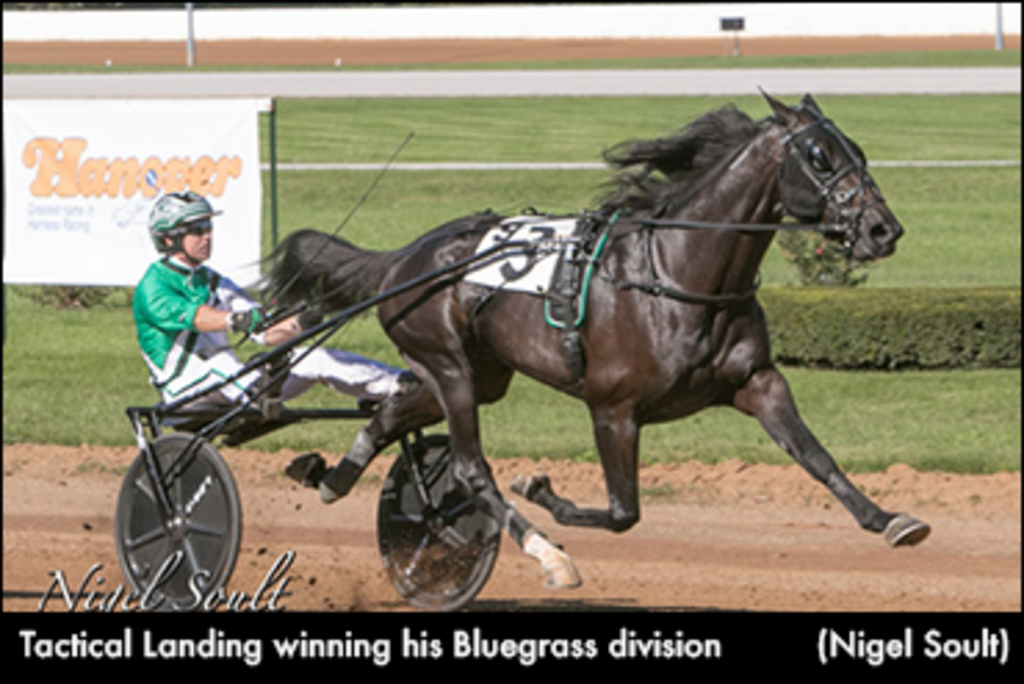 Published:
September 30, 2018 04:58 pm EDT
Trainer Jimmy Takter swept the top three spots when he piloted Tactical Landing to a 1:51.1 lifetime best ahead of stablemates Zephyr Kronos and Wolfgang in the second of two divisions of the $242,000 Explosive Matter Bluegrass Three-Year-Old Colt and Gelding Trot, sponsored by the Explosive Matter Syndicate and Hanover Shoe Farms, at The Red Mile on Sunday (Sept. 30).
Zephyr Kronos swept to the front ahead of Wolfgang, another stablemate, in the pocket. Jimmy Takter placed Tactical Landing wide in fourth through the first quarter in :28.4 before gradually advancing towards the lead. Following a :56.2 half, Tactical Landing gained separation.
Tactical Landing held a 2-1/2 length lead while Muscle M Up attempted to gain position first-over. By three-quarters in 1:24.2, Tactical Landing spun into the stretch while Zephyr Kronos cut his deficit from second well ahead of Wolfgang battling for third. Patent Leather, from last, rallied through the centre of the track to take fourth.
An $800,000 yearling purchase at the 2016 Lexington Select Sale, Tactical Landing, a colt by Muscle Hill out of the Varenne mare Southwind Serena, won his fifth race from nine starts this season and of 11 overall, earning $313,600 for The Tactical Landing Stable. He paid $3.60 to win.
Sent the 1-2 favourite, Mets Hall delivered a wire-to-wire 1:51.2 performance in the first division of the Bluegrass colt trot.
Andy Miller put the Julie Miller-trained Cantab Hall colt on the point as Evaluate secured the pocket from post 1. Mets Hall trotted to the quarter in :28.2 and faced no pressure to the half, timed in :56.1.
Maxus, positioned fourth, moved first-over heading into the final turn tracked by Shoshie Deo second-over. Mets Hall maintained a length lead past three-quarters in 1:25.1 and initiated a sprint into the stretch. Maxus lost stride, leaving Evaluate to chase from the pocket two lengths away at the wire along with Fashionwoodchopper in third. Shoshie Deo took fourth.
Earning $964,754, Mets Hall won his fourth race from nine starts this season and his ninth from 20 overall. The $3.00 winner races for Stroy Inc. and the Andy Miller Stable Inc.
Four Straight For Phaetosive In Bluegrass Filly Trot
The Trond Smedshammer-trained Explosive Matter filly Phaetosive won her fourth consecutive race and her seventh from nine starts this season when she cruised to a 1:51.3 victory in the third of three divisions of the $206,000 Cantab Hall Bluegrass Three-Year-Old Filly Trot, sponsored by Hanover Shoe Farms and Brittany Farms.
What A Knockout led early as Lily Stride, from post 1, inherited the pocket and Phaetosive floated into third. Past the first quarter in :28.4, What A Knockout trotted unchallenged to a :56.1 half while Seviyorum, racing second from last, tipped off the rail and began an uncovered bid.
Smedshammer flushed first-over with Phaetosive heading into the final turn and swiftly overtook What A Knockout past three-quarters in 1:24.1. Phaetosive kept to task through the stretch, as Lily Stride finagled out of the pocket to snag second from Seviyorum in third. Piranha Fury, off a rail trip, closed for fourth.
Surpassing $800,000 in career earnings, Phaetosive, competing for the Purple Haze Stables LLC, collected her 11th victory in the 16th start of her career. Sent the 1-9 favourite, she paid $2.10 to win.
Odds-on favourite Supergirl Riley circled to the top past the half and kicked to a 3-3/4 length victory in the first split of the Bluegrass filly trot, winning in 1:52.2.
The Erv Miller-trained daughter of Muscle Mass pushed for the lead early before yielding to Urban Legend toward the centre of the track. By the first quarter in :28, Marcus Miller pulled Supergirl Riley from the pocket to cleared control before a :56 half.
Live Laugh Love, positioned fifth, tipped first-over and rushed towards the pacesetter around the final turn. Supergirl Riley maintained a half-length lead past three-quarters in 1:24.3 and sped into the stretch, expanding her margin to 2-1/2 lengths with Live Laugh Love chasing in second. Fury Road, who edged off the rail and into the second-over spot around the final turn, trotted another two lengths back in third, with Passionate Miss closing from the back for fourth.
Owned by Paymaq Racing, George Golemes and Harvey Eisman, Supergirl Riley won her fifth race in 14 starts this season and her ninth from 23 overall, collecting $375,763 in earnings. She returned $3.80 to win.
Andy McCarthy launched Chuck Sylvester trainee Hey Blondie from off cover to take the second Bluegrass split in 1:51.1.
S M S Princess cleared control from post 7 with Top Expectations, from post 1, sitting the pocket. Hey Blondie sat fifth past the quarter in :28 and stayed in position as S M S Princess quickened to the half in :55.2.
Nixie Volo, from third, angled first-over rounding the final turn with Bella Glos second-over and Hey Blondie in behind. S M S Princess held onto a half-length lead by three-quarters in 1:23.4 and braced for the backfield blitz into the stretch.
Bella Glos fanned off cover and surged to the front under pursuit of Hey Blondie and Pat Matters kicking wide from fourth-over. Hey Blondie overpowered Bella Glos late in the stretch and surged to a three-quarter length victory, with Pat Matters finishing two lengths behind in third and Top Expectations holding fourth.
Winning her third race from 11 starts this season and her eighth from 24 overall, Hey Blondie, by Cantab Hall, has accrued $473,935 in earnings for owners Steve Jones, Mary Kinsey Arnold, Paul Borgogna and David McDuffee. She paid $8.20 to win.
Grand Circuit action continues at The Red Mile on Thursday (Oct. 4) with divisions of the $350,000 (est.) International Stallion Stakes for two-year-old trotting colts and geldings. First post Thursday is 1:00 p.m. (EDT).
(The Red Mile)