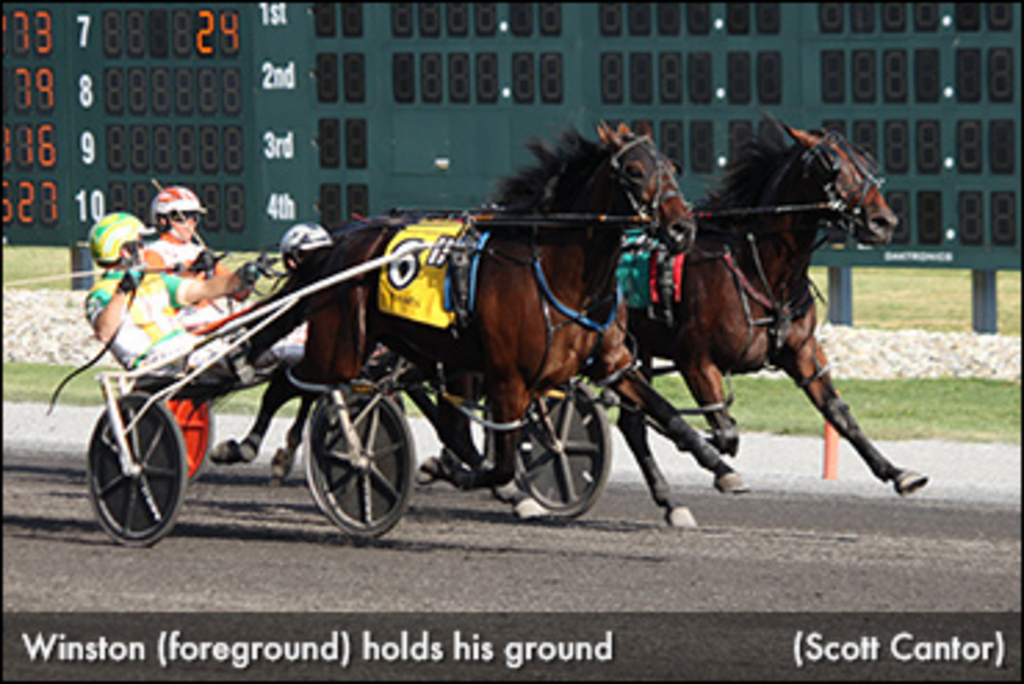 Published:
September 24, 2017 11:04 pm EDT
Pennsylvania-sired two-year-old colts and geldings stood in the spotlight on Sunday afternoon (September 24) at Harrah's Philadelphia, as a quintet of Liberty Bell events—three for trotters, two for pacers—shared top billing. Trainer John Butenschoen and driver Corey Callahan teamed up with Scirocco Rob and Winston to claim a stakes double.
Liberty Bell Two-Year-Old Colt & Gelding Trot
The first of three $30,000 Liberty Bell splits for trotters (race three) saw Mississippi Storm ($3.00, part of entry) enjoy a cosy pocket ride behind Rentier before angling out on the far turn and powering clear by 2-3/4 lengths for a 1:55 score, good for his fourth career win and a lifetime mark. Andy Miller drove the Cantab Hall-Mississippi Beauty gelding for Julie Miller.
In the second division (race five), Scirocco Rob ($9.40) lifted off second-over cover to deny the Millers a double, just nabbing Maxs Beast in 1:55.3. The win was the third for Scirocco Rob, a gelded son of Explosive Matter and Fun At Parties.
Marcus Melander trainee Evaluate ($5.80) used a steady first-over ascent to gain position in the third trotting division (race 12), inherited the lead from a breaking pacesetter Canaletto Hanover at the eighth pole, and evaded runner-up Rich And Miserable by 3-1/2 lengths for a 1:56 win. Tim Tetrick drove the Andover Hall-Blathin colt.
Liberty Bell Two-Year-Old Colt & Gelding Pace
After taking the second trotting division, Callahan and Butenschoen claimed the second half of their stakes double in the first $35,000 pacing division of the Liberty Bell (race 11) with Winston ($19.60). The Western Ideal-Paris Hanover colt made every pole a winning one and held off a late lunge from pocket rival Somebaddude for a 1:52.1 victory, the second of his career.
The Sunday nightcap (race 14) concluded the day's stakes action. Points North ($7.00) refused to relinquish the lead after working clear on the first turn, using a :26.4 closing quarter to hold off Yupper's late lunge from the pocket. Tim Tetrick drove the Somebeachsomewhere-Northwest Hanover gelding to a 1:52.1 for trainer Nifty Norman, extending his winning streak to four after a pair of front-end wins in Kindergarten preliminaries at the Meadowlands and an overnight win in August.