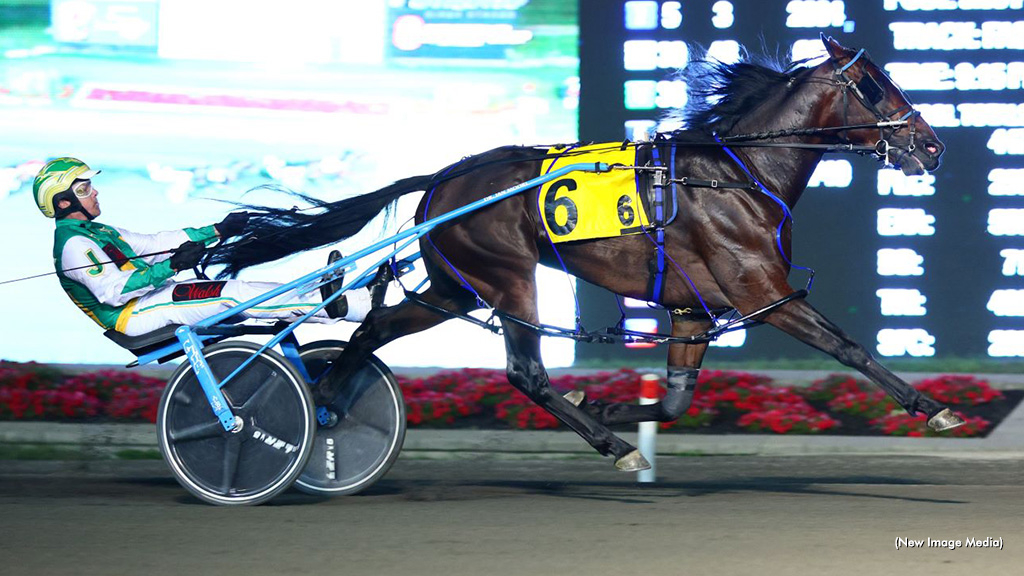 Published:
September 22, 2022 10:30 am EDT
All good things must come to an end. So when Stockade Seelster's unbeaten streak was snapped in his 2022 Metro Pace elimination on Saturday (Sept. 17) at Woodbine Mohawk Park, trainer Dr. Ian Moore began the process to start a new win streak.
Moore, who was announced as a finalist for the Canadian Horse Racing Hall of Fame Class of 2022 on Tuesday (Sept. 20), had an inkling there could be some form of adjustment required to keep Stockade Seelster his best. After Stockade Seelster's first loss on Saturday, Moore knew that time had come.
"After two races this year he started getting more aggressive," Dr. Moore told Trot Insider. "I mean, I wouldn't call him aggressive, but he was over the line there. He was hot...He warmed up great [for the Metro Pace elimination] and he post paraded great, and as soon as he saw the gate, he lost his mind, basically. It's not an unusual scenario with young horses, especially when they get sent to the front multiple times in a row… It's also difficult to manage one like that who maybe is a couple of seconds better than the competition early in his career.
"I was talking to Brian Brown, and he said he had the same problem with Downbytheseaside when he was two years old and he was reluctant to make a change – as I was early on. I mean, we won, you know, five or six in a row, so I didn't want to make change. Brian told me he opened Downbytheseaside up after the Breeders Crown going into the Governor's Cup and he said 'Totally different horse, calmed him down.' So I have partially opened up our colt."
Stockade Seelster is currently training with a closed bridle that has "windows", as they're referred – little holes allowing light through the bridle. Moore said he warmed the colt up with that bridle and, if he trains well on Thursday, will race with that bridle in the $900,000 Metro Pace final.
"A bit gally, maybe, [to make a change] with that much money on the line, but I think that it hurt that colt not to be able to manage it last week," Dr. Moore said. "I'm not necessarily saying that he's still better than them but I think it takes something out of him. And yes, there are some top colts there including Tip Top Cat and Tickertape Hanover and of course Nancy Takter's horse Save America, amongst others there as well. I thought Bob McIntosh's colt [Moment Is Here] raced extremely well last week. It's certainly not going to be a cakewalk for anybody in that race, and everybody needs to have all their babies on their toes and manageable at doing it at the same time.
"I'm sure you've heard me say before about the fine line between having them sharp and having them crazy and always trying to get that line until now. We've exceeded that line this time, so we'll try to bring him back down to earth a little bit."
Finishing third in his elimination, Stockade Seelster drew Post 2 for the Metro Pace final. He starts to the inside of Tip Top Cat, who pulled the 31-1 upset in breaking Stockade Seelster's unbeaten streak, and the other Metro elim winner Save America. Jody Jamieson will once again drive the son of State Treasurer - Soiree Seelster for owners Sally & Paul MacDonald, with the colt listed as the 3-1 second choice on the morning line behind 2-1 favourite Save America (PP4, Yannick Gingras, 2-1).
The Metro Pace goes as Race 8 on Saturday (Sept. 24) at Mohawk, part of a 13-dash spectacular that also includes the $1,000,000 Mohawk Million, $615,000 Canadian Trotting Classic, $525,000 Shes A Great Lady and $350,000 Elegantimage. First post time is 7 p.m.
To view the entries for Saturday's card, click one of the following links: Saturday Entries - Woodbine Mohawk Park || Saturday Program Pages - Woodbine Mohawk Park (courtesy TrackIT).