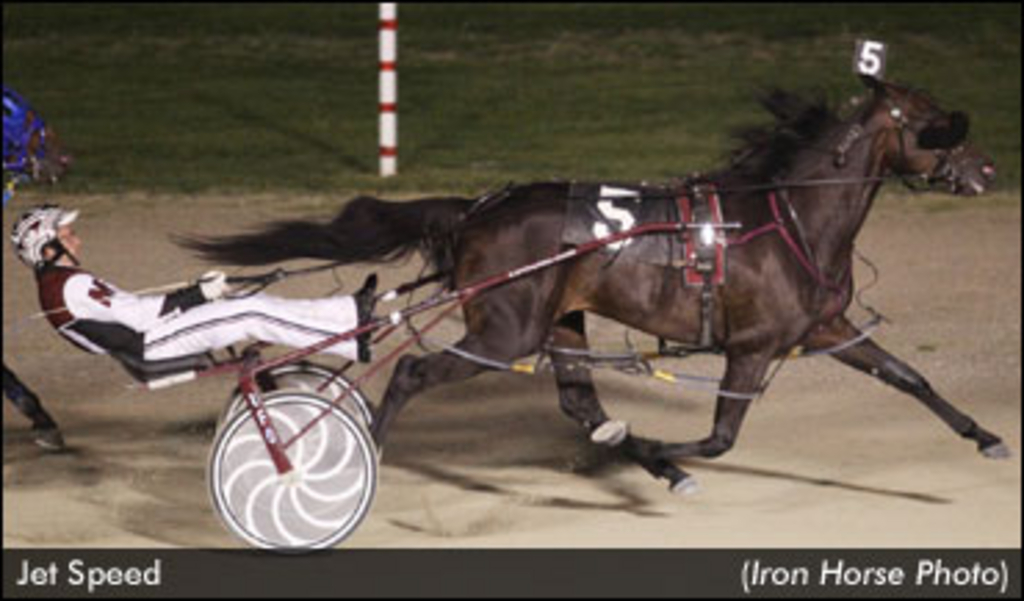 Published:
September 20, 2012 01:49 am EDT
Ontario's top three-year-old trotters and pacers squared off at Grand River Raceway on Wednesday evening and delivered outstanding performances in all eight Grassroots Semifinals, capped off by a sophomore pacing filly track record for locally owned Jet Speed.
Recently purchased by Bryan Lawrence of Hanover and Mike Foerster of Elmira, Jet Speed started from Post 5 and hustled out to land third on the rail as YS Gold Star led the field to a :27.3 opening quarter. Confident in his mount's ability, driver Doug McNair had Jet Speed on the move coming off the second turn and the fan's top choice rang up a :56.2 half.
Jet Speed raced unchallenged to the 1:24.2 three-quarters and sailed home to a three and one-half length win in a track record 1:53.2. The sparkling mile took three-fifths of a second off the former record, set by Persistent just over one week ago in qualifying action. Ys Gold Star was a strong second in the record setting mile and last year's division champion Eat Me Up was three more lengths back in third. Your Beautiful paced into fourth to advance to the Sept. 29 Grassroots Championship.
Guelph resident Gregg McNair trains Jet Speed for Lawrence and Foerster and has posted one win and two seconds with the Jeremes Jet daughter. Post positions for next week's $100,000 final will be drawn on Sept. 25 and McNair knows the filly will have her work cut out for her no matter where she lands on the starting gate.
"When they're going for $100,000 they'll be mixing it up pretty good whether she's got a good position or not," said the veteran horseman.
The other pacing filly Semifinal was captured by Machet Rocket off a 1:54.4 front end effort crafted by Daniel Clements for trainer Murray Brethour and owner-breeders Fred Brayford of Alliston and Noblock Racing Stable of Collingwood. Jeremes Sweetheart, Driving Miss Deo and Machleen, who is owned by Mark Austin Stables Inc. of Fergus and Leo Thibodeau of Windsor, rounded out the qualifiers.
Father and son duo Gregg and Doug McNair will also be mixing it up in the Championship round with pacing colt Lucky Jet, who delivered an impressive effort from Post 6 to record a one length victory in his Semifinal. The colt, another Jeremes Jet offspring, hit the wire in 1:53.3 to best So Take That. Rebel Jet, owned by Paul MacDonell Racing Stable of Guelph and Irwin Stables Inc. of Cobourg, finished third and Franceschetti rounded out the qualifiers for the Sept. 29 final.
McNair conditions Lucky Jet for Thomas Harmer of Willowbrook, Illinois, Michelle Crawford of Cazenovia, New York and Edward Kollross of Dubai, United Arab Emirates. The colt, who dabbled in the Gold Series in the middle of the season, topped the sophomore pacing colt division with 200 points and heads into the Championship on a three race win streak.
The other pacing colt Semifinal saw a battle to the wire won by Modern Xhibit, who got a neck in front of favourite In Commando for the 1:54.4 win. Keith Oliver engineered the victory for trainer Anthony Montini and owner-breeders Larry Ainsworth of Petrolia and William Boden of Vancouver, B.C. Pacesetter OK Ebury and Espen De Vie paced into third and fourth for their shot at the $100,000 final on Sept. 29.
Guelph resident James MacDonald also picked up a pair of Semifinal victories, the first coming aboard trotting colt Touchdown Toss in the fifth race. MacDonald piloted Touchdown Toss to a commanding three and three-quarter length victory over Ill Be There, Call Me Hanover — who is owned by Tommy Andersson of Grand Valley and Courant AB of Halmstad, Sweden — and Canadian Wildcat.
Touchdown Toss stopped the teletimer at 1:59.3 for his fourth win of the season for trainer Jeffrey Gillis of Hillsburgh, Ken Henwood of Mississauga, Mac Nichol of Burlington and Gerald Stay of Buffalo, New York.
MacDonald piloted Touchdown Toss in his last three Grassroots starts and the reinsman has found the Striking Sahbra gelding a model citizen.
"He's a real nice horse," said MacDonald from the winner's circle. "He trots good, he doesn't make breaks, and he can race any way, off the pace or on the front. He's a handy little horse to drive."
Summer Indian earned the other trotting colt Semifinal win with a tough effort up the outside that saw him post a 1:58, three-quarter length victory over Oaklea Uptown, favourite Northern Escort and Deck The Halls. John Bax conditions the Majestic Son gelding for his partners John Hayes of Sharon, John Houston of Cobourg and Goin To The Show Stable of Peterborough. The mile time matched Look Closer's three-year-old trotting gelding track record.
MacDonald's second victory came with another trotter, three-year-old filly Noble Peace Prize. The driver followed fan favourite Can I Say up the outside and then urged Noble Peace Prize home to a one length victory in 1:58.3. Can I Say settled for second, ahead of Elin and Fiorentina.
Corey Johnson conditions Noble Peace Prize for Dr. Michael Wilson of Rockwood, who was delighted with the Kadabra daughter's second lifetime victory.
"I really enjoy watching her race," said the owner.
"She's a daughter of Peaceful Way, but she's not Peaceful Way," he added with a chuckle, referring to the filly's $3.2 million winning mother. "But she tries hard."
The other trotting filly Semifinal was captured by Amber Kadabra, who upset favourite Dancehall Mistress, Cool Creek Breeze and Majic Trend. Sylvain Filion engineered the 1:58 win for trainer Scott Barr and owners Kenneth Bryant of Dorchester and Bethany Barr of Thamesford.
Filion also won Grand River's $10,500 Fillies & Mares Preferred 3 Handicap Pace on the card with Richard Moreau trainee Sand Gesture in 1:55.4. The five-year-old mare is owned by Sylvain Descheneaux and Gaston Bibeau of Sorel-Tracy, Que.
The top four finishers from each Semifinal will now focus their efforts toward the Saturday, Sept. 29 Grassroots Championship where they will compete in their respective $100,000 season finale. The second round of Grassroots Semifinal action goes postward at 7:05 p.m. this Friday, Sept. 21 when the two-year-olds gather at Grand River Raceway for their shot at a championship berth.
To view Wednesday's harness racing result, click on the following link: Wednesday Results - Grand River Raceway.
(With files from OSS)