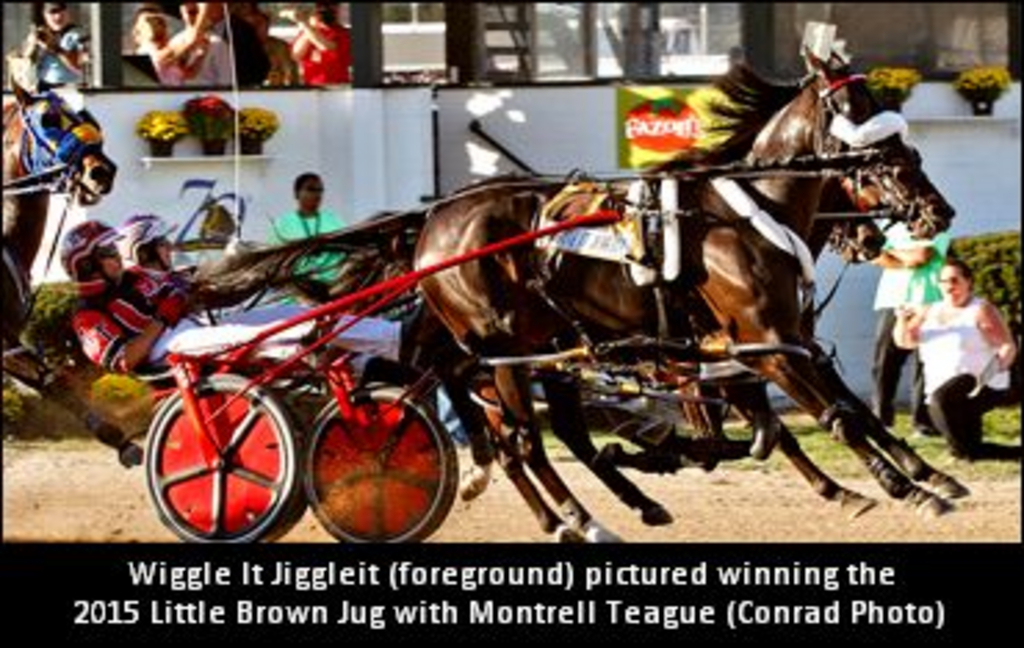 Published:
September 19, 2018 09:47 am EDT

It's been three years since Wiggle It Jiggleit's memorable Little Brown Jug win at the Delaware County Fair, but the race remains a topic of conversation whenever fans approach driver Montrell Teague. And that's more than okay with Teague, who will try for a second Jug trophy Thursday (Sept. 20) with one of the event's favourites, Lather Up.
"I don't mind," Teague said with a laugh. "The first thing they say is 'you've got a good shot at doing it this year, too, but congratulations on the last one because it's probably the best one I've ever seen.' That always makes me feel good."
Teague said he's watched the replay of Wiggle It Jiggleit's victory over Lost For Words a number of times. Wiggle It Jiggleit raced alongside Lost For Words for nearly five-eighths of a mile, fell behind coming off the last turn, and then rallied in the final strides to win by a nose.
"I get emotional every time," Teague said. "It was a super, unreal kind of race. I don't know if any other horse could have done what he did. It's too tough for just a normal horse."
The 27-year-old Teague, who was the second-youngest driver to win the Little Brown Jug, will try to find his way to the winner's circle again with Lather Up. The colt, who is trained by Clyde Francis and owned by Gary and Barbara Iles, heads to the Jug with 10 wins in 12 starts this season. His victories include the North America Cup in June and the Ohio Sires Stakes championship on September 8, where he broke his own track record at Scioto Downs with a 1:49.3 mile despite a rain-soaked surface.
"It always feels good (to come to Delaware), especially when you've got a shot to win," Teague said. "Even if I'm not in the race, I usually like to come out anyway, hang around and see everybody, because it's a great atmosphere. But it's always a plus to have a horse in it."
The Little Brown Jug, which features eliminations and final on the same day, is for three-year-old pacers and is the third jewel in the Pacing Triple Crown. Lather Up is the 9-5 morning line favourite in the first of two eliminations and will start from Post 1. The top-four finishers from each elimination will advance to the winner-take-all final later in the afternoon. Post positions for the final will be drawn based on finishing positions in the eliminations.
"At least we've got a good place to start," Teague said. "You can't beat the rail. Anything can happen, but he leaves [well], so that makes you feel better. His last two starts were as good as I've ever seen him."
The second elimination includes Stay Hungry, who will become the first Pacing Triple Crown winner in 15 years with a victory in the Jug, as well as Meadowlands Pace champion Courtly Choice and Adios winner Dorsoduro Hanover. Courtly Choice, who was supplemented to the race for $45,000, is the 2-1 favourite from Post 1 while Stay Hungry is 5-2 from Post 4 and Dorsoduro Hanover is 4-1 from Post 5.
Dorsoduro Hanover is the richest three-year-old pacer of the season, with $687,362 in purses. Lather Up is next, followed by Courtly Choice and Stay Hungry. The group is separated by less than $38,000. They have yet to meet in the same race this year.
"There are no slouches," Teague said. "All of them are making the money. We've gone different paths, but everyone is just as good as the other one, I think.
"It all leads to the Jug."
The fields for the $102,720 Little Brown Jug eliminations appear below. The purse for the final will be $436,560.
First elimination
Post-Horse-Driver-Trainer-Morning Line Odds
1. Lather Up-Montrell Teague-Clyde Francis-9/5
2. This Is The Plan-Andrew McCarthy-Chris Ryder-8/1
3. Babes Dig Me-Brett Miller-Tony Alagna-3/1
4. Done Well-Tim Tetrick-Brian Brown-7/2
5. Key Advisor-Chris Page-Tony Alagna-15/1
6. Nutcracker Sweet-Jordan Stratton-Jimmy Takter-6/1
7. Wes Delight- Yannick Gingras-Chris Oakes-12/1
Second elimination
Post-Horse-Driver-Trainer-Morning Line Odds
1. Courtly Choice-David Miller-Blake MacIntosh-2/1
2. Hayden Hanover-Andy Miller-Julie Miller-10/1
3. Hitman Hill-Brett Miller-Chris Oakes-6/1
4. Stay Hungry- Doug McNair-Tony Alagna-5/2
5. Dorsoduro Hanover-Matt Kakaley-Ron Burke-4/1
6. Decoy-Yannick Gingras-Jimmy Takter-15/1
NOTES: David Miller leads active drivers with four Little Brown Jug wins. Billy Haughton and Mike Lachance share the record, with five each. Miller is the leading driver in the history of the Delaware County Fair, entering this year with 222 wins…Yannick Gingras has two wins in the Jug, including last year with Filibuster Hanover. The last driver to win in consecutive years was Ron Pierce in 1998-99… Teague is the only other driver in this year's event with a win…The youngest driver to win a Pacing Triple Crown was George Sholty (at age 33) with Romeo Hanover in 1966. Doug McNair is 28.
Ron Burke won last year's Little Brown Jug with Filibuster Hanover and the 2014 edition with Limelight Beach. The last trainer to win in consecutive years was Casie Coleman in 2012-13…Billy Haughton has the record for training wins with six, followed by Stanley Dancer with four. Five trainers are tied with three…Clyde Francis won the 2015 Jug with Wiggle It Jiggleit…Jimmy Takter won the 2006 Jug with Mr Feelgood.
(USTA)