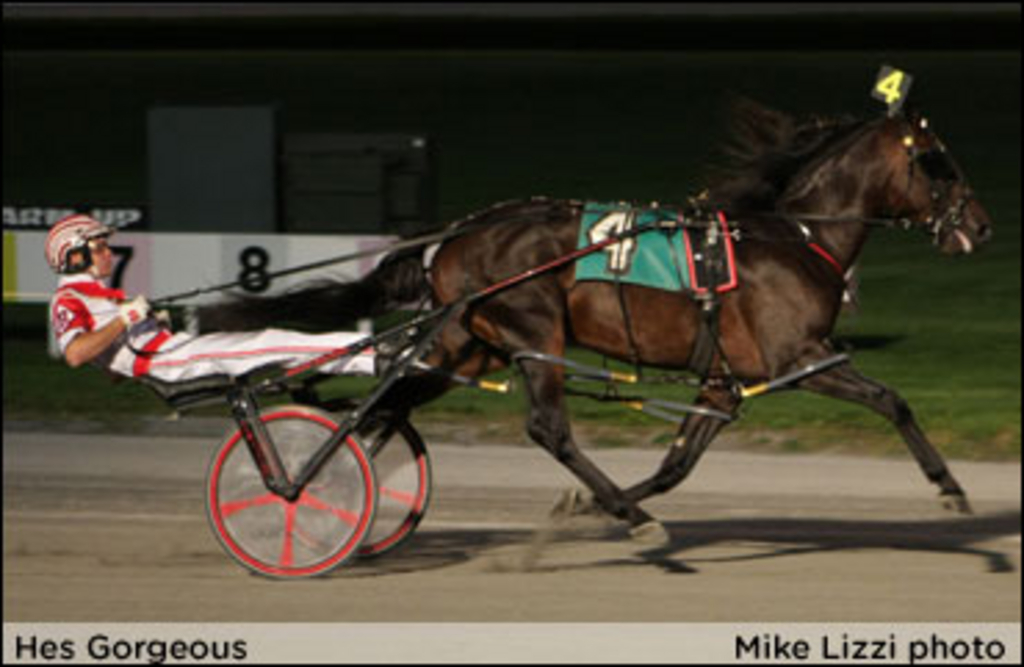 Published:
September 18, 2009 10:24 pm EDT
Hes Gorgeous made a mockery of both rivals and record books Friday night, winning his division of Yonkers Raceway's $178,522 New York Sire Stakes Tuckahoe Pace in a track record performance
. All told, a trio of divisions--worth $59,874, $58,774 and $59,874, respectively--went postward.
With regular driver Jason Bartlett along for his minimal share of the glory, Hes Gorgeous--at odds of 1-20 from post position No. 4--waltzed through first-divisions fractions of :28.2, :57.2 and 1:25.4. He owned a length-and-a-half lead into the lane, then widened to 3-1/2 lengths at the wire in 1:53.2. Gone Baby Gone (Mike Micallef) from the pocket was the only opponent within county limits, while Shinedupnreadytogo (Cat Manzi) was third, beaten some 14 lengths.
The previous Raceway standard for rookie pacing colts was Hay Goodlooking (Brian Sears) and his 1:54 effort, set in last season's sire stakes finale.
For Hes Gorgeous, a son of Art Major owned by Ken Jacobs and trained by Linda Toscano, he returned the minimum-daily-requirement-allowed-by-law $2.10 for his eighth win (fifth consecutive) in 10 seasonal starts (earnings in excess of $163,000). The exacta paid $3.50, with the triple returning $6.60.
"We're very gratified to have the record," Jacobs said. "He's a terrific horse, and he always makes it worth the trip. Next week [NYSS final at Vernon] is going to be his 11th and last start of the season. He was staked to some other races later, but just one more and we look forward to next season."
Friday night's other NYSS events went to Bullish Blue Chip (Jeff Gregory, $2.90) in 1:56.3, and Bluff Point (Brian Sears, $10.40) in 1:55.2.
"Bullish," a son of Art Major trained by Jessica Okusko for owner Purple Haze Stables, defeated Park Lane Midnight (Manzi) by 2-1/2 lengths.
"Obviously, you want to have a horse who's getting better going into the [sire stakes] final," Gregory said. "He really finished his mile well tonight, and that's what impressed me."
Bluff Point, a Pro Bono Best colt trained by Ronnie Burke for Burke Racing, Weaver Bruscemi and JJK Stables, defeated the dead-heat duo of Jo Pas Fod (Gregory) and 1-2 favourite Bettor Again (Stephane Bouchard) by a length.
"He was able to get a comfortable lead [:58.1 half], and there weren't too many issues after that," Sears said. "It's the first time I've driven him, and he seems like a handy, small-track horse.
"The last time he raced here, he made an early break, so I wanted to be careful getting him out of there."
Friday night's pair of $50,000 Open Handicaps, for trotters and distaff pacers, were won by Classic Lane (Manzi, $8) in 1:55.2 and Flirtiscape (Ryan Anderson, $2.80) in 1:53.1.
Classic Lane etched herself in Raceway lore with a new track record for four-year-old trotting mares in what was also the fastest local trotting mile of the season to date.
New York Sire Stakes action continues here Saturday night with the $185,238 Frank Becerra Pace (two-year-old fillies).
(Yonkers Raceway)